Estimated read time: 4-5 minutes
This archived news story is available only for your personal, non-commercial use. Information in the story may be outdated or superseded by additional information. Reading or replaying the story in its archived form does not constitute a republication of the story.
FLAMING GORGE NATIONAL RECREATION AREA — Vibrantly colored salmon crowding into streams and leaping up waterfalls may sound out of place in an arid climate, but kokanee salmon are well established in Utah.
Kokanee are landlocked relatives of the sockeye salmon of the Pacific Coast, and they are just as exciting to catch as their saltwater kin. They've been stocked in several Utah waters, including Causey Reservoir, Porcupine Reservoir, Moon Lake and Strawberry Reservoir, which currently boasts the state record, a 6-pounder, caught in 1995.
Utah's most popular kokanee fishing destination is Flaming Gorge Reservoir. Known over the years as a trophy trout fishery, the 91-mile long reservoir has produced state records for lake trout (51 pounds), brown trout (33 pounds) and rainbow trout (26 pounds). With 40,000 surface acres, it offers the salmon plenty of room to grow and many anglers feel that it's only a matter of time before the Gorge produces the next state record.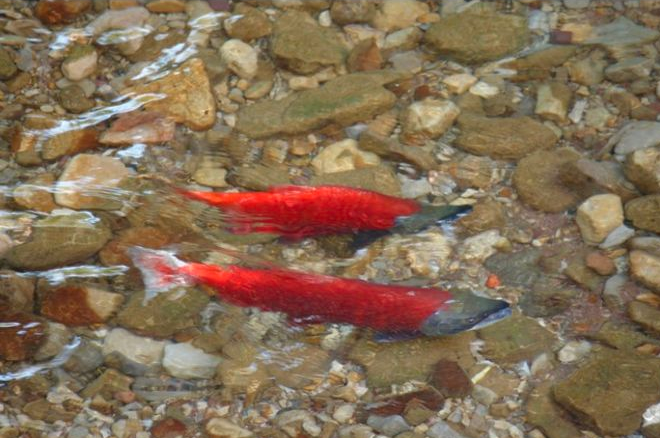 This year's spawning class of salmon is currently sporting the hooked jaws, humped backs and red coloration that make them famous in Alaska. The kokanee spawn usually runs from late August to late September, and on Saturday, September 15, the Utah Division of Wildlife Resources held its annual Kokanee Salmon Day at Flaming Gorge. The free event takes place six miles south of Manila at the salmon viewing site where Sheep Creek passes under Route 44. It's a fascinating opportunity to watch the colorful fish return to the stream where they were born. Next year's Kokanee Salmon Day will also be held in the middle of September, either on the 14th or 21st.
This was an incredible year for the Gorge's kokanee population and the fishing was world-class. On a trip in July, my wife and I caught and released more than 20, with several approaching the 5-pound mark. It's that extra pound or so needed to break the state record that proves elusive, which is why the record from Strawberry has stood for 17 years.
To learn more about the future of kokanee fishing in Utah, I spent Kokanee Salmon Day 2012 with guide Monty Thurgood. Monty has been fishing the Gorge since 1967 and he's caught more trophy kokanee than anyone I know. He took us to some of his favorite fishing spots on the lake and we enjoyed mile after mile of stunning scenery.
---
I've got clients that tell me they don't normally eat fish, but they love eating these kokanee.
–- Monty Thurgood, guide
---
Although kokanee fishing was the topic of our discussion, Monty went to great lengths to avoid catching them during our fishing trip. The lake is closed to all salmon fishing between September 10 and November 30 to protect them during the crucial weeks of the spawn. For this reason, we exclusively targeted deep-dwelling lake trout to decrease the chances of accidentally hooking into a salmon.
One interesting thing I learned from Monty is that unlike saltwater salmon, which hunt fish, shrimp and other aquatic creatures, kokanee feed exclusively on zooplankton. This has two impacts on Utah anglers. First, it means that when a kokanee strikes a fishing lure, it's out of aggression and not seeking a meal. Monty designs his custom lures with color patterns that tend to attract trophy salmon, including one brute that came within an ounce of the state record.
Second, Utah's zooplankton-eating salmon have a milder flavor than their predatory saltwater relatives. "I've got clients that tell me they don't normally eat fish," says Monty, "but they love eating these kokanee."
While recent years have brought increased fishing pressure on the kokanee at Flaming Gorge, the future is bright for the species. Most anglers have been demonstrating the kind of respect that Monty showed during our trip, ensuring the kokanee are given safe passage while spawning and paving the way for more years like 2012.
And just how hot has the fishing been this year?
"I've been fishing this lake for 45 years," reports Monty, "and I've never seen the kokanee fishing as good as this one."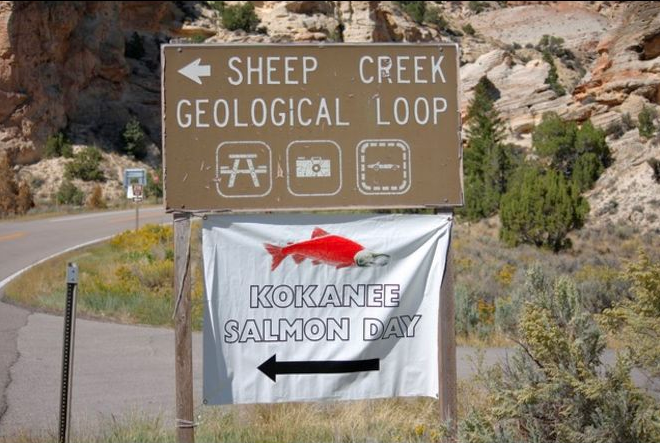 If you go: The town of Manila is located in northeastern Utah, about 170 miles from Salt Lake City. It offers several lodging options, starting with $49 rooms at the Villa Inn. I've stayed at the Villa in the past and found it to be fairly clean and comfortable. If you're traveling on a budget the price is unbeatable. For this trip, my group rented the Lake View Cabin. It was quite cozy and lived up to its name, offering a beautiful view of the sunrise over the lake. While it cost more than the bargain motels in Manila, we loved the solitude of its location.
Though this year's kokanee run will taper off over the next week or two, the Flaming Gorge area offers plenty to do. Starting December 1, the spawn will be completely over and you can begin fishing for kokanee again. If you are interested in learning more about some of the Gorge's other year-round adventures, visit utah.com to request a free brochure from the Utah Office of Tourism.
Grant Olsen joined the ksl.com team in 2012 as a contributing writer. He covers travel, outdoor adventures, and other interesting things.
×
Photos
Most recent Utah stories