Estimated read time: 3-4 minutes
This archived news story is available only for your personal, non-commercial use. Information in the story may be outdated or superseded by additional information. Reading or replaying the story in its archived form does not constitute a republication of the story.
VERNAL — Law enforcement officials across the Intermountain West were put on alert Wednesday after two inmates escaped from the Uintah County Jail.
The escape happened around 1 a.m., when Dallas Derrick, 31, and Jason Braham, 21, managed to wiggle their way through a dryer vent to freedom. Investigators believe the men then walked to a home about one mile east of the jail and stole an SUV.
Details of the escape
Derrick and Braham were working with another inmate in the jail's laundry when they broke into a maintenance closet.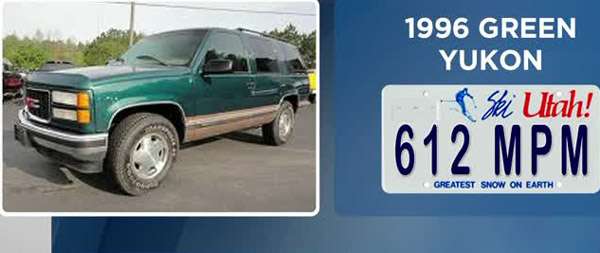 "When they obtained access to that closet," Uintah County Sheriff Jeff Merrell said. "They climbed up and kicked the ventilation, peeled back the screen, kicked out the ventilation, and then escaped out the hole."
The third inmate did not attempt to escape, the sheriff said.
Jail surveillance video shows the men walking across the parking lot before going into a field. One mile later, they found a green 1996 GMC Yukon sitting unlocked with the keys inside, jumped in and drove away.
"I just thought that it was crazy that our vehicle had been stolen," said the SUV owner's son, who didn't want to be identified. "To find out that it was the two inmates that escaped was pretty crazy to me."
The vehicle owner's son said the house and the family's other cars were also unlocked. "We'll start locking stuff up from now on, I think," he said.
Inmates' previous convictions
Derrick is serving a sentence for second-degree felony burglary, third-degree felony theft, third-degree felony possession/use of a controlled substance, third-degree felony failure to stop/respond at the command of police, and class A misdemeanor child abuse.
Inmates' descriptions
Dallas Ephraim Derrick:
Caucasian
31 years old
5 feet 9 inches tall
180 pounds
Blue eyes
Shaved head
Tattoos on his left arm of a spider web, a clown and skull
Jason Max Braham:
Caucasian
21 years old
5 feet 9 inches tall
185 pounds
Green eyes
Shaved head
Braham is serving a sentence for second-degree felony burglary (six counts), second-degree felony theft, third-degree felony theft (two counts), third-degree felony burglary, and class B misdemeanor theft.
Department of Corrections spokesman Steve Gehrke said Braham is scheduled to go before the Board of Pardons in November 2016. Derrick had been given an April 25, 2017 parole date.
Now they'll face more charges.
Uintah County prosecutors filed charges of escape and damaging a jail against Derrick and Braham Wednesday. The sheriff said anyone who aids the two fugitives will find themselves in trouble as well.
"Anybody that is found assisting them after the investigation, they will also be charged," Merrell said.
Lessons learned from 2007 jailbreak
But this isn't the first jailbreak in northeastern Utah.
It was five years ago this month when two convicted murderers scaled a barbed wire fence at the Daggett County Jail. Danny Martin Gallegos and Juan Carlos Diaz-Arevelo broke into a nearby home, tied up its owner and then stole his truck.
Related:
Their time on the run ended when they were caught after a shootout in Wyoming. Gehrke said the incident exposed problems with the agency's policies. "After that escape there were certain procedures that were reevaluated, and protocols, in terms of criteria that we use to send inmates to county jail facilities," he said.
The result of that reevaluation was that offenders convicted of violent crimes, like murder, are no longer housed in county jails. "To that extent, you can say (these escapees) were lower-level security risk to some extent," Gehrke said.
The two state inmates who escaped from the Uintah County Jail were serving time for property crimes like burglary and theft. Still, Gehrke said his fellow corrections officials consider any escape a serious matter.
"We assume that anyone that goes through the efforts and the process to concoct an escape, or carry out an escape, is in a desperate circumstance," Gehrke said. "We would consider them dangerous to that extent, that we wouldn't want the community to approach them and attempt to apprehend them."
Derrick and Braham are both white males with shaved heads. They are both about 5 feet 9 inches tall and weigh around 180 pounds. If you see them or know where they are, call 911.
×
Photos
Related stories
Most recent Utah stories