Estimated read time: 4-5 minutes
This archived news story is available only for your personal, non-commercial use. Information in the story may be outdated or superseded by additional information. Reading or replaying the story in its archived form does not constitute a republication of the story.
MURRAY — Before Sunday, Venise Gomez wasn't eating or sleeping much.
It had been more than a month since the body of her sister, Melinda Carley, had been found in her Bisbee, Ariz., apartment and Carley's then-boyfriend, Paul Rosas, was on the run.
Leads had gone cold until a credit card linked to Rosas was used at a Vietnamese food store on Redwood Road just after 3:30 p.m. Monday.
Bisbee police officer Carlos Moreno said his office was notified of activity on Rosas' card and sent attempt-to-locate information to agencies throughout Utah. Early Sunday, the man was arrested by Murray police officers.
"I ate breakfast this morning for the first time and the food tasted good," Gomez said. "I mean, it was just like you don't realize how much you're on edge all the time, wondering where he is and what he's going to do next."
Rosas, 56, was arrested at the Holiday Inn Express near 4500 South and Century Drive (450 West) around 1:45 a.m. Sunday, Murray police officer Kenny Bass said. A patrol officer noticed a van similar to one mentioned in the attempt-to-locate bulletin and was able to verify it was the van wanted out of Arizona.
The officer called in backup officers, and they located Rosas in the van. Bass said the man "didn't want to get out," but was arrested without incident. Rosas was booked into the Salt Lake County Jail as a fugitive of justice.
"We receive attempt-to-locates all the time," Bass said, "and you try to remember what you can, but for (the police officer) to keep that one in mind and act on it was great."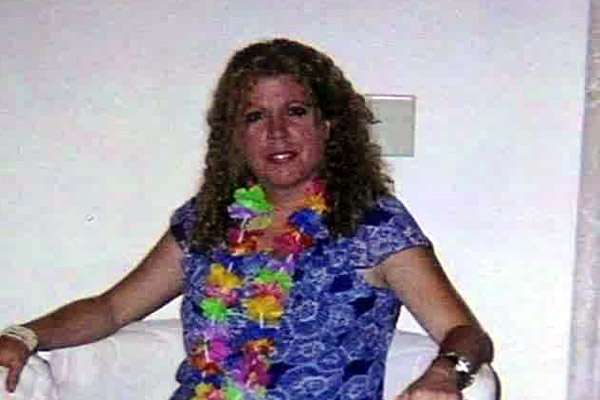 Moreno said Rosas "disappeared" from the small Arizona border town in a stolen van soon after Carley's body was found buried beneath clothing and plastic. It is believed the woman had been dead as many as five weeks when her body was discovered.
Gomez said she initially hoped her sister had died of natural causes and that Rosas panicked and buried the body. She said she held on to that hope, even though everyone she talked to thought it was an obvious homicide.
Soon after, Gomez was told the medical examiner had officially classified the death as a homicide. The manner of death is currently unspecified.
Gomez said her first instinct when she learned her sister had been killed was to get in her car, quit her job and try to track Rosas down herself. She later realized that the best thing to do was to let law enforcement officers do their jobs. But that doesn't mean it was easy.
"I haven't been able to sleep," she said. "You can imagine there's a lot of (post-traumatic stress disorder). You wake up in the morning, it's the first thing you think about. Before you go to sleep at night, it's the last thing you think about. You think about it all the time."
Rosas and Carley had been dating for about a year, Gomez said. Her family had met Rosas at least twice and knew he had spent some time in jail, but they thought it was for minor things.
"It didn't make us happy, but Melinda was an adult and, at that time, none of us felt that she was in any kind of danger," Gomez said.
She said Rosas presented himself like an older person, wearing thick glasses and using a cane. Rosas and Carley had a quiet life together. He kept the couple's apartment nice and appeared to really appreciate her sister, Gomez said. Then, "everything just happened."
"It really took us by surprise," Gomez said. "And then to see the mugshots of him looking like a totally different person — it all took us very much by surprise. He had really painted himself as really a physically and mentally helpless person."
The family became concerned when those living near Rosas and Carley reported that they had not seen Carley for some time. Carley's family went to the apartment to search for some sign of her, Moreno said, before police located the body.
Gomez said she doesn't think her sister lived to see her 49th birthday on July 3.
Moreno said Rosas' criminal history was "extensive" and included some felonies, but nothing that would point to the potential of alleged murder.
Moreno and Gomez both thanked Utah's law enforcement officers and public for their efforts in tracking Rosas down.
Gomez said her family felt a "tremendous amount of relief" when they heard the news, even though she still doesn't know how her sister died or why her life was taken.
"It's anybody guess why these people do these things," she said. "Is it drugs? Is it mental illness? Is it a rage? Who knows?"
It is her hope that Rosas will confess and plead guilty before the case could go to trial. In the meantime, she said she is focusing on pictures of her sister that capture her life and vitality as she tries to remember her joy and fearlessness.
"Obviously she was an open, giving, trusting person," Gomez said. "She was a fun-loving person. Always a smile, always a story."
Contributing: Roger Cary and Emiley Morgan
×
Photos
Related stories
Most recent Utah stories