Estimated read time: 2-3 minutes
This archived news story is available only for your personal, non-commercial use. Information in the story may be outdated or superseded by additional information. Reading or replaying the story in its archived form does not constitute a republication of the story.
MADISON, Wis. — The Utah State Aggies had a big game in Madison, Wisconsin with the Wisconsin Badgers and the Aggies took the Big 10 team to the wire, but it ended in a heart breaker.
Utah State got on the board early with a spot on pass from Chuckie Keeton to Kerwynn Williams.
"Keeton finds a widddeeee open kerwynn Williams for a 39 yard touchdown pass..three play drive," tweeted @TonyAggiville.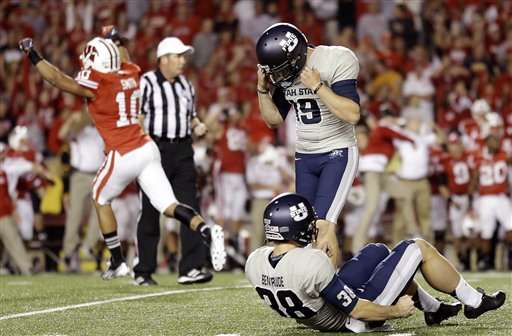 Utah State looked sharp to start and managed to find the end zone again before the badgers ever crossed the goal line.
"#USU playing really tough," tweeted @RileyJensen. "Feel like they are throwing a no hitter and no one should be talking about it.... Shhhh."
It's almost as if @RileyJensen was predicting the future.
Utah State's defense came to play and put up a good fight against the Badgers, but after they gained some momentum Monte Ball was just too much.
"Wisconsin scores. Monte Ball untouched into the endzone. PAT blocked. Wisconsin 16, #USU 14, tweeted @efrandsen.
While Monte Ball looked like the bug tough running back he is, the USU defense was solid throughout.
"The star of this game, USU's D, is back on the field," wrote @wdbowler.
The D was great against a Big 10 offense, but they gave up two scores and a field goal to make the score 16-14 going into the fourth and that's where it stayed.
All USU needed was a field goal to seal the game and the QB everyone is talking about gave them a great chance to win.
"I've said it a thousand times...you cannot leave Chuckie Keeton that much time," tweeted @PaulPabst.
Keeton tossed a beautiful ball to the 20 and gave his Aggies one last chance. The Josh Thompson lined up but missed the field goal as time expired and the Badgers escaped with a win.
"I can't believe USU blew the FG. They should have beat the Badgers, which would have meant Top 25," tweeted @spetrumcordero.
"Heartbreak for #usu tonight" tweeted @deraldmiller.
"Heartbreaking. But I'm still proud to be a USU Aggie," tweeted @charlieriddle. "Excited for the rest of the season. Go Aggies!"
The Aggies could have broken into the top 25 with a win in Madison, but they fell a touch short.
Up next the Aggies take on the Rams of Colorado State on the road on September 22.
×
Most recent Sports stories