Estimated read time: 2-3 minutes
This archived news story is available only for your personal, non-commercial use. Information in the story may be outdated or superseded by additional information. Reading or replaying the story in its archived form does not constitute a republication of the story.
ROOSEVELT — Two men unexpectedly found themselves sharing close quarters Wednesday with a cougar.
Merlin Richens and his adult son, Greg, had gone into a shed behind Richens' home at 675 W. 200 North about 4:30 p.m. Richens had planned to show his son a box full of old traps that used to belong to the younger man's uncle.
"I was just about to open (the box) up, when he saw me and jumped clear across to the other side of the shed," Richens said, referring to the cougar.
The animal landed less than five feet away from the men.
"I said, 'Greg, there's a mountain lion!' as I went by him or climbed over the top of him almost," Richens said. "He said, 'Yeah, that's a mountain lion.'"
The two men got out of the shed, closed the door and called 911. Roosevelt police and biologists with the state Division of Wildlife Resources responded to the home, which is in a residential area less than a quarter mile from Kings Peak Elementary School and Uintah Basin Medical Center.
Ron Stewart, outreach manager for the DWR's northeastern region, said reports of cougars in residential areas are "very rare."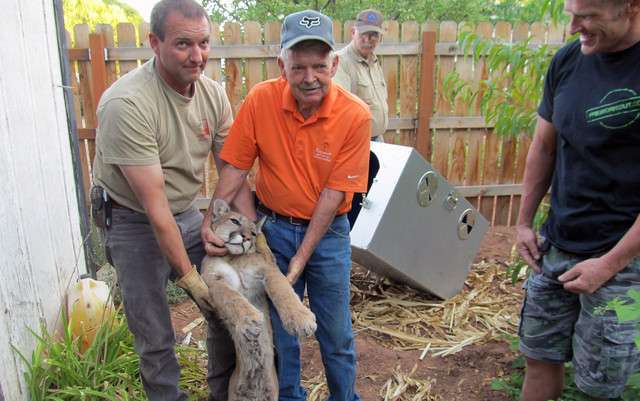 "There have probably been four or five of them in my career," said Stewart, who has been with the agency for more than two decades.
Biologists used a tranquilizer gun to subdue the cougar and then kept it quarantined overnight to allow the drugs to wear off. The animal was released Thursday into a remote area of the Wasatch Mountains.
"He looked like a young male, probably had just been kicked off from his parents, so he was still in good shape," Stewart said.
The cougar was likely attracted to Richens' shed because of the scent that still remained on the old traps inside, and because it offered a cool place to rest, according to DWR biologists.
Richens said he plans to put a new door on his shed to avoid any other backyard encounters of the cougar kind.
"It's quite an experience to walk up on a mountain lion like that," he said.
×
Photos
Related stories
Most recent Utah stories