Estimated read time: 4-5 minutes
This archived news story is available only for your personal, non-commercial use. Information in the story may be outdated or superseded by additional information. Reading or replaying the story in its archived form does not constitute a republication of the story.
DRAPER — Life's important lessons come straight from the horse's mouth.
In the case of "Everybody's Barn," the horse is an animated one, and the lessons are meant to teach social skills or instill moral values in the young children the show reaches — simply put, to make the world a "better, safer, happier place to live."
The hope is to meet a need that Hollywood sometimes cannot, in the eyes of the show's creator — to create characters that will make children excited about traits like honesty and compassion.
"I see that values have deteriorated. I see programs coming out of Hollywood that teach mistrust and behavior that is not conducive to a strong, healthy, supportive environment," said Craig Fisher, the show's creator. "If kids learn these values and appreciate themselves and have good self esteem, they can bypass a lot of problems in life, because most of the problems we face are self-inflicted."
The impetus for the show was a miniature horse Fisher saw at the Draper Days parade in 1996. So finely boned it looked like a thoroughbred, the horse would soon be a part of the Fisher family, joining a small collection of horses already belonging to the Fishers.
"My wife asked if we bought this bay mini, if we could make little videos of values and help kids," Fisher said. "I thought about it and said 'OK' because I had just bought a $600 video recorder. We were so naive about what this was going to turn into."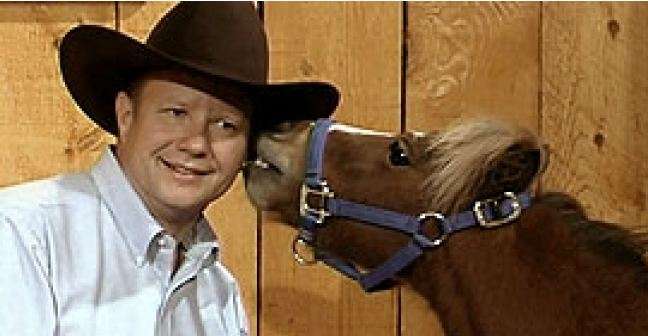 What it turned into was more than a decade of development: knocking down old sheds to build Everybody's Barn, training the ponies to do tricks and learning just what it takes to create a children's show. Fisher eliminated larger horses for the most part and later joined the cast as Cowboy Dan, to better control the ponies.
"We've made so many mistakes, but we've learned from them," Fisher said. "Now it's 2012, and we're giving this one last try."
The show itself has changed dramatically from Fisher's original concept. Gone is a lengthy book reading and focus on real-life characters. Instead, the horses work as bookends for an animated segment during which the ponies try to solve a real-world dilemma. By the time the animation fades back into live action, the ponies have learned a value or social skill.
One segment of the show, called "Arrow's Adventures," explores places and people — usually rural — Fisher thinks children would find interesting: a firehouse, a steam locomotive or an animal being born.
Another segment involves Bow the pony going into town to pick up a letter from a fan of the show.
"They all sit down in chairs and discuss with Cowboy Dan what they've done, what they've learned that day and what they've appreciated," Fisher said.
Related:
The tagline for every episode is "Until we see you next time, always remember to be your best," according to Fisher. He said what is important is for children to realize that everyone makes mistakes, but "when you mess up, you just start again and you try to do better."
Part of the "Everybody's Barn" project is starting a club, called "Everybody's Barn Buddies," that would build a fan base behind the ponies and get children excited about the show. The show's clubhouse already includes games, coloring pages and other activities that are meant to make values fun.
"This is such a simple project, but I think we can have quite an impact," Fisher said. "I think of when a parent comes up and says, 'My little one told a lie, and all I had to do was say, "what would Bow do?"' and that has happened so many times."
He said the 2003 pilot episode already has a following. There have been big improvements since that first episode, according to Fisher, but it captures the sincerity and values that have remained a constant for Fisher over the course of the project.
"Learning these values — it improves the kids' lives, the lives of their families, their communities and the world," Fisher said. "I believe in what we're doing. I think we can make a difference."
×
Related links
Related stories
Most recent Utah stories