Estimated read time: 5-6 minutes
This archived news story is available only for your personal, non-commercial use. Information in the story may be outdated or superseded by additional information. Reading or replaying the story in its archived form does not constitute a republication of the story.
The time is here again. For the second year in a row, it may seem like it has come a little too early, but the feeling is the same. Electric. Exhilarating. Stirring.
This season, the Utes are coming off a disappointing loss to Utah State and BYU has yet to really be tested, so there are still so many unknowns going into Saturday. Let's look at some of them as we get ready for Saturday's big rivalry game.
Utah (1-1) vs. BYU (2-0)
Game Notes
Utah (1-1, 0-0 Pac-12) vs. No. 25 BYU (2-0)
Date: Saturday September 15, 2012
Time: 8:15 p.m. MDT
Site: Rice-Eccles Stadium (45,017/FieldTurf)
TV: ESPN2
Utah Radio: ESPN700
BYU Radio: KSL Newsradio 102.7 FM 1160 AM
Series Record: Utah leads 55-34-4
Last Meeting: 2011 (Utah 54-10)
Kickoff Weather: Clear, temps in the mid-70s
Here are the five biggest storylines to look for on Saturday night:
1. Injuries. After seven years as Utah's head football coach, Kyle Whittingham has suddenly decided that he is not going to announce the details of his team's injuries unless they are season-ending.
This is not a good sign for Ute fans as there are a couple of huge question marks going into the game. First, John White has been seen around campus in a boot this week after rumors were flying around twitter that he would not be playing against BYU. Second, safety Eric Rowe is questionable with a pulled hamstring. I'm being told he will not play and that's not surprising — hamstrings are very difficult to recover from in a week.
To be honest, that is a bigger injury than White's. With the emergence of Jarrell Oliver in fall camp and the hard-nosed running of former USC commit Kelvin York, the Utes are pretty deep at running back. The same can't be said for the defensive backfield.
As former Ute head coach Ron McBride said on a BYUtahInsiders.com podcast, the safety position is much more important than people might think. The safeties are the leaders of the defense and coach Mac believes that is a big problem for the Utes. Remember, they are already missing their defensive leader Brian Blechen to suspension for one more game.
2. The Ute quarterback situation. After yet another shoulder surgery led to the end of Jordan Wynn's football career, the Utes will have to replace him with either Jon Hays or true freshman Travis Wilson. Many Ute fans see this as better for all parties.
Hays came in and performed pretty well after the injury to Wynn last week at Utah State. Meanwhile, it seems like Wilson is the most talented quarterback on the team and the future of the program.
Coaches are saying all the right things, but you have to think it's going to be Jon Hays. Hays looked good against Utah State, but he also obviously has more experience. Also, with the Utes' offensive line, they may not want Wilson to face all the pressure that is sure to come. Which brings us to our next storyline.
3.BYUdefensive line vs. Utah offensive line. Utah struggled to protect the quarterback in the first half against Utah State, but Brian Johnson made good adjustments by flipping the protection at halftime. Notice there were no second-half sacks.
The Cougar defensive line, however, may pose some new problems for the Utes as far as pass protection goes. Kyle Van Noy and Spencer Hadley are as good as anyone on the Utes' schedule at getting to the quarterback. The Utes will have to improve vastly in their protection schemes this week if Hays is going to have time to be effective.
Keep in mind that the Utes are making all sorts of personnel rearrangements within the offensive line.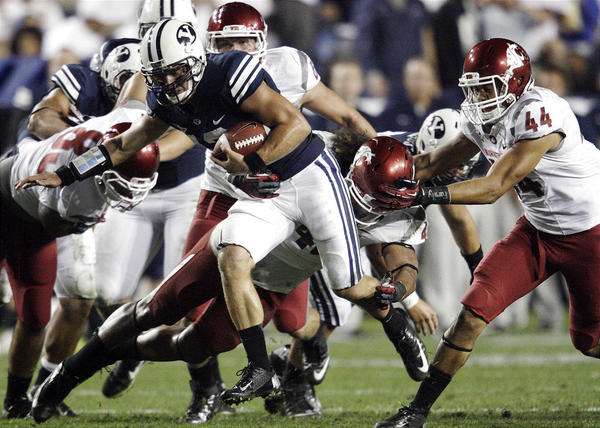 4. Riley Nelson's first test. It's clear that the first two weeks of the Cougar schedule were not very good litmus tests for quarterback Riley Nelson. Washington State and Weber State had no athletes to test the Cougar receivers. After looking at enough tape to make me sick, Nelson made at least four throws (probably five) in the Washington State game that would have been picked off by better, faster defenses. In the Weber State games, it was better, but still not great at two, maybe three.Moe Lee and Ryan lacy are probably the best corners Nelson will face in 2012. This would be a big advantage for the Utes if Rowe and Blechen were playing. They both have the instincts to sit back and play centerfield and make the right plays at the right times. That may allow Nelson to get away with a couple of his overly risky throws on Saturday.
5. Was last year a fluke? This is the question on everyone's mind. The 54-10 Utes drubbing of the Cougars was certainly helped by the seven turnovers BYU committed. Ever since then, BYU fans have been saying that without those turnovers, the Cougars would have won.
Although that's probably not the case, the game definitely would have been a lot closer. While BYU had to make mistakes for all those turnovers, the Utes had to make plays to make them happen as well. This year's game will certainly help us all answer the questions surrounding the uncharacteristic blowout last year. After all, 12 out of the last 15 games these two teams have played have been determined by less than a touchdown. You'd have to think this season would end the same way.
For more in-depth previews of the rivalry game and our weekly bowl projections and power rankings, check out more at BYUtahInsiders.com.
Trevor Amicone is the founder of byutahinsiders.com, which covers BYU, Utah and national college football with weekly polls, bowl projections, opinions and analysis. Follow its brand new Twitter page at @BYUtahInsiders and Trevor's at @TrevorAmicone.
×
Related links
Related stories
Most recent Sports stories