Estimated read time: 4-5 minutes
This archived news story is available only for your personal, non-commercial use. Information in the story may be outdated or superseded by additional information. Reading or replaying the story in its archived form does not constitute a republication of the story.
SALT LAKE CITY — Utah head coach Kyle Whittingham looked utterly dejected. It was the post-game press conference of the 2009 rivalry game. Approximately 15 reporters, myself included, were huddled into a tiny press room next to the Utah locker room. Only moments before, BYU senior tight end Andrew George had ended the contest with his game-winning overtime touchdown reception. Whittingham could hardly believe that his Utes had just dropped another game to the Cougars. And to lose in that fashion, on the last play of the game once again, made it all the more painful. I felt sorry for him. It seemed like it had been forever since Utah had won a rivalry game.
First, in 2006, it was Beck to Harline with no time on the clock. In 2007 it was 4th and 18 that did Utah in. Utah did pick up a blowout win in 2008 with the help of five interceptions, but that blowout win seemed years ago now that Utah had just lost another heartbreaker on the last play of the game.
"I don't know what it is about BYU," commented my friend and former Utah football player, "but your coaches sure know how to game plan for us."
Coaching a rivalry: Which approach is best?
BYU head coach Bronco Mendenhall's philosophy on the Utah game has been well documented. He wants his players to treat the game the same way that they treat every game. If his players are already expected to give maximum effort on every play, at practice or at a game, how can he ask them to give anything extra during the Utah game? Especially worrisome to Mendenhall is that if the players try even harder during the Utah game, their execution will suffer as a result. Players will try too hard, get sloppy in their assignments, and thus the performance of the entire team will suffer.
Former Utah head coach Urban Meyer, on the other hand, saw things differently. As soon as his players walked into team meetings on Monday morning, everything was different. There was a different feel, a different intensity and a different routine.
First came the highlight reel, but this wasn't just a highlight reel of plays — it was a rivalry chronology, a history lesson of sorts, including not only the biggest hits and most exciting plays, but the highest highs and the lowest lows. And the entire reel was laced with bulletin board material: if a prominent BYU player had said anything about Utah that contained the least bit of disrespect, that BYU player (and their quote) was front and center on the reel.
Additionally, a countdown clock was installed in the facility, counting down the days until the rivalry game. And Meyer never referred to BYU by name — only called them "The team down south."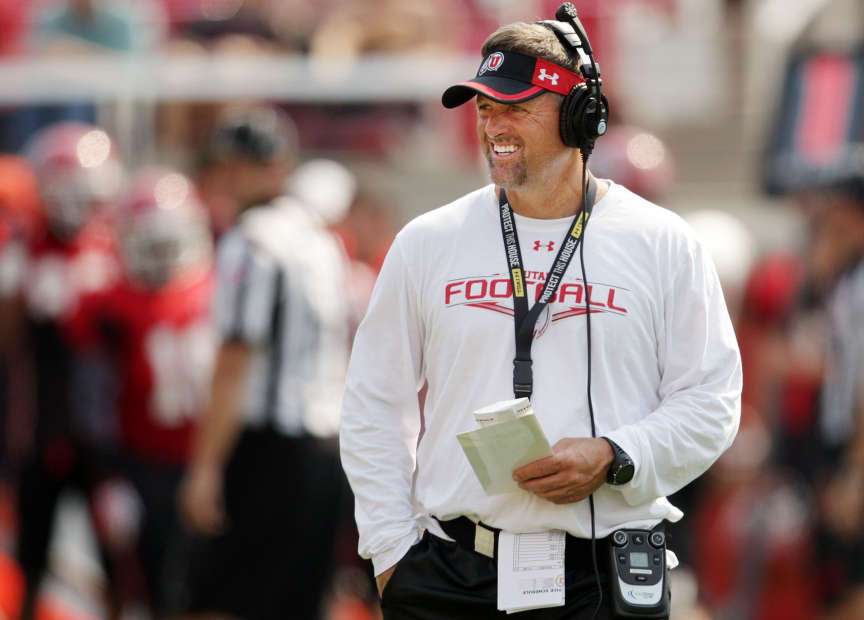 Meyer's approach seemed to be very effective: He never lost to BYU. Granted, he only coached against BYU in two games.
Whittingham, according to former Utah players, is a Mendenhall/Meyer hybrid. He openly recognizes that the rivalry game is different yet asks his players to prepare the same way they would prepare for other teams. He wants to win the rivalry game desperately, more so than any other game, but doesn't play the role of the coach-working-his-players-into-a-frenzy-before-a-fight that Meyer seems to have perfected.
The question then arises: Which approach is best? Simply looking at the records alone over the last nine years seems inconclusive, given the small sample size. And given the sheer number of variables that determine the outcome of each game, can anyone conclusively point to one factor and claim that "that" is the reason one wins?
I have played on teams in which we worked ourselves into a lather before rivalry games. I have played on teams that took the treat-every-game-the-same approach. Sometimes we won and sometimes we lost.
Is any one approach right for every coach? Is the personality of the coach actually more predictive of the strategy than the actual effectiveness of each strategy? Does perception actually equal reality?
Perception vs. reality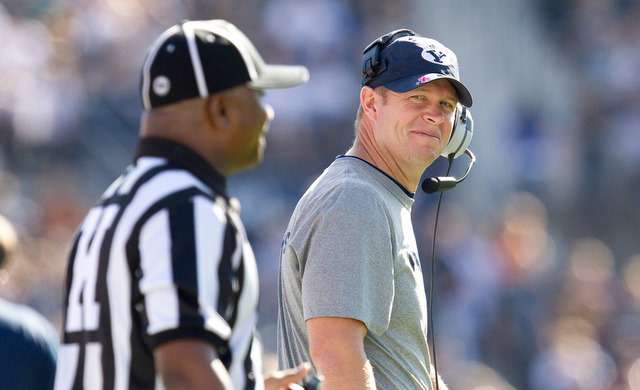 As I think back to that postgame interview with Whittingham, it seems as if it were a decade ago, not simply three rivalry games ago. But my perception is just that — perception. The reality is that under Mendenhall, BYU has won three games and lost four to Utah — a nearly even split. The reality is that Mendenhall had a 3-2 edge in the rivalry three seasons ago. The reality is that the recency bias holds strong sway in the minds of BYU and Utah fans alike.
Which leads me to my final question: What is perception and what is reality when it comes to the rivalry game?
The perception, expressed to me by former Utah players and fans, is that the Utah coaches struggle game planning for BYU. The perception, expressed to me by former BYU players and fans, especially of late, is that BYU coaches struggle game planning for Utah.
The reality is that the game is typically close, and both sides typically have a good chance of winning. The reality is that each side has difficulty game planning for the other side. The reality is that tens of thousands of us can't wait for kickoff.
×