Estimated read time: 3-4 minutes
This archived news story is available only for your personal, non-commercial use. Information in the story may be outdated or superseded by additional information. Reading or replaying the story in its archived form does not constitute a republication of the story.
KAYSVILLE — Eleven years after the attacks of Septermber 11, 2001, Americans are taking a moment to remember the fallen and to look ahead to the future. Flags are at half-staff and tributes are being held all across the country, including here in Kaysville.
Three Utahns were killed during the attacks on 9/11. Tuesday morning, a monument was dedicated in their honor and in honor of all Utahns who have served our country since that day. It was an opportunity to dedicate a monument currently under construction as well as a chance to remember those killed and those who continue to sacrifice for our country.
"We all remember where we were," said Lt. Governor Greg Bell. "Everyone has a story."
Surrounded by the peaceful darkness of morning, dozens gathered at the Utah State University Botanical Garden Center in Kaysville to remember 9/11 and the three Utahns killed that day.
Mary Alice Wahlstrom and her daughter Carolyn Beug were aboard American Airlines flight 11 when it was hijacked and flown into the World Trade Center North Tower. Brady Howell was a Utah State grad interning at the Pentagon when flight 77 crashed into it.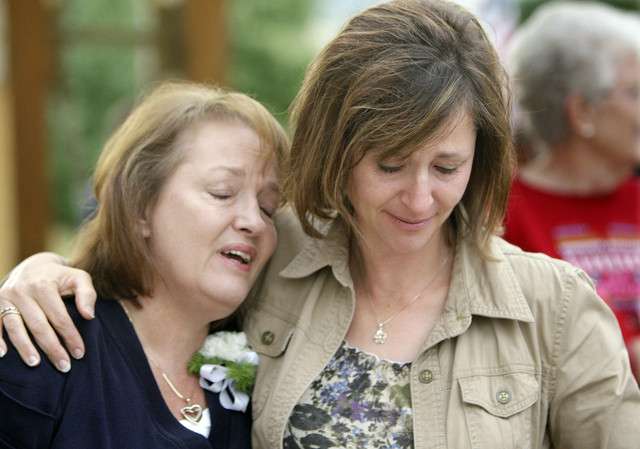 All three of their names, along with 113 Utah soliders who have died since that day, will soon be placed on a new monument inside the garden.
"You think about of all the soldiers we send out to fight for our country and all of the people who give, give, give — the firefighters, the policemen, the paramedics, the people that died in the tower that day trying to save others," said Margaret Wahlstrom, sister-in-law of Mary Wahlstrom. "This is bigger than any one of us."
Wahlstrom often thinks about her family members final moments before their plane crashed. She says they were in first class.
"We have always had a pain in our heart because we knew they were right there sitting where the terrorists were," she said.
Wahlstrom says the Kaysville community and gatherings like this have helped her family move forward over the years. She credits the dedication of members of the Youth of Promise, like Camille Rogers, for seeing the 9/11 monument to fruition.
"Eleven years later and now I'm a mom with three kids and I'm finally seeing it come about," Rogers said. It's the most exciting day for me."
Related:
When asked what her sister-in-law would have thought of today's ceremony and the monument, Wahlstrom said she would have been overwhelmed by the show of support.
"I think she would have been very overwhelmed and humbled," Wahlstrom said.
The monument is expected to be finished next month.
Memorials were also under way throughout the country. In New York City Tuesday, a ceremony a ground zero featured six moments of silence, one for when each of the planes hit and two for when the towers fell.
The President attended a ceremony at the Pentagon near Washington D.C. telling the crowd every victim's sacrifice made America stronger.
"Most of the Americans we lost that day had never considered the possibility that a small band of terrorists halfway around the world could do us such harm," Obama said. Yet it's because of their sacrifice that we've come together and dealt a crippling blow to the organization that brought evil to our shores.
Congress and the New York Stock Exchange also held moments of silence to remember the fallen.
Contributing: Mike Anderson
×
Photos
Related stories
Most recent Utah stories