This archived news story is available only for your personal, non-commercial use. Information in the story may be outdated or superseded by additional information. Reading or replaying the story in its archived form does not constitute a republication of the story.
LOGAN — "A huge victory."
"This is a big win."
"This is definitely the biggest win I've ever been a part of."
"A big win for Aggies everywhere."
These are just a handful of quotes following Utah State's 27-20 victory of Utah Friday night. A win that snapped a 12 game skid against the Utes...A 12 GAME SKID! 15 years. 48 quarters. 900 minutes of losing football to one opponent; and not just any opponent, big brother, Utah.
When Jeremiah Jensen asked Utah State Linebacker Bojay Filimoeatu, what this win meant, through tears, he simply said "Everything..." he paused to compose himself and then continued, "I've waited my whole life to play this team."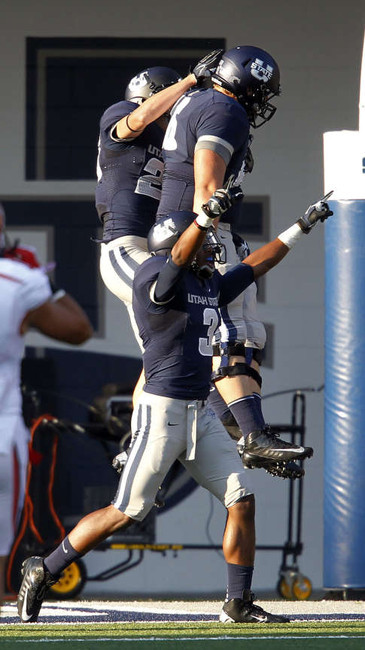 To try and give those of you who aren't Aggie fans (namely BYU and Jazz fans); close your eyes and imagine what it would be like to beat the Lakers in the Western Conference Finals....pretty glorious, huh? That's how Utah State players, fans, and coaches felt that night.
Now that win didn't send Utah State to the BCS Championship Game, but the Aggies were able to beat someone that has had their number for the better part of a decade, and quite honestly, the better part of a century.
This was a signature win for the Gary Andersen era of Aggie football; on a national stage, Utah State beat a Pac-12 team with what was regarded as one of the best defenses in the country and here is what we know moving forward:
-In-state recruiting: This was a big boost for many of the in-state recruiting battles Utah State is involved with. Utah State has 55 players from Utah on it's roster and Utah has 44; it's fair to say a number of high school football players in the state, DVR'd this game and watched when they got home from their games Friday night. There's no doubt this win will help win some of those battles. Just remember, in 2010, when the Aggies beat BYU on a Friday night game on ESPN, their was a recruit on a visit at that game...Chuckie Keeton. Granted, he's not local but getting a win over a rival team like that, on that stage, is going to impact a lot of local recruits the same way it did Chuckie.
-It's finally a Rivalry: On Sunday, Gary and Chuckie came into KSL for a sit down interview. On their way out, fellow producer Dave Noriega and I were talking to Coach Andersen and Dave asked, "Coach, you've been saying ever since you've been at USU, that in order for it to be a rivalry, you have to win. You've beat BYU and now you've beat Utah, is it a rivalry?" Coach just smiled and said "Hell yeah it is." Before you start, BYU and Utah fans, about how many times you've beat Utah State lately and so on and so on, let me clarify; as long as Gary Andersen is at Utah State, these games are now rivalries in the sense that they're not going to be your door mat anymore. In 2010 the Aggies beat BYU, in 2011 it took a last second comeback for BYU to beat Utah State, and now in 2012 the Aggies took the Utes to overtime where they beat them on the last play of the game. Utah State is going to have a legitimate chance of beating you every time you meet. Get used to these types of games.
-Confidence: Perhaps the biggest thing to come out of that win Friday night for Utah State, was the confidence the Aggies desperately needed to win close games. Last year was a nightmare; Auburn, Colorado State, BYU, and Ohio. When things got tight, Utah State folded. This win is a huge step forward in changing that. This game had all the makings of one of those gut wrenching losses the Aggies experienced last season. They jumped out to a big lead, the momentum shifted the other way, and the opposing team rallied; but this time, Utah State weathered the storm. Andersen said after the game, "I was excited the way they continued to play. Adversity kind of struck, and it struck a few times, and they hung in there. They kept fightin'. They kept battlin'."
There was no bad body language Friday night, no hanging heads, nothing that said "here we go again;" they just kept going at Utah until the whistle blew. And this time, they came out on top.
×
Related Stories