Estimated read time: 4-5 minutes
This archived news story is available only for your personal, non-commercial use. Information in the story may be outdated or superseded by additional information. Reading or replaying the story in its archived form does not constitute a republication of the story.
AMERICAN FORK — When climbers in American Fork Canyon began steep climbs in the 1990s, they had no idea they were revolutionizing the world of rock climbing.
Most people, including many climbers, are unaware of the impact American Fork Canyon has had on rock climbing, according to Bruce Wilson, who has been climbing in the canyon for years. Wilson wants to share the canyon's story through an independent documentary.
"I feel like a lot of younger hikers don't know a lot about the history of climbing," he said. "It's a good thing to remember where we came from as we continue to progress as a climbing world."
American Fork Canyon is full of steep caves and limestone cliffs, the type of earth that in the 1990s had not yet been conquered by the climbing world. It took a group of intrepid climbers and a lot of hard work to make the canyon what it is today: a respected canyon known to climbers as a must-climb.
"When people saw you could bolt these cliffs and do steep climbs, everyone got really excited," Wilson said. "Today, people like steep cliffs and overhanging climbs, but they forget the people who introduced such climbing."
Those are people like Boone Speed, a Portland-based photographer with quarter-century of climbing experience who in the late 1980s was a main developer of parts of the canyon including Hell Cave, a particularly tricky area.
"I've done everything in there, so I don't have to ever go back," Speed said of the area in an interview with Climbing Magazine.
Wilson is interviewing Speed and other major developers, including Bill Boyle, Jeff Pederson and Mike Call, to get an idea of what it was like to traverse unknown territory, both in the canyon and in the climbing world.
"What was their mentality while trying to progress the sport? What was their state of mind? A lot have said the development of American Fork Canyon was groundbreaking," Wilson said. "Were they thinking of that while they climbed?"
Another story that will be included in the documentary is that of Jarom Fry, an above-the-knee amputee who was the first amputee to do an unassisted ascent of El Capitan in Yosimite.
"He wanted to do the hardest climb in sport climbing for an amputee," Wilson said. "The film will also follow his personal and emotional progression. It's a hard enough climb with two legs."
The documentary will focus on the climbers, then, and on the canyon itself — a canyon that took years of work to become climbable, and one that is still being developed today. And although the film will be geared mainly toward the climbing community, Wilson said he believes even Utahns who don't climb will be able to appreciate it.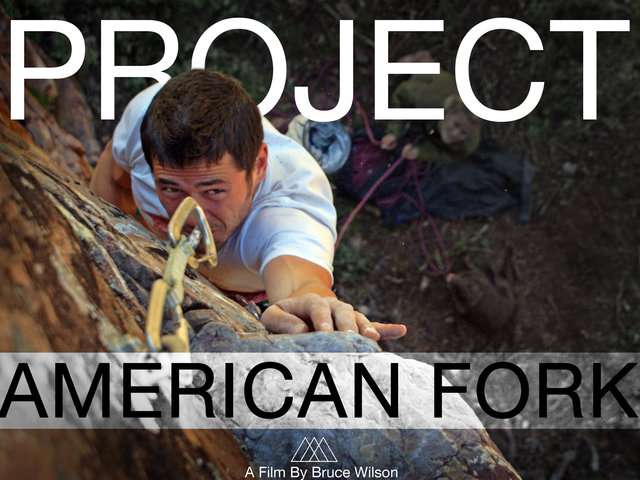 "There are a lot of different reasons people climb that other people can relate to," he said. "You do it because of the feeling you get when you accomplish something that was difficult. You do it to challenge yourself. For some people, it's just about having a personal experience or being one with nature."
Filming is proving to be a different kind of challenge to Wilson, sometimes pushing his limits as a climber. He said sometimes he has to climb above his climbers to get a shot.
"That's a lot more dangerous than a normal climb," he said. "You have to rig anchors to suspend yourself. There are a lot more opportunities for stuff to go wrong."
Wilson emphasized that sport climbing does not have to be a dangerous activity, if done right. It's about knowing your limits and knowing when to press them, having the right equipment and using it wisely, and being mentally prepared.
"Sport climbing is pretty controlled," he said. "You only really get hurt if you're being dumb. If you're being smart and doing stuff you know how to do, you'll be fine."
"A lot of it is being confident in your strength — that you can do something you might feel is out of your physical ability," he continued. "You learn how to react calmly and control your fear."
For Wilson, the documentary is about something he thinks every climber — and really, every person — can relate to: the desire to make a mark on the world.
"As a climber, you want to leave an area with as little damage as possible, but you want to be able to explore new areas. You don't plow through vegetation; you establish trails," he said. "And I've always liked the thought of someday finding my own untouched canyon. That feeling of discovery, of contribution to the community, is awesome."
×
Photos
Related links
Related stories
Most recent Utah stories