Estimated read time: 2-3 minutes
This archived news story is available only for your personal, non-commercial use. Information in the story may be outdated or superseded by additional information. Reading or replaying the story in its archived form does not constitute a republication of the story.
PROVO — In politics, as in life itself, things don't always work out as you expect. And childhood ambitions sometimes give way to reality.
Consider the case of a little boy from Utah who once went to the White House and met President Ronald Reagan. Inspired by his encounter with the conservative icon, Nathan Hadfield told reporters that he decided that very day to become president himself someday.
Hadfield never did run for president and he laughs today about his political evolution after that moment in the limelight with Ronald Reagan.
"I'm sure if I met him today, I'd get along great," Hadfield said. "But, um, he might be disappointed."
---
I guess it's ironic now. I was raised in a very conservative Republican home. And now I'm actually a Democrat.
–Nathan Hadfield
---
Hadfield's White House visit on Feb. 8, 1985 is preserved in a tape archive at KSL-TV. Hadfield didn't even remember being on television until the KSL video was brought to his attention last week.
The Utah boy was chosen in 1985 to represent the nation's Cub Scouts at a White House event marking the 75th birthday of the Boy Scouts of America. His photo was prominently featured that day on the front-page of USA Today. It happened to be the day after Hadfield's own 10th birthday, capping an amazing week.
At the White House, he spoke to President Reagan and presented him with an honorary Cub Scout membership card. Hadfield also helped the president blow out the candles on a birthday cake.
Later, outside the White House, Hadfield indicated to reporters that his encounter with President Reagan gave him a new direction.
"When I came here," Hadfield said that day, "I didn't really know what I was going to be when I grow up. But I sort of want to be president of the United States. And I might have made up my mind."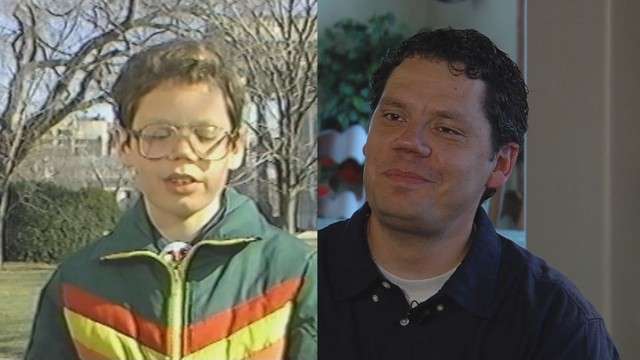 That left a question in the mind of KSL employees who recently reviewed the tape and wondered, "Whatever happened to that kid?"
The answer was a surprise. The conservative politics of his host at the White House did not sink in.
"I guess it's ironic now," Hadfield, 37, said. "I was raised in a very conservative Republican home. And now I'm actually a Democrat."
His front lawn in Provo features an Obama sign. In 2010, in one of the most deeply Republican strongholds in America, the Utah County Democratic Party named Hadfield the party's top volunteer.
Hadfield said he reviewed party platforms years ago and concluded that the Democratic platform resonated with him more than the Republican platform.
"I realized that some of the people I admired most were actually Democrats," Hadfield said. "And I thought, well, they can't be as bad as I've been brought to think."
In spite of his 1985 desire to be president, the closest he's come so far, is vice-president — of a software firm. Hadfield earns his living as a software engineer and is married with two young sons. He's also a scoutmaster.
×
Photos
Related stories
Most recent Utah stories