Estimated read time: 5-6 minutes
This archived news story is available only for your personal, non-commercial use. Information in the story may be outdated or superseded by additional information. Reading or replaying the story in its archived form does not constitute a republication of the story.
SALT LAKE CITY — Do you have too many pins on Pinterest and not enough time to try them all? Don't worry — the Page Two editors of ksl.com will try them out and give you the low-down. This week on Pinterest: Four tips for getting more out of your makeup, from making it last longer to making it something else entirely — and one bonus tip for turning your broken blush compact into lip gloss.
Make your mascara last longer
This pin for "making your mascara last three times longer" doesn't go to a link, but has a caption describing the tip: "A typical mascara dries out before half of it is used. When your favorite mascara starts getting dry, add 4-5 drops of saline solution or eyedrops to the bottle. Insert your wand and stir and TA-DA!! Fresh mascara!" This is a solid tip, because it does indeed keep mascara from drying out and, unlike adding water, the formula isn't altered too much. Nevertheless, it is altered a little, and with certain brands you can end up with a runny, soupy mess. So, use with caution. Final grade: B+
Like what you see? Pin it.

Make your mascara last longer PIN Help makeup last all day PIN Turn eyeshadow into nail polish PIN Fixing broken compact makeup PIN Want to see more? Follow ksl.com on Pinterest.
Help your makeup last all dayAs part of realsimple.com's list of 67 new uses for old things, this tip is as simple as it is cheap: Use cornstarch as a makeup protector by dusting it on your face as a finishing touch. It will balance the oiliness of moisturizing makeup as well as the natural oils produced by your face. I tried this before heading to a Labor Day party, where I spent the next few hours chasing kids in the yard and bobbing in the pool (without getting my face wet, of course). After all that, my makeup held up remarkably well. Another word of caution here: Be careful that you use a very thin layer. If not, you will look pasty and washed out and your makeup will be obscured, not protected. Also, I have a bonus tip: Put a bit of cornstarch at the roots of your hair and on your bangs (I like to put it underneath the hair so it doesn't show). This will absorb oil and keep your hair looking fresh longer. Final grade: A-
Turn eyeshadow into nail polish
This ingenious tutorial from nevertoomuchglitter.wordpress.com for turning makeup pigments into nail polish immediately caught my eye. It's a clever concept: Take a bit of loose makeup pigment power or crush up a little compact eyeshadow and blush, then mix with clear nail polish and apply. There are a few important rules, like mixing the nail polish in a silicon muffin cup (the chemicals won't melt the cup, and when the polish dries you can simply pop it out cleanly), but otherwise this is pretty straightforward. And yes, it does work. I did find, however, that if you're working with a pressed compact you have to mash the powder up very finely, otherwise you'll get hardened flecks on your nails. Also, this dries really fast — like, immediately — which is nice, unless you've made a mistake. So, paint quickly and paint well. In the end, although this is a cool trick and although it does work pretty well, I just don't see the point. It's a bit messy, and with the stunning array of nail polishes on the market and the low prices for which they can be bought, I just don't think this method is worth the trouble. Final grade: B-
Related:
Fix broken powder makeupAnnouncing one of the best pins I've seen: a method for fixing broken powder makeup. I've probably wasted hundreds of dollars by dropping and breaking my favorite not-too-cheap blushes and eyeshadows, and I know I'm not alone in this. Like many women, I also hang onto those broken compacts, trying desperately to eek a few more uses out of each before finally admitting defeat and stashing the makeup in a cupboard, sadly hoping for a miracle. At last, I've found it. This method originally from katrinalomidze.com but recapped by finecraftguild.com is unbelievably simple. Just put a few drops of rubbing alcohol onto the broken makeup pieces, then gently smoosh the back pieces together. Then let it dry overnight, and voila! Your makeup will again be whole. Now, the result isn't exactly picture perfect, but it gets the job done for little to no cost. Also, not all makeup is created equal, so some require more liquid and leave you with more of a mess. Nevertheless, I've done this with five different compacts and it worked wonderfully with each and every one. Now, if only I could get the money back from the cosmetics I've paid to replace. Final grade: A+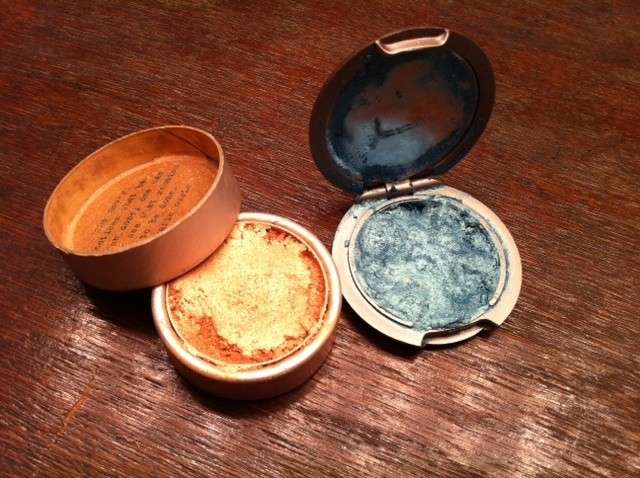 Bonus tip: Turn broken blush into lip glossIf you don't feel like restoring your broken compact blushes and eyeshadows but still don't feel like throwing them out, you can use my simple method for turning them into lip gloss. Using the compact container, crush up the remaining makeup until it's a fairly uniform powder. Then add petroleum jelly, lip balm and lip gloss. Using a small utensil (I like mini disposable ones), swirl and mix the ingredients together in the compact until all blended. It's gonna look a little goopy, but the final product is a light, moisturizing lip color that actually nourishes your lips instead of drying them out. And, again, it costs next to nothing. Sounds like a win to me.
Watch Lindsay test out the latest Pinterest finds on KSL-TV every Thursday at 12:45 p.m.
×
Photos
Related links
Related stories
Most recent Lifestyle stories