Estimated read time: 2-3 minutes
This archived news story is available only for your personal, non-commercial use. Information in the story may be outdated or superseded by additional information. Reading or replaying the story in its archived form does not constitute a republication of the story.
ALPINE — Plans for a drug rehabilitation facility in Alpine have some of the city's residents crying, "Not in my backyard!"
Alpine Recovery Lodge plans to build a halfway house for men at 1018 E. Oak Hill Drive — a location that's smack dab in the middle of a residential neighborhood — and potential neighbors aren't happy about it.
If the facility is built, many residents think traffic will increase, property values will decrease, and their overall safety will suffer. Their biggest question is, is this the right place for a rehab facility?
At a Tuesday night meeting, Alpine resident Nick Zurcher told members of the Alpine Planning Commission he's spent 10 years making his home just right for his family. So, when he heard a drug and alcohol treatment facility was hoping to move in next door he became concerned.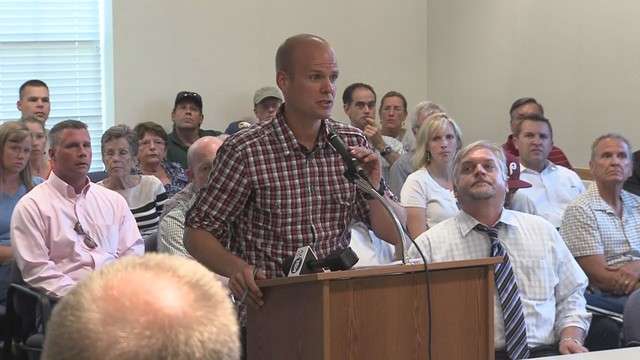 "I worry about (my family's) safety. So, as a father and a husband, I'm trying to do everything I can," Zurcher said.
He's not alone. Close to 100 people packed the meeting Tuesday.
"You move to Alpine expecting a certain degree of safety, because of its remoteness and the 'bedroom community' feeling it has; and that's being taken away from us," Zurcher said.
However, state and federal law allows these types of facilities to move into residential communities. Addiction is considered a disability, meaning cities can't discriminate against rehabilitation facilities to keep them out.
But cities can limit the number of people getting treatment in the house. Two years ago, Alpine put it at 4. The facility moving in, called Alpine Recovery Lodge, is asking the number be increased to 16 before they move in.
Still, some residents at the meeting supported the facility moving to their town, saying addicts could use a good place like this.
"I don't know them at all, but I had a drug rehab in my (LDS) ward in Park City, and it was an incredible experience for our ward," said Creed Archibald, who lives in Alpine.
---
We are concerned. ... It's a little uncertain and, especially if you have children, it worries you.
–Jannicke Brewer, Alpine Planning Commission
---
Most people in the neighborhood agree that these types of facilities are needed. The issue for them is whether their neighborhood is the right type for such a facility.
"We are concerned," said Jannicke Brewer, chairwoman of the Alpine Planning Commission. "It's an unknown. It's a little uncertain and, especially if you have children, it worries you."
For many residents, having this type of facility so close to their homes is unsettling.
"We want the city to do all that is in their power, legally, to fight this from coming in, and not allowing them to go from four people to 16," Zurcher said.
KSL News tried to contact Alpine Recovery Lodge for comment, but our call wasn't returned Tuesday night.
Alpine's planning commission didn't know when the facility's managers will ask for another meeting. At this point, there is just a lot of waiting.
×
Photos
Related links
Most recent Utah stories