Estimated read time: 2-3 minutes
This archived news story is available only for your personal, non-commercial use. Information in the story may be outdated or superseded by additional information. Reading or replaying the story in its archived form does not constitute a republication of the story.
OREM — It's a pretty incredible and touching story 𔃉 a grandfather and paramedic delivered his own grandchild Saturday morning after his daughter unexpectedly went into labor.
In the Forsyth family, three people are paramedics. The running joke was whenever someone is pregnant one of them should deliver the baby but no one ever thought it would happen this weekend.
"It was in the middle of the night and I woke up and my contractions were about a half hour apart," said Kara Cottle, the new mother. "So I thought I'd have plenty of time."
But plenty of time turned into just seconds. "I went from 'We better just call my parents and have them stay with us,' to 'We better just call a neighbor.'"
But a neighbor wasn't enough. Kara's husband called 911. The dispatcher tried to walk him through the process, but the stress of the situation got to him.
"He forgot everything," Cottle said. "He forgot our address, where shoe laces were. He was pretty scared."
The next call was to Cottle's parents. Grandmother Kathleen Forsyth said her daughter called to tell the family she was going into labor and wasn't going to make it to the hospital. She and her husband David Forsyth, still in pajamas, rushed over to their daughter's house just as an ambulance drove up.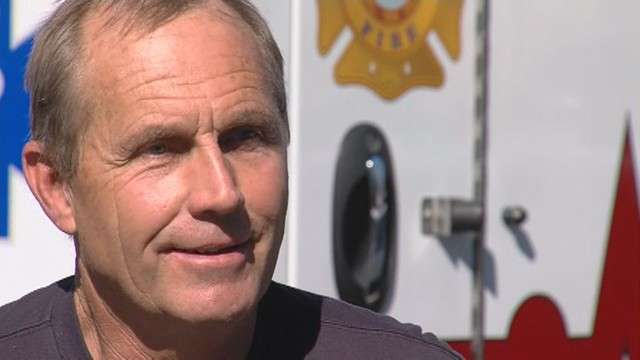 But the paramedics didn't take action. Instead they turned to David Forsyth, who has been a paramedic himself for the past 30 years.
The baby could only wait long enough for her soon-to-be grandfather to arrive. As they took off for the hospital, delivery couldn't be avoided. That's when the he started helping deliver the baby.
"I saw a little tuft of hair and I thought, "Uh-oh, we're gonna have a baby,'" he said.
He said he was able to stay calm because not only is he a paramedic with the City of Orem but he's helped with a few deliveries.
"I got to be the first one to hold my granddaughter. it was pretty good," Forsyth said.
Little Jane was delivered just before 6 a.m. Saturday morning. She is healthy and a pretty happy baby. The mother says that while of course having a child is special in itself, to have her father do the delivery made it that much more remarkable.
David is soon retiring from his duties as a paramedic. he said delivering his own granddaughter is the highlight of his career.
"He's skipping down the halls of the hospital and smiling,"Cottle said, "He's on cloud nine."
×
Photos
Most recent Utah stories