Estimated read time: 2-3 minutes
This archived news story is available only for your personal, non-commercial use. Information in the story may be outdated or superseded by additional information. Reading or replaying the story in its archived form does not constitute a republication of the story.
ALBUQUERQUE, N.M. — Police in Albuquerque are on the hunt for a man being called the Beef Jerky Bandit after the man robbed a local jerky shop and left the cash register alone.
Surveillance footage provided by Mike's Jerky shows a convertible drive through the frame before backing up to the storefront. A man in a wig exits the car, and, using a brick from his back seat, breaks the glass door.
He then repeatedly rams his foot through the bottom half of the door before stooping to enter the store.
Store owner Michael Grier told KRQE he as surprised by the effort that went into the robbery.
"We knew he put a lot of effort into it because he was wearing a wig, he had on glasses," he said.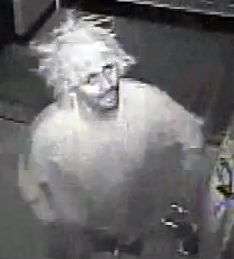 The man put a lot of effort into the burglary — for beef jerky. He didn't head for the cash registers, instead opting to go for the more than 20 flavors of jerky lining the store walls.
"He grabbed all these, these ones were full the pepper and the salt of course," Grier said, pointing to his product. "Then he passed up all of these to go over here for the bacon (flavored)."
It was that final move that led Grier to believe he was dealing with someone who was familiar with his store — the bacon flavor, an original blend, had been out for only a month.
Grier expects the thief can make a few hundred dollars off the stolen goods, but hopes the man will get caught before then. He posted the surveillance footage to YouTube, Craigslist and the company's Facebook page.
"This guy likes our jerky so much he can't even wait until we open to get it," he wrote on Facebook. In a later post, he thanked customers for their support.
"Mike's Jerky just wanted to thank you all for your support and kind words and well wishes during our time of need," he wrote.
×
Related links
Most recent Features stories