This archived news story is available only for your personal, non-commercial use. Information in the story may be outdated or superseded by additional information. Reading or replaying the story in its archived form does not constitute a republication of the story.
OREM — A pizza shop owner made the best of a bad situation Thursday after a dump truck rolled on I-15 in Orem, shutting down the freeway for hours and leaving motorists stranded during lunchtime.
Greg Nielson was on his way to Orem when traffic came grinding to a halt. He had recently opened Big Don's Pizza in Salem with his brother, Jeff, and was on his way to make a 10-pizza delivery, but plans changed.
Nielson said he got a call from a co-worker whose wife was also stuck in the mess — perhaps they were near one another. Sure enough, only 10 cars separated the two.
"I asked if she was hungry — she was, and she had two little boys in the car — so I walked a pizza up to her car," Nielson said. "People had their windows open, talking, so I just said, 'Whoever wants some pizza, come and get some!"
From the comment board:
"I was the recipient of that pizza on I-15. Excellent pizza!!! We were on our way to a MD appointment in South SLC. Frustration was made much better by this man's generosity. I live fairly close to Salem so I'll be frequenting his shop." -Sandra Hutchison
Grant Radmall was one of those stranded and witnessed Nielson's actions.
"Many of those stranded were hungry and happy to get such a wonderful treat," he said. "The pizza was really, really good. You might say it was good because you were hungry — not so; it was exceptional pizza."
Radmall said one mother in particular who was "exceedingly happy because she had two very hungry daughters."
Ultimately, 48 people picked a slice out of the boxes sitting on the hood of Nielson's car. They ate, talked and laughed with strangers, thrown together by circumstance but happy to make the best of it.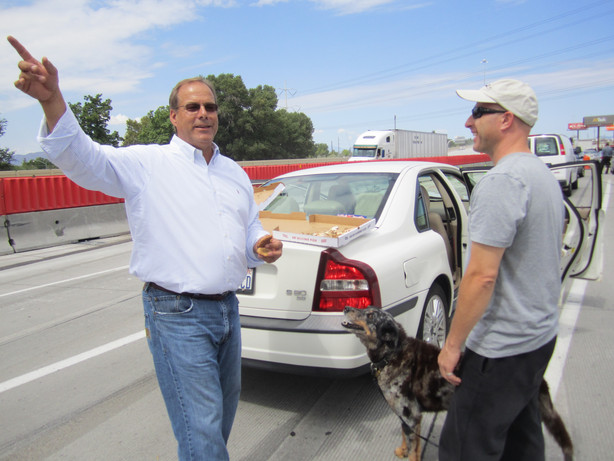 "We had a great time," Nielson said. "We figured as long as we were going to sit there for an hour, we might as well have some fun."
He said their area of the freeway turned into a "little block party." Truck drivers, cops and moms with their children in tow all gathered around. The kids ate ham and pineapple — a more "kid-friendly" combination, Nielson said. The adults ate the more "grown-up" combination pizzas.
The party only stopped when cops began allowing cars to turn around and head in the opposite direction.
"It was a lot of fun," Nielson said. "It was one of those fun moments you'll be able to talk about later."
×
Photos
Related Stories