Estimated read time: 5-6 minutes
This archived news story is available only for your personal, non-commercial use. Information in the story may be outdated or superseded by additional information. Reading or replaying the story in its archived form does not constitute a republication of the story.
SOUTH SALT LAKE — Nancie Bakoles remembers watching her daughter — her "born again hippie" and "flower child" as she lovingly called her — walk down the ramp to catch a flight from Seattle to Salt Lake City.
Nikole "Niki" Bakoles was carrying her newborn daughter, Chole, as she boarded the plane.
That image is the last one Nancie Bakoles has of her daughter.
For 12 years, she was simply known as "Saltair Sally," a random name chosen by investigators because of where her remains were found. It wasn't until earlier this year that detectives were finally able to solve the mystery of Saltair Sally's true identity, and discovered her real name was Nikole Bakoles, 20.
Bakoles' remains were discovered in October of 2000. Hunters found bones, some hair, a white sock, a T-shirt and a woven, blue choker-style necklace in an area of tall grass about 90 feet from the frontage road off I-80 along the Great Salt Lake.
---
It's been a long time coming, and we really feel blessed to begin the closure stage to bring (her) home.
–- James Bakoles, brother
---
Thursday, Bakoles' mother, brother and two sisters traveled to Salt Lake City to pick up the remains of their loved one and take them back to Washington.
"It's been a long time coming, and we really feel blessed to begin the closure stage to bring (her) home," said brother James Bakoles.
He and Niki were best friends growing up in the Puget Sound area. She was just one year older than him.
"We spent everyday together," he said.
Niki was a free spirit, James Bakoles said, and an "artistic girl" who loved poetry, painting and drawing. "She was an active, adventurous, down-to-earth girl that was really living a wonderful life," he said.
Material items weren't important to Niki, her family recalled. She often said all she wanted was a house with a white picket fence and a family. Her mother recalled one Christmas when she asked her daughter what she wanted, and all she said was a pair of jeans from the local Goodwill.
By the time Niki Bakoles turned 16 or 17, her brother recalls they started spending a little less time with each other as they "started to grow up a little bit" and she began "spreading her wings," doing things like getting a driver's license and hanging out with other friends.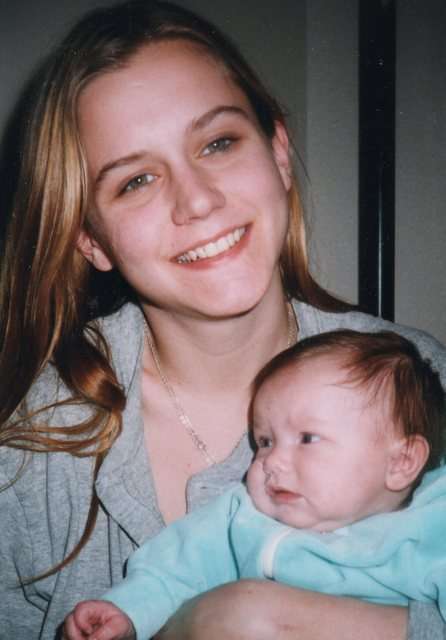 In 1998, Niki Bakoles and her boyfriend, Joel Chaudoin, moved to Utah for his work. The two had a baby together in Utah. Her family traveled to Salt Lake City for the birth. Niki also went back to Seattle to visit shortly after the baby was born.
But after that, Niki Bakoles' family began to lose track of her address and phone number because they said she was moving so much.
The last time Nancie Bakoles saw her daughter, she remembers it as a positive visit.
"I got to rekindle that connection. She talked about life and how exciting it was to be a mom," she said.
Niki's mother also encouraged her to move back to Washington. Instead, she returned to Utah. She and Chaudoin were living in "difficult circumstances" in Midvale and lost custody of the child, according to Salt Lake County Sheriff Jim Winder. The child now lives with Chaudoin's relatives in Wisconsin.
"We believe that circumstances after the birth of that child may have led to her disappearance," Winder said.
The woman's family lost contact with Niki Bakoles, which they attributed to tension regarding her living situation. They assumed she just needed time to herself because of all that had happened. Even though they were concerned, family members didn't feel at the time that they could report her to police as a missing person because they weren't even sure where she lived.
In 2003 — three years after Saltair Sally was discovered — the Bakoles family felt they finally had enough information to file a missing person's report.
Two big breaks for detectives came starting in 2008, when advances in technology allowed for a new type of DNA test to be conducted. Using samples of Niki's hair that had been preserved in evidence, investigators were able to determine that she had ties to the Northwest. In 2011, a DNA sample from the victim's mother was taken in an attempt to identify Saltair Sally.
---
We believe that circumstances after the birth of that child may have led to her disappearance.
–- Sheriff Jim Winder
---
When confirmation was made that the girl was really Niki, James Bakoles said it was a bittersweet moment.
"It's absolutely a double edged sword. There's an incredible amount of relief she's not out there suffering. It brings peace to us knowing that's the case. There's very little peace surrounding the nature of her discovery and disappearance," he said. "With the answer of every question comes a hundred more questions."
"For the last 12 years, every day I've been worried about, 'Is she safe? Does she have a place to stay? Is she eating properly? Is someone abusing her?'" Nancie Bakoles said. "That's the good part, putting that to rest. I'm glad none of those things is happening to her."
But now, the family and police need the public to step forward to help them understand some unanswered questions. Specifically, police would like to hear from anyone who knew Niki Bakoles or Chaudoin from January to June of 2000.
Chaudoin is currently in a Washington state prison on unrelated charges. The Bakoles family has not spoken to him in about seven years. Unified police have questioned Chaudoin, but they are not declaring him either a suspect or a person of interest in her death.
James Bakoles chose his words carefully when he was asked if the family believes Chaudoin may have had something to do with her death.
"I don't know. I just don't know," he said. "He was one of the last people we know who was with her. (But) everyone is innocent until proven guilty. Let the investigators do their jobs."
Anyone with information on the case can call Unified police at 801-743-7000.
Contributing: Mike Anderson
×
Photos
Related stories