Estimated read time: 3-4 minutes
This archived news story is available only for your personal, non-commercial use. Information in the story may be outdated or superseded by additional information. Reading or replaying the story in its archived form does not constitute a republication of the story.
SALT LAKE CITY — You've undoubtedly seen the commercial with Shaq talking about the spacious room in a Buick Lacrosse. The car is likely roomy, with more than enough room for the average person. However, because of Shaq's size, he still appears to look cramped in there.
Enter the former All-Star and Jazzman Karl Malone. Since his days as a beloved Jazz player, Malone has taken care of his Toyota dealership. And with a new picture that surfaced on Reddit, Malone is willing to do anything to sell you one of his cars.
The picture shows Malone stuffing himself in a Toyota Scion iQ, likely at his Toyota dealership. If you can't buy a car from Malone after that, I don't know what will get you.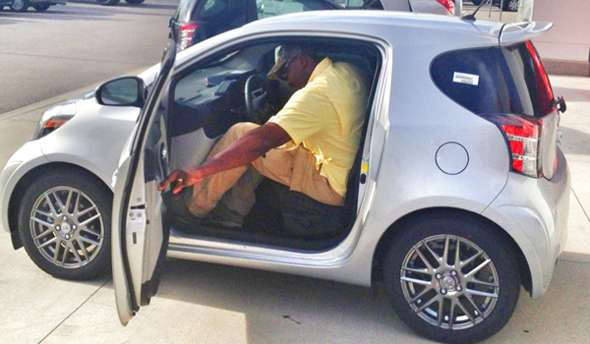 Derek Jeter's Skip Bayless problem
Yankees five-time Golden Glove winning shortstop Derek Jeter was recently criticized by ESPN's Skip Bayless for having a great year. Bayless, a polarizing analyst to say the least, said Jeter should be tested for performance-enhancing drugs after batting .324 and hitting 13 home runs. Jeter leads the league with 168 hits and is also 38 years old.
"How could I not wonder, 'Is he using something?' If you're Derek Jeter, would you think about using HGH right now? Because I would. How would you not?" Bayless said. "I am shocked by what I'm seeing from DJ right now. They all said he was washed up. All of a sudden, this man has turned 38 years of age in June and already he has more hits than he had last year."
"You would have to have your head in the sand or your head somewhere else not to at least wonder, 'How is he doing this?' " Bayless added.
Shortly after the comments made by Bayless, Jeter responded to reporters, saying: "What do you want me to say? I ain't getting involved with this, man. You can say whatever you want to say now. There's no repercussions. … That's the unfortunate thing, you know what I'm saying? Whenever you have people that anytime you bring something like this to light with guys that are doing things, it's like, now you have everybody questioning everything. That's the unfortunate thing. Maybe Skip should be tested."
While it's hard to say Jeter would even consider performance-enhancing drugs, baseball has seen everything. However, if Jeter is in fact caught up with something like Bayless' claims, are there anymore good guys in baseball?
Speaking of Bayless, NBA rookie and Olympic gold medalist Anthony Davis used a cardboard cutout of Bayless as a prop in a dunk. I'm going out on a limb here, but I don't think Davis likes Bayless.
NFL in London
The NFL announced Tuesday the Jacksonville Jaguars are going to play four "home" games in London beginning in 2013. The move appears to be the first step toward NFL Commissioner Roger Goodell's wish of putting a team in London.
"I passionately believe the big growth now is going to come from overseas," owner Shad Khan told the Associated Press. "We've got to go where we can leverage and take advantage of some of those things. You've got to fish in ponds where you've got fish in there. We're going to a pond where there are no fisherman."
The decision is an interesting move, but will likely broaden the NFL's already large fan base.
×