Estimated read time: 3-4 minutes
This archived news story is available only for your personal, non-commercial use. Information in the story may be outdated or superseded by additional information. Reading or replaying the story in its archived form does not constitute a republication of the story.
HOUSTON — The Rocket is back. That's right, Roger Clemens has made a return to professional baseball. Clemens had a storied career that was tarnished when allegations of him using performance enhancing drugs came forward. Clemens now hopes to piece back together his reputation by taking another shot in the bigs.
Check out this video of Clemens as he was announced as the newest pitcher for the minor league team the Sugarland Skeeters. Clemens is now 50-years-old and isn't afraid to admit that he's getting older, ancient in professional sports years. They kind of work like dog years. Clemens talks about his age and the possibility of getting into the hall of fame. It's best to hear it from him.
LeBron's Pricey Sneakers
Nike has announced they will be releasing a LeBron James shoe that's going to retail for over $300. The shoe will include Nike + which tracks training progress. For example it will record how high you jump, how long you train and how fast you run.
A stripped down version of the shoe without the Nike + will be available to buy for the lower price of $180. Is it just me or is that still a lot of money for a shoe? I guess it's all relative, for example a pair of Chloe Studded Python Short Boots from Nordstrom are $1,820. So, $315 now looks kind of reasonable.
Thunder Struck
Michael Jordan did it, Shaq did it and so did Kareem Abdul-Jabbar, now it's Kevin Durant's turn to try his hand at acting.
The Oklahoma City Thunder's star player is in a new movie called "Thunder Struck." To get an idea of the plot, it's basically "Space Jam" without aliens and Looney Toones crossed with a basketball version of "Rookie of the Year."
A kid who is hopelessly terrible at basketball ends up with Durant's talents and becomes the star of his school team as Durant gets progressively worse.
Durant won't be winning any awards and the plot would have a very tough time being more formulaic, but it must be the kid in me who will never grow up and assume he's going to play professional sports at some point in his life that still is curious to see it.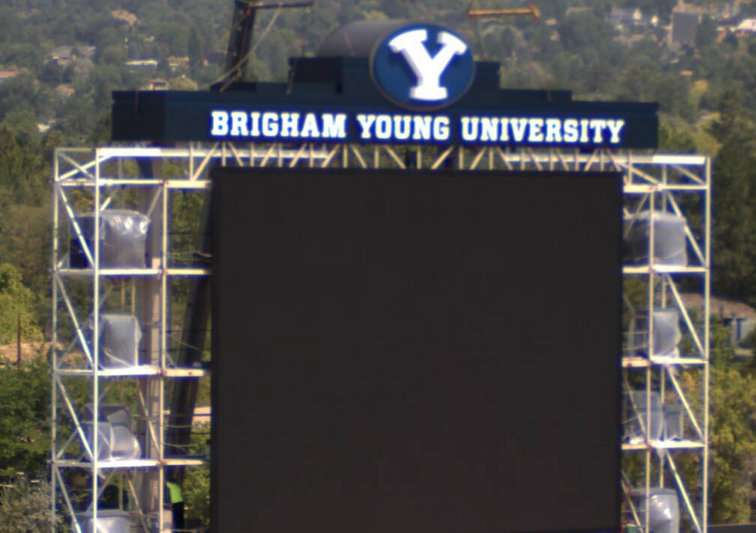 New Cougar Scoreboard
Football season is just a week away and for us football fans this is our Christmas. We are constantly scouring the web and TV to catch a glimpse of anything football and here's a little something.
One of our KSL Sports junkies, Jason Shepherd, got this pick via Twitter and was nice enough to share it with us.
It's a picture of the new look for the video board at LaVell Edwards Stadium. Looks pretty sharp with the oval Y and block Brigham Young University.
So, whether you're a Cougar fan or not, it's college football, so just appreciate that it's one more sign that we are ever so close to the happiest time of the year.
×
Most recent Sports stories