Estimated read time: 3-4 minutes
This archived news story is available only for your personal, non-commercial use. Information in the story may be outdated or superseded by additional information. Reading or replaying the story in its archived form does not constitute a republication of the story.
SALT LAKE CITY — Conspiracy theorists, you won't want to read this.
If you think that there are actually miniature cameras and microphones built into your TV or computer to spy on you, or if you think that there is some sort of mind control technology hidden in radio waves, this probably isn't the article for you.
If you think that it is the government that creates disease so that we are reliant on them for treatment, first seek help, then find a new hobby.
If you are a fan of Utah football and want to hear the latest on the Utes, with no spin or ratings grabbing headlines a.k.a. "conspiracy theories", you've come to the right place.
In Wynn I trust.
Utah quarterback Jordan Wynn has been the hot topic around town recently, but mostly for the wrong reasons. Three weeks into fall camp, Wynn was given three practices off to allow his shoulder to rest. And we (mostly the media) had a field day, assuming all sorts of different injuries he could have, alleging Kyle Whittingham and company to all be in on some hidden secret and that we would have to hire Robert Langdon or Benjamin Gates to come crack the case.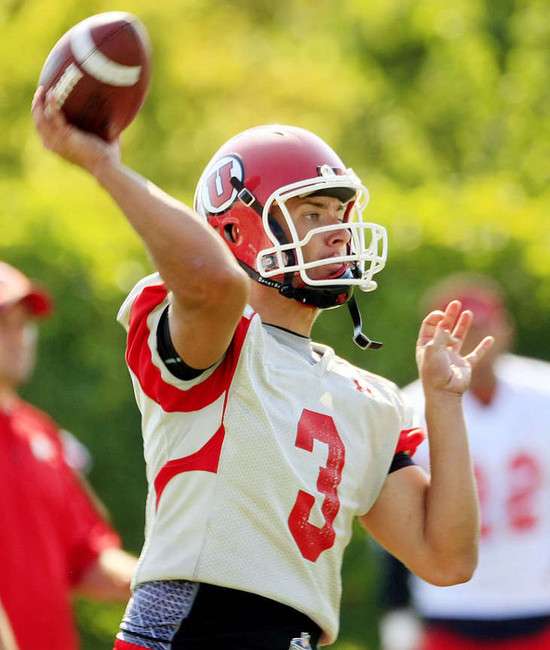 The first pass Wynn took in today's practice (that the media was allowed to observe) shut the critics right up. Wynn threw an absolutely perfect spiral over the outstretched hand of a defender and right into the hands of a tight end in the end zone. Touchdown.
But wait, isn't his arm about to fall off? Doesn't his leg require amputation? Isn't he going blind in his left eye from the alien spacecraft that landed near the Huntsman Center?
Nope. The ball had so much velocity you could feel the outflow around it. NORAD clocked something on radar nearly breaking the sound barrier. What was it? Oh, just another Wynn throw over the middle for yet another score.
After three shoulder surgeries since 2010, two of them in a period of ten months, you think people would cut the kid a break. He beat BYU in 2010 with duck tape around his shoulder and by gulping a can of spinach during halftime.
Last season he used a sling shot to nearly knock of USC in the Coliseum and put up 54 on BYU in Provo.
Just how good can a healthy Wynn be? Ask the Golden Bears. Against Cal in the 2009 Poinsettia Bowl, Wynn was 26-of-36 for a season-high 338 yards and three scores. Oh and he was named MVP.
What do the Cyclones think? Ask them about Jordan Wynn and the 68 points the Utes thumped on them, the most points scored against an Iowa State team ever in Ames. And they play Texas and Oklahoma on a regular basis.
Perhaps the most telling statistic in support of Wynn is this — the Utes are 61-of-69 (88.4%) in the red zone when he is on the field.
Want points? He'll find a way to get you them.
Want a conspiracy theory? Move a little to your left so I can get a better picture.
I had a blast interviewing linebacker V.J. Fehoko after practice. Fehoko had a 57-yard fumble recovery against BYU last season and now, as a sophomore, looks to continue to uphold Utah's defensive legacy. Fehoko loves the Colts (kidding). Be sure to check it out in the video player above.
And a big thanks to InsidetheUtes.com reporter Doug Kimmel for letting us use his video of Kyle Whittingham's post practice interview.
×
Photos
Related stories