Estimated read time: 7-8 minutes
This archived news story is available only for your personal, non-commercial use. Information in the story may be outdated or superseded by additional information. Reading or replaying the story in its archived form does not constitute a republication of the story.
SALT LAKE CITY — The Correa family's first few months in their home country of Argentina after being deported from the United States nearly two years ago were miserable.
Buenos Aires didn't feel like home. It was too big and too busy compared with the small towns in Iowa and Utah where they had lived for 10 years. They felt like they experienced the best America had to offer. They missed their friends and neighbors in American Fork. They spent many nights crying.
Accomplished stained glass artists Claudio Correa and Debora Zalazar de Correa didn't know if they would be able to start a business. In Utah, they worked for a studio that makes ornate windows for LDS Church temples and other religious and government buildings. They wondered if they would ever do that again.
All the plans and dreams they had for themselves and their children, Kevin and Magi, seemed shattered.
The Correas' experience provides a snapshot into the plight of illegal immigrants who are forced to leave the country and rebuild their lives. How deported immigrants fare after leaving the U.S. isn't well chronicled. But many likely struggle, at least initially, to adapt to often unfamiliar surroundings.
Feeling sad and depressed in Argentina, the Correas decided to look for new opportunities in neighboring Chile.
---
If you have the gospel in your life, you can make it. You don't feel alone.
–Debora Zalazar de Correa
---
At the Chilean immigration office, they were asked to explain why they had come. They told the immigration officer they would like to open a stained glass shop. He wanted to see their work. Zalazar pulled her portfolio from her backpack. He was amazed and told her his church needed a big window. He told her Chile wanted people like the Correas in the country.
"When he said that, we walked out of the office floating in the air," Zalazar, 40, said in a telephone interview from her home in Concepcion, Chile.
The Correas said it was an answer to their prayers. Members of The Church of Jesus Christ of Latter-day Saints, the family has relied on faith to get them through the upheaval of being forced to leave the United States.
"If you have the gospel in your life, you can make it," Zalazar said. "You don't feel alone."
A week later, the Correas settled in Concepcion, a coastal city about 270 miles southwest of the capital, Santiago.
The couple got the job replacing the stained glass window at the immigration officer's Catholic church and at another Catholic church, both of which had been damaged in the 2010 Concepcion earthquake.
Life, they say, is good, though they still long for America.
Related:
"Right now, in this instant, I will tell you that I need to stay and try to build a future for us and for our kids," Zalazar said. "But in my heart, I want to go and die there."
They left Buenos Aires in December 2000 seeking a better life for their young children. Claudio Correa, 48, said he was harassed for working for an American company and being Mormon. He received threatening phone calls, and his house was vandalized with graffiti such as "Go away Yankee Mormon." A bomb threat at his company was the last straw.
They arrived in the United States under a visa waiver — which is very limited in scope and allows only 90 days in the country — settling in Iowa, where they had friends. Correa said he thought his employer would file a labor certification petition on his behalf that would pave the way for legal residency. But that didn't happen.
Correa then learned his family could obtain temporary protected status due to heightened political, social and economic unrest in Argentina. But that legislation was not enacted. Finally, he said he heard about the possibility of asylum based on the persecution that caused them to leave their homeland.
By that time, though, they had been in the U.S. more than two years and an asylum petition must be filed within 12 months of arriving. An immigration judge ultimately denied their petition and subsequent appeal in 2006.
The Argentine couple moved to Utah to work on projects that reflect their deeply held religious beliefs. They found jobs with Lehi-based Holdman Studios, which does much of the glass work for LDS temples. Zalazar worked as an artist and designer and trained her husband, who was a professional photographer in Argentina, to do etching and other duties.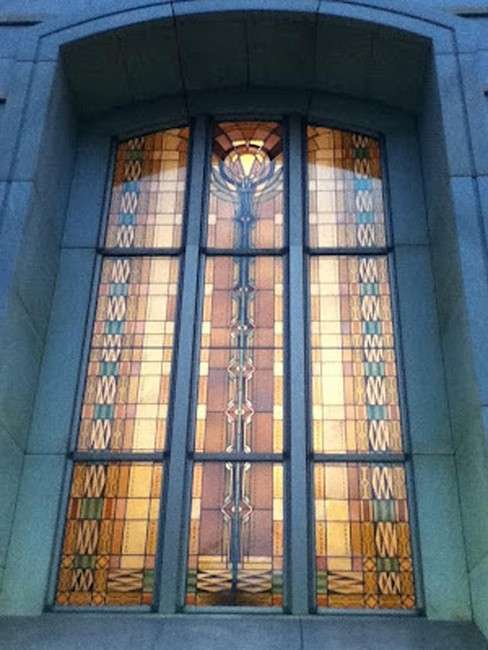 Over the years, the Correas received advice from various attorneys and others, some good and some bad. They said they were under the impression that immigration officials would reopen their case after 10 years, so they never left. They said they never received a written deportation order.
On Oct. 22, 2010, U.S. Immigration and Customs Enforcement agents knocked on the door of their American Fork home and took Correa to jail. Zalazar scrambled to sell off the family's possessions and pack what she could into a few suitcases. Two weeks later, the family was on a plane for Buenos Aires.
Correa said maybe he made some mistakes, but he didn't purposefully try to skirt the law.
"We tried to do our best," he said.
Going back to Argentina felt like being on a sinking ship and having to swim for the nearest island, he said. Once he realized he was alive, he looked for a better island and landed in Chile.
"It's OK here, for now," he said.
Correa still wonders what might have been had the Obama administration's policy allowing illegal immigrants an opportunity to stay in the country and apply for a work permit come out before last August. He held a job, paid taxes and never received so much as a traffic ticket.
The Correas said the LDS Church has been the constant in their lives and that their family has grown closer together through their ordeal.
"Members of the church are your brothers and sisters wherever you go. I don't feel like an Argentinian. I feel like I'm LDS," Zalazar said.
"As you know, we're eternal," she said. "That is what is important to us."
The Correas have managed to maintain their stained glass shop, Debora Zalazar Studios, and have even been working with Holdman Studios on projects.
They recently returned from a month in Ghana working on the LDS temple there. They hope to get contracts for the new Concepcion Chile and Cordoba Argentina temples. They're trying to introduce their glass work to residences, malls and schools in southern Chile.
---
Right now, in this instant, I will tell you that I need to stay and try to build a future for us and for our kids. But in my heart, I want to go and die there.
–Debora Zalazar de Correa
---
"We are making enough money to live on," Zalazar said.
They say they developed skills they didn't know they had.
"I never thought we could make our own business," Correa said.
The Correa children have adapted as well. They had only vague memories of Argentina, and Chile is new to them. They grew up American.
Kevin attended American Fork High School and was expecting his driver's license when the family had to leave. He misses snowboarding and BMX riding at the local skate park.
Magi was an honor student at American Fork Junior High School.
Their adjustment to Chilean schools was difficult. Kevin spoke Spanish but couldn't read and write it well. Magi at first translated all of her homework into English before completing it in Spanish.
Kevin, 18, graduated from high school this year. He'll begin serving as an LDS missionary next week in the Chile Santiago North Mission. He said it will be a "cool experience" but concedes he wanted to go farther away. He wants to enroll at BYU after he returns.
"I don't see myself here forever," he said.
Magi, 15, couldn't help but notice a lot of stray dogs running around the city. She spent her money on dog food and brought several puppies home, much to her parents' dismay. They finally let her keep a curly haired dog she named Lilo.
"It's just comforting to have an animal to help me out. She's a real blessing for me," she said.
Magi also discovered a talent for distance running. She belongs to a local track club and has won several races. "And I want to go to the Olympics," she said.
But which country would she represent? That's hard, she said, noting she was born in Argentina, grew up in the U.S., and Chile "saved us when we were sad."
The Correas said they don't know what's still in store for them.
"I think everything has a purpose in life," Correa said. "It's like a movie. We're in the middle of the movie. We don't know the end."
×
Photos
Related Stories