Estimated read time: 2-3 minutes
This archived news story is available only for your personal, non-commercial use. Information in the story may be outdated or superseded by additional information. Reading or replaying the story in its archived form does not constitute a republication of the story.
SALT LAKE CITY — New technology that could allow us to feel virtual sensations has big implications for the medical world.
Researchers at the University of Illinois at Urbana-Champaign have developed a flexible circuit that mimics the properties of the fingertips. The research team hopes the development will lead to the creation of advanced surgical gloves that would allow surgeons to operate virtually.
The devices consist of layers of gold electrodes housed between layers of polyimide plastic to form a nanomembrane. The nanomembrane is mounted on a silicone rubber tube that can be worn on the fingertip. Sensors can be added to the outside of the membrane to measure pressure, temperature or other properties.
When researchers applied pressure to the sensors, electronic currents were created and transferred to the skin, where they were felt as mild tingling sensations.
The development could be the first step in creating gloves that could force the brain to recreate sensations such as heat, pressure and texture without actually experiencing the sensations, according to the report.
"Perhaps the most important result is that we are able to incorporate multifunctional, silicon semiconductor device technologies into the form of soft, three-dimensional, form-fitting skins, suitable for integration not only with the fingertips but also other parts of the body," said Prof. John Rogers, a co-author of the study.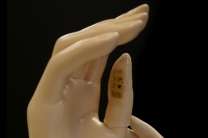 One implication for the medical world could be the development of a nanomembrane "sock" that could be fitted around the heart and would provide a 3D map of the organ's electrical activity, which could be useful in treating an irregular heartbeat.
MC10, the company responsible for commercializing the technology, is currently running animal trials on such a product.
Another application of the technology would be to use the nanomembrane gloves to sense the thickness or composition of tissues via their electrical properties. Tissue could be removed or altered using a high-frequency alternating current supplied by a battery attached at the wrist and delivered by the nanomembrane, according to the research team.
MC10 is reportedly working with Reebok to develop a product to be launched by the end of the year. It would be a "body-worn piece of electronics" designed for contact sports, according to New Scientist.
Further developments could lead to an electronic "skin" that could restore sensation to people such as burn victims or amputees who have lost feeling in their original skin. The group is also currently working on creating a way to provide the device with wireless data and power.
×
Photos
Related links
Most recent Science stories