Estimated read time: 7-8 minutes
This archived news story is available only for your personal, non-commercial use. Information in the story may be outdated or superseded by additional information. Reading or replaying the story in its archived form does not constitute a republication of the story.
SALT LAKE CITY — The woman said she was afraid for her life as she lay on the bed and watched as flies fell and died in the window sill.
"I remember laying there being completely scared," she said, describing the night she said she was forced to spend with Gregory Peterson at his cabin in Heber City.
"I didn't want him to get mad. I didn't want him to hurt me. I didn't want him to kill me. I was so scared of what he might do. I just wanted to go home."
The woman was the fourth alleged victim to testify against the GOP activist and offered some of the most harrowing testimony against the man accused of kidnapping, raping or abusing women he took on dates. She was the final woman to testify against Peterson, 37, during a two-day preliminary hearing.
Third District Judge Judith Atherton ultimately ruled that there was sufficient evidence to order Peterson to stand trial on 25 charges. She also raised his bail from $750,000 to $2 million.
The woman said she met Peterson the night of March 26, 2011, when she went to a tsunami fundraiser organized by single adults from an LDS ward. Peterson was a friend of a man she was talking to at the event and the three of them stuck together during the party until Peterson invited her to a movie.
Earlier in the night, she said Peterson offered to show her his LDS temple recommend, which she thought was strange. But she made the assumption that he was a man with "moral values" and left with Peterson after the other man declined to join them.
They got on the freeway and were making small talk about appropriate first date behavior when she realized she was no longer in an area she recognized. Peterson told her he was instead driving her to see a movie at his cabin in Heber City. She said she objected, explaining that she had to teach a church Primary class the next morning.
"He said, 'They'll be fine without you,'" she recounted. "I didn't know what to say. I was scared. I didn't know where he was taking me. It kind of scared me because I'd never been on this road."
She testified that Peterson soon started touching her leg and then announced that he had a gun and that he always carried a gun, patting the center console. She never actually saw a firearm then, but said she was afraid and started complying with Peterson's commands to touch him and kiss him while they drove.
Related:
"He wanted me to kiss his neck," she said.
"Did you kiss his neck?" prosecutor Thad May asked.
"Yes," she replied. "I was scared if I didn't — of the gun."
It was dark when they arrived at the cabin and she she said she didn't know where she was or what the cabin really looked like. They walked past the couches and TV when they entered the home, and he ordered her into a bedroom.
"He told me he had guns, many guns, and that he always had them with him," she said. "He was mean. He was not how he was (before). He was not friendly."
The woman began to cry as she identified the bed that was in the room, where she said the sexual abuse began. She described numerous acts of abuse, rape and assault, coupled with physical abuse and crude, demeaning language.
She said in the third and final series of events that night, the violence escalated until he had her hair in his hands and twisted it.
"It was this complete, immense pain," she said. "I remember thinking he was going to break my neck. I remember thinking, 'This is it. He's going to kill me.'"
Later, Peterson offered to hold the woman and she said she told herself to pretend that she was asleep and roll out of his grasp. But that only prompted him to draw her closer. She said he would sometimes break to play a song on the guitar, eat cereal or watch the TV show "Big Love."
At one point, the woman laughed sadly at herself through her tears as she described seeing lights out the window and hoping they were from the sheriff. In reality, it was just a snowplow.
---
I didn't want him to get mad. I didn't want him to hurt me. I didn't want him to kill me. I was so scared of what he might do. I just wanted to go home.
–Alleged victim of Greg Peterson
---
Eventually, after repeated requests, he agreed to take her home. The woman said she reported what happened to officials in Wasatch County that day.
Defense attorneys questioned whether she ever told Peterson to stop or if she sought help.
"I don't recall ever using the word 'no,'" she said. "I remember being incredibly scared. He told me he was a fast runner, that he had a lot of guns that he always carried with him. … I did everything he asked so he wouldn't hit me."
Defense attorneys also asked whether the woman had ever been raped before. She indicated that she had been raped by two ex-husbands and someone she knew in high school.
"She's accused three other people of rape," defense attorney Cara Tangaro told the judge. "There may be an issue of her articulating what she wants and what she doesn't want. That's very unusual to be raped four separate times."
"She's either the most unlucky person I've ever met or something's going on there," Tangaro said after the hearing.
Earlier Wednesday, another woman testified she was a victim of Peterson and was cross-examined by defense attorneys. That woman said she met Peterson on Facebook and she, too, was taken to the cabin in Heber where she was sexually abused. She said Peterson tried to "brainwash" her after the three days she spent with him and told her he had done nothing wrong.
When asked why she never tried to get help, either by calling on the phone or asking those around her, she said she was afraid of Peterson's threats of violence and deportation.
"I remember having the thoughts of Elizabeth Smart," she said. "Why didn't she run? Why didn't she communicate with anyone? I now understand. … The threats. He knew where I lived, he knew my family. … I was frozen to do anything."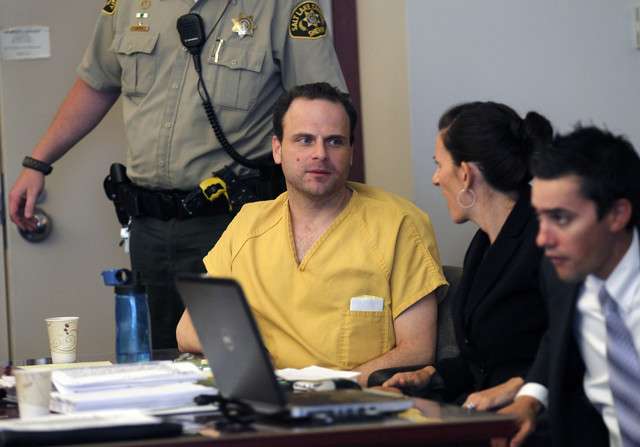 That woman, who said she spent two nights at the home of Peterson's mother, was the subject of testimony from two defense witnesses. Both Luis Capunay, who was hired to do work at the cabin, and Peterson's mother, Jean Peterson, took the stand Wednesday and said they both spent time with Peterson and his date but never noticed her in distress.
Capunay said the woman later told him about allegations of abuse, but he said he did not want to get involved.
The two witnesses were not part of any defense strategy. Attorneys said they wanted to preserve their court testimonies in case they aren't available for the trial. During preliminary hearings, a judge determines whether enough evidence is presented to show "probable cause" that crimes occurred. Defendants typically do not present full defenses.
Peterson did not take the stand at the advice of his attorneys, but did cry when his mother was asked whether she loved her son, whether it was difficult to be in court and whether she would lie for him.
Peterson was ordered to stand trial on 25 separate charges, including two counts of rape, eight counts of object rape, two counts of aggravated kidnapping, nine counts of forcible sexual abuse, forcible sodomy, assault, burglary and sexual battery involving four women. One of those charges was changed from rape to object rape.
Peterson's attorneys said their client has done nothing illegal. He either had consensual sexual contact with the women or no physical contact at all, which they said is the case with one of the women who testified.
"There's one witness who we're saying her story is completely fabricated," Tangaro said, though she did not specify which woman.
An arraignment hearing is set for Aug. 24. Tangaro said she intends to take the case to trial.
"There's a lot of information that's not making it out to the public," she said. "There are a ton of witnesses who will be coming forward and will be disputing what these women are saying."
A new charge was filed against Peterson Monday. The Wasatch County Attorney's Office charged him with forcible sex abuse, a second-degree felony. He will have an initial appearance on that charge Aug. 29.
×
Photos
Related stories