Estimated read time: 3-4 minutes
This archived news story is available only for your personal, non-commercial use. Information in the story may be outdated or superseded by additional information. Reading or replaying the story in its archived form does not constitute a republication of the story.
SALT LAKE CITY — The Utes held their second scrimmage of fall camp Tuesday morning in Rice-Eccles Stadium as the countdown to their home opener against Northern Colorado nears just 16 days.
The big focus on today's scrimmage was on the quarterback position, which, let's all be honest, wasn't really ever a controversy to begin with. As of this post, 45% of ksl.com users agree that Jordan Wynn will be the starting quarterback for the Utes on August 30th.
After today's scrimmage, Whittingham mentioned that Wynn stood out from the pack, but that the competition is ongoing.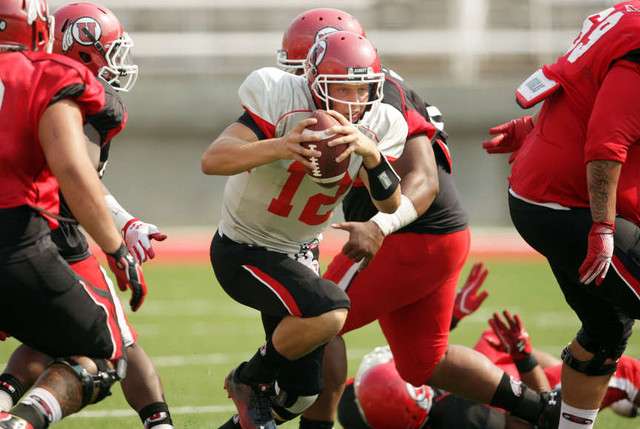 "It's a competition at every position," Whittingham said. "I think that's healthy. The more depth you build, the more competitive you become. I don't think it's healthy when you have a guy at number one that in no way can lose his job. That is a recipe for complacency."
Here are the QB stats:
Jordan Wynn, 6-9 for 85 yards
Travis Wilson, 4-9 for 30 yards, 1 TD
Jon Hays, 3-6 for 37 yards, 1 TD
Adam Schultz, 8-9 for 153 yards, 3 TDs
Schultz was praised by Whittingham as being the most improved Ute on the roster, but before you read too much into his numbers, note that they came against the third team defense. Still, those a some great numbers. As we saw yesterday, he has excellent arm strength, throwing the ball out of the stadium.
Check out KSL intern Ashley Whittingham's interview with wide receiver Geoff Norwood, who has had a great camp and has risen up the depth chart, plus offensive coordinator Brian Johnson and head coach Kyle Whittingham.
Below is the official press release from Utah regarding the scrimmage.
*****************************
The Utes cleaned up their act in a 75-play scrimmage in Rice-Eccles Stadium this morning and left their coach pleased. "We were much cleaner overall than in our first scrimmage. We had better execution on offense, took good care of the ball, tackled better and our kicking game improved," said Whittingham.
Jordan Wynn held his ground at quarterback, completing 6-of-9 passes for 85 yards, while Travis Wilson was 4-of-9 passing for 30 yards, including a 5-yard touchdown pass to tight end Westlee Tonga. Jon Hays connected on 3-of-6 passes for 37 yards and a 9-yard touchdown strike to Sean Fitzgerald.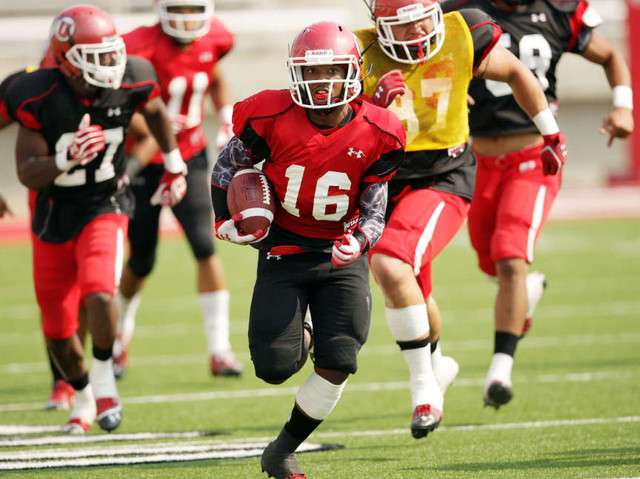 Showing off his big arm was redshirt freshman Adam Schulz, who shredded the No. 3 defense with 8-of-9 passing for 153 yards and three touchdowns. The scrimmage ended on Schulz's 62-yard pass play to true freshman Brian Allen.
DeVonte Christopher led the receivers with three catches for 59 yards and Dres Anderson broke loose for three receptions for 42 yards. John White again watched running mates Jarrell Oliver (16 rushes, 53 yards), Kelvin York (7 rushes for 25 yards and 1 TD), James Poole (5 rushes, 19 yards) and Lucky Radley (3 rushes, 77 yards). Radley broke off a huge 66-yard run during the "backed up" drills, starting deep in his own territory and crossing midfield before pulling up lame with a hamstring injury and getting tackled.
Radley was one of four Utes who left the scrimmage with injuries. Others were Quade Chappuis with a minor shoulder injury, Jacoby Hale (hamstring) and Hunter Dimick (thigh).
The defense recorded five sacks and 11 total tackles for loss, while forcing two fumbles and breaking up a pair of passes.
Three Utes also appear settled in at new positions: Hale at defensive end (from linebacker), Travis Still at linebacker (from defensive back) and Tanqueray Towns at cornerback (from receiver).
×
Photos
Most recent Sports stories