Estimated read time: 2-3 minutes
This archived news story is available only for your personal, non-commercial use. Information in the story may be outdated or superseded by additional information. Reading or replaying the story in its archived form does not constitute a republication of the story.
ST. GEORGE — The relationship between southern Utah's Tuacahn Amphitheatre and the Walt Disney Corporation has grown over the last several years, as evidenced by its latest production: "Aladdin the New Stage Musical."
With the red rocks of Snow Canyon as a backdrop, the musical has been breaking box office records all summer long.
The Disney movie "Aladdin" was released in 1992 and has millions of fans worldwide. With new scenes and songs, the stage production is familiar, creators say, but better.
---
That energy is so infectious, and it just makes you even more grateful to get to play the part every night.
–Haley Carlucci, actress
---
All three main characters have had starring roles on Broadway. Haley Carlucci, who plays Jasmine, loves looking out and seeing all the little Jasmine look-alikes in the audience.
"A lot of the little girls dress up, and they're so happy to see you," Carlucci said. "That energy is so infectious, and it just makes you even more grateful to get to play the part every night."
This is a huge production, the third Disney show at the theater in as many years, and there are still plenty of challenges on that 90 foot stage.
"We've got live camels, we got fireworks," said artistic director Scott Anderson. "(We've got) animals and birds and peacocks and all sorts of things we incorporate into the show. So, we kind of bring the environment to the show."
Edward Juvier, who plays the Genie, has his own makeup artists and dressers. His preparation time is a different kind of challenge.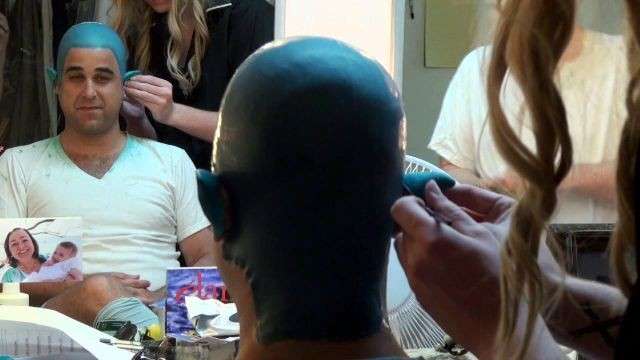 "It takes about an hour to put on all that bald cap," Juvier said. "That's actually my greatest challenge, because once I get out on the stage it's just a blast."
The cast members love the southern Utah hospitality get every night.
"Everyone comes to see the show. You go to the grocery store and everyone goes, 'Oh my gosh! You are Aladdin!' And you have the time to just stand there and have a nice conversation with everybody," said Dan Domenech, who plays Aladdin. "It's nice. I'm going to miss it."
Both "Aladdin" and "Hairspray" performances will run through mid-October. Visit tuacahn.org for ticket information.
×
Photos
Related links