Estimated read time: 3-4 minutes
This archived news story is available only for your personal, non-commercial use. Information in the story may be outdated or superseded by additional information. Reading or replaying the story in its archived form does not constitute a republication of the story.
PARLEYS CANYON — A 30-year-old woman was in extremely critical condition Monday after being hit by a vehicle on I-80 while trying to retrieve a bicycle that had fallen off her own car.
Monday's accident
The accident happened about 2 p.m. in the eastbound lanes of I-80 in Parleys Canyon near 7065 East, near the East Canyon interchange.
The woman, whose name was not released, was riding with her husband and children in a vehicle pulling a trailer, when their vehicle hit a bump and one of their bicycles was knocked loose and fell onto the road, said Utah Highway Patrol Cpl. Todd Johnson.
The vehicle pulled over and the woman got out to retrieve the bicycle that was in the left lane. That's when she was hit by a Nissan Sentra.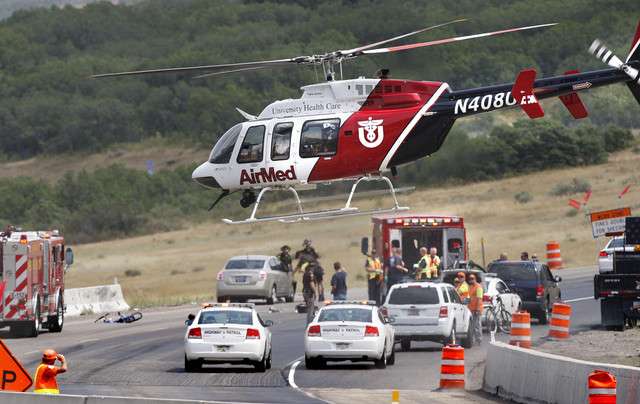 According to the Utah Department of Transportation, road debris causes an average of 500 crashes in the state each year. In June, Royce Munns, 46, of Brigham City was killed when the motorcycle he was riding hit a mattress that had fallen onto I-15.
In that instance, the owner of the mattress, Gerald Holgreen, was cited for failing to secure his load.
Johnson said the most important thing is making sure all items are properly secured. But if an item does come loose, he said individuals should not attempt to retrieve it themselves but should pull over and call the authorities.
"A mattress or a bike is not worth a human life," he said. "Yes, it is a hazard to motorists out there, but the greater hazard is a pedestrian on the roadway."
If a motorist comes across debris, they should cautiously try to change lanes and get around the item, he said. Crashes are often caused by people reacting to debris on the road and losing control of their vehicles.
Johnson also said debris on the road is an emergency that justifies calling 911 and emphasized that people shouldn't hesitate to alert authorities.
"This is a hazardous situation so definitely call 911," he said.
UDOT's safety improvements
Utahns see a number accidents on I-80 through Parleys Canyon every year. All the while, the Utah Department of Transportation keeps working to improve the safety of the road and cut down on the number of crashes.
---
We spent several million dollars over the last couple of years improving safety alone.
–Adan Carillo, UDOT
---
"We spent several million dollars over the last couple of years improving safety alone," UDOT spokesman Adan Carillo said Monday.
Since January 2010, UDOT has spent $76 million on wildlife fencing instillation — to keep moose, elk and deer off the freeway — and cable median barriers to reduce the severity of crashes.
"It actually deflects vehicles from entering the freeway in the opposite direction," Carrillo said, describing the barrier. "So, all of those crossover crashes that you hear about from time to time will be kept from happening at these locations."
UDOT has also spent millions on a climbing lane near the summit, so faster cars can pass the slower semitrucks; extra rumble strips; and road resurfacing.
All of those improvements are part of the Renovate I-80 projects that covered I-80 across the state.
Contributing: Benjamin Wood
×
Photos
Most recent Utah stories