Estimated read time: 4-5 minutes
This archived news story is available only for your personal, non-commercial use. Information in the story may be outdated or superseded by additional information. Reading or replaying the story in its archived form does not constitute a republication of the story.
SALT LAKE CITY — Coyotes and dogs and bears: oh my?
Since Greg Hamblock set out June 22 on his journey to help two underprivileged children attend private school, he has encountered fantastic beasts and some amazing people.
Hamblock is quite literally a cross-country runner: he is running from the northwestern-most point of the contiguous U.S. — Cape Flattery, Wash. — to the southernmost tip — Homestead, Flor. — to try to raise awareness for his cause.
His cause is something that some don't understand: why would someone run thousands of miles to help two children on the other side of the country go to school? But for Hamblock, it wasn't something he had to think twice about.
"I don't know why, exactly, I feel the way I do," he said. "Sometimes you feel like you have to do something, and you don't always listen to it, but I felt like if I didn't listen this time, it was going to be something I would die regretting."
Hamblock met Chris, 8, and Megan, 5, during a humanitarian trip to New Orleans. At the time, they were ages 5 and 3. Chris was advanced for his age: he tested at a third-grade level, and was curious about everything. He wanted to be a construction worker. Megan was sweet, but sassy. She wanted to be a ballerina.
The kids' mother was doing her best to provide for her children: they were always clothed, and never hungry, even if they weren't always full. But homelessness, and later the trailer park, meant her kids went without more often than she would have liked.
She was working herself to the bone to provide, but she was worried that without a father figure in their lives, her kids would slip through the cracks. So when she met Hamblock one day at the homeless shelter, she asked him to keep coming back — to give Chris someone to look up to.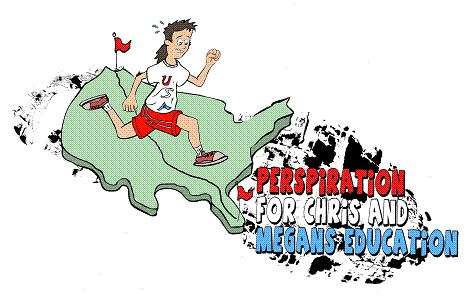 "Their mom is the most impressive woman," Hamblock said. "I know that even if their environment isn't great, their family is really strong."
Hamblock kept going back, and he grew close to the family that had been through so much together — so much so that he could not stop thinking about them after he left Louisiana. A friend of his had mentored middle-school students in the same area, and had attended three student funerals over the course of a year. All of them were drug or gang related.
"I just kept thinking about it," he said. "I couldn't let it go."
So he made a plan. He would run across the country — he had seen it done before — and would raise money to put Chris and Megan through private school. That way, maybe they would have less of a chance of slipping through the cracks. Chris could build a house one day, and Megan would get her tutu.
He passed through Salt Lake City on Thursday, and continued on toward Denver. And it's the people — and steeples — that he'll remember about Utah.
"Churches are like Walmarts out here — they're everywhere. I've never seen anything like it," he said. "And people have been really nice."
The Parable of the Starfish
One day, an old man was walking along a beach that was littered with thousands of starfish that had been washed ashore by the high tide. As he walked he came upon a young boy who was eagerly throwing the starfish back into the ocean, one by one.
Puzzled, the man looked at the boy and asked what he was doing. Without looking up from his task, the boy simply replied, "I'm saving these starfish, Sir".
The old man chuckled aloud, "Son, there are thousands of starfish and only one of you. What difference can you make?"
The boy picked up a starfish, gently tossed it into the water and turning to the man, said, "It made a difference to that one!"
Credit: The Starfish Project
Like a family he met in northern Utah: they sliced a watermelon and shared it on their tailgate. Now, Hamblock will be staying with a relative of theirs later in his trip.
He's had his share of scares, though, out in the wild. He hears coyotes at night, sometimes. And then, there was the run-in with the bear.
"One day, I woke up and there was a baby bear," he said. "I couldn't see the mom, but I knew she'd be nearby. I thought, 'I don't want to mess with a bear. It's too early.'"
One animal was friendly, though: a lost puppy who followed him along a deserted road for a day. He couldn't locate the owners of the dog, so Hamblock took the puppy to a nearby rescue shelter. He said it was nice to have some company on his normally solitary journey.
He's a quarter of the way through his journey, and about one-twelfth of the way to his goal. He said he isn't worried, though; he'll make it. And hopefully, like in the parable of the starfish, his journey will inspire others to make a difference of their own.
"I grappled with doing all of this for two kids, but I think they're worth it," he said. "It may not change things for everyone, but it will make a difference for them."
×
Photos
Related links
Related stories