Estimated read time: 3-4 minutes
This archived news story is available only for your personal, non-commercial use. Information in the story may be outdated or superseded by additional information. Reading or replaying the story in its archived form does not constitute a republication of the story.
SALT LAKE CITY — A NASA scientist is arousing more curiosity among some than the rover he helped land on Mars.
Bobak Ferdowsi, the mission controller for NASA's Mars Curiosity landing, caught the attention of the Internet on Monday by standing out from the crowd of blue-shirted, tense faces. The reason? His star-spangled, red-and-blue tinged mohawk.
Ferdowsi's non-conformist hair is nothing new at NASA. He colleagues help him choose a different style for each mission. Monday's 'do was designed to convey both a sense of patriotism and appreciation for the cosmics.
What it accomplished was propelling the unassuming mission controller to Internet stardom, as memes were created in his image and Tumblr accounts were made and tagged to honor his hair and "hollywood smile."
When the now iconic picture of 'Mohawk Guy,' as Ferdowsi came to be known, made its way onto the web, Twitter saw a veritable explosion of mentions of the "dude with the cool hair."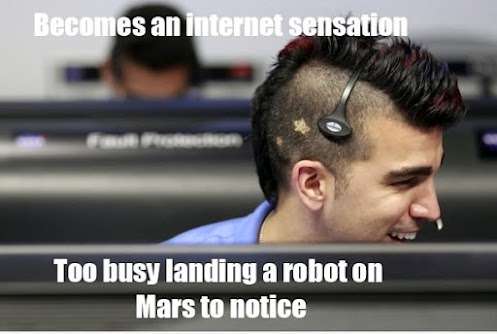 Ferdowsi himself had fewer than 200 followers on Twitter prior to the Curiosity landing. By Wednesday morning, he had more than 40,000.
The NASA worker acknowledged the attention he was receiving with a tweet: "Internet, you win this round. I'll be back later, but thanks so much. Now going to celebrate with all my friends and team! #msl."
It was a later tweet, though, that got to the heart of Ferdowsi's sudden rise to fame: "Not rdy for the attention, but happy to show it takes all types to make@MarsCuriosity !" he wrote Monday afternoon.
The fact of the matter is that Ferdowsi was able to do what celebrities and the U.S. government have thus far been unable to accomplish. He made science cool. He and his mohawk made it really cool.
Not rdy for the attention, but happy to show it takes all types to make @marscuriosity ! If only my coworkers wld stop making fun of me ;)

— Bobak F. (@tweetsoutloud) August 6, 2012
As much as the government and Will.i.am have tried, they have been unable to give STEM — science, technology, engineering and mathematics — broad appeal to those who have the potential to contribute most to the field: a new generation of students who are choosing majors in the liberal arts and humanities instead of in the physical sciences.
It may be unlikely that droves of students will begin signing up for science classes because of a single mohawk, but Ferdowsi seems to have helped science take a step away from the usual stereotypes and show the general public that all types are welcome to study, here.
As Californian Lindsay Pavlas tweeted: "You guys, there is a guy working at NASA who has a mohawk! PUNK SCIENCE!"
×
Related links
Related stories