Estimated read time: 4-5 minutes
This archived news story is available only for your personal, non-commercial use. Information in the story may be outdated or superseded by additional information. Reading or replaying the story in its archived form does not constitute a republication of the story.
SALT LAKE CITY — Football season is here and we are officially in full swing.
Day two of Camp Kyle was another hot day up on the baseball field where the Utes have been practicing for the first two days of camp.
It is always interesting to see the new players and also which players took advantage of their summer. It seems like every year this team gets a little bigger, stronger, and faster and this year is no exception. Everything you hear about Carlos Lozano is true by the way. He might be the largest human being we have ever seen, absolutely a giant of a person.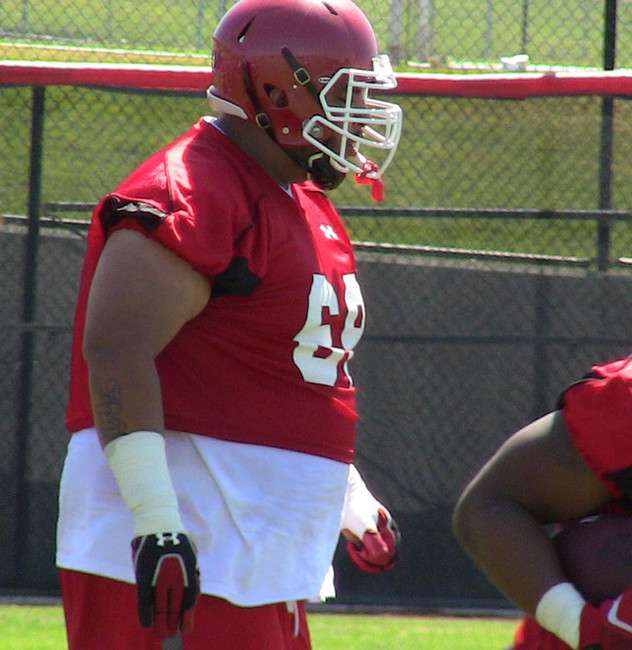 This team is big and fast. Mike remembered specifically watching the first team defense (minus Star Lotulelei) practicing and then as they came off the field and the second team came in, they seemed to get bigger. The depth is very noticeable on this team.
"We have more depth, which allows us more opportunities to work against each other," Utah head coach Kyle Whittingham said after Friday's practice.
"We're not, knock on wood, thin at any position at this point and time. That can change at any time, but if we're able to keep the numbers where they are, with the depth that we have - two to three deep at most positions, that allows you to compete against each other."
John White IV was also noticeable. He was definitely getting first team carries as he should, but Kelvin York was getting in some work with the ones as well. This is the Utes' latest version of "Lightning and Thunder" at the running back position. White looks to be in great shape and to lead the Utes running attack but York will certainly get some carries.
"We can't feed the ball to John White 312 times, or whatever we did, so Kelvin York has to take some of that pressure off. He is a quality back. And the other two backs, Lucky Radley and Jarrell Oliver looked good. And now we've added James Poole," Whittingham said.
Whittingham was referring to the Utes addition of 6'0", 187-pound JC running back James Poole out of Saddleback College in Mission Viejo, Calif.
Kelvin York really does appear to be the power back that can help wear defenses down. He runs low, strong, and when there is daylight, looked really quick in the open field. One thing that worries me is that when he walks, he looks like he is in pain, but that might just be how he walks (don't read into that, just my opinion).
"(York) is a weapon, and we have to utilize him this year," Whittingham said.
Another concern that Mike noticed was that with the two tackle positions. He spent a few minutes watching them, and keep in mind, Utes aren't in pads until Saturday, but he thought they looked raw. Hurricane High graduate and redshirt freshman Dan Nielsen took quite a few reps, as did Miles Mason and Carlos Lozano.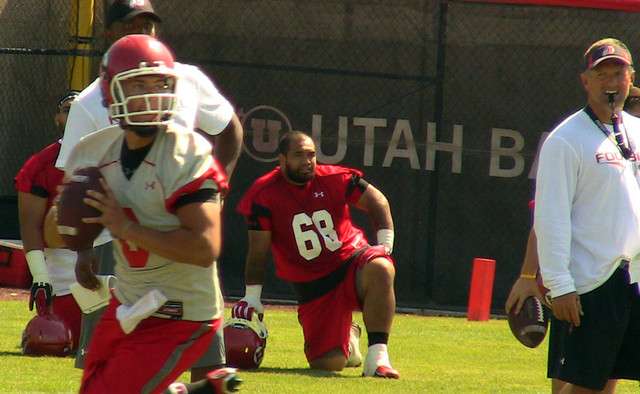 Utah quarterback Jordan Wynn seems to like what he has in front of him and thinks they will be fine.
"It is pretty obvious to the eye that we have some bigger bodies out there (on the offensive line)," Wynn said. "That is a credit to the coaching staff, getting these guys in here. I'm excited about it."
Wynn is also excited about the offensive play style that the Utes will be running this year. "This year (the offense is) so dynamic, we can do so many different things. We can line up in double tight, we can also line up in five receivers, we can line up in 'I' - it will be fun to play in."
On the other side of the ball, defensive coordinator Kalani Sitake was pleased with the intensity and speed thus far through camp.
"I liked the way are guys are running around, we've got a lot of speed," Sitake said. "Everything that we put in on defense, I thought the guys handled it really well. We have a long ways to go, but I'm really pleased with the progress so far."
While expectations for the defense are sky high for the Utes' second go round in the Pac-12, Sitake cautions his players to not lose focus on the task at hand.
"We just have to be ready ourselves and only focus on one opponent, and that is Northern Colorado," Sitake said.
We will be heading up to practice often this season and if any of you have questions or want to know anything specific, let us know. You can email us at mgrant@ksl.com or rojackson@ksl.com or reach us on Twitter, @mikegrantksl or @rojackKSL
Jeremiah Jensen is also a regular at practice and you can get in touch with him at @JJSportsBeat.
×
Photos
Related stories
Most recent Sports stories