Estimated read time: 2-3 minutes
This archived news story is available only for your personal, non-commercial use. Information in the story may be outdated or superseded by additional information. Reading or replaying the story in its archived form does not constitute a republication of the story.
SALT LAKE CITY — When ambulance drivers rush out to help others, their lives can also be on the line. There are many distractions on the road and one paramedic said you'd be surprised how many people don't see ambulances on the road.
But lights and sirens don't mean an ambulance owns the road and training helps them safely get around traffic and intersections.
"Every agency is going to have close calls," said Steve Ball, a paramedic with Unified Fire Authority. "Every agency is going to have near misses in traffic. It's kind of the nature sometimes of it."
Though they respond to emergency situations, getting there or getting to a hospital can sometimes can cause an emergency itself.
"I know several people that have been in crashes responding to emergency calls," Ball said.
That's what happened over the weekend in Hurricane, when an ambulance transporting a stroke victim collided with a van. An 8-year-old girl was seriously hurt in that collision and remains in critical condition. The Utah Highway Patrol has said the van had the green light and troopers cited the ambulance driver.
"The ambulance should have slowed down and done what we call a "clear the intersection," slow and look and make absolutely certain that nobody's coming or that all the traffic had stopped," said Cpl. Todd Johnson with UHP.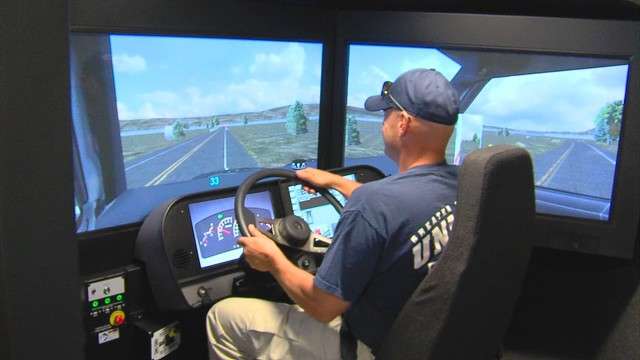 The Battalion Chief for the Hildale/Colorado City Fire Department said the cited driver had extensive training and will train other drivers. In fact, she had a trainee in her passenger seat when the crash happened.
Another crash in North Ogden is still under investigation. Police say 88-year old Arlene Logan died when her son pulled out his car in front of an ambulance.
Ambulance drivers have to follow the rules of the road. Lights and sirens are only a request to yield. But drivers don't always do that.
"We do try to clear an intersection before we go through," Ball said. "If we approach a red light, then yes, we'll come to a complete stop before proceeding through."
Training is a big part of their due diligence. Each driver must be state certified. Training beyond that is left to each agency. The Unified Fire Authority uses a new simulator to put each ambulance and engine driver to the test.
"It really teaches you a lot about situation awareness, what you can be looking for," said Brian Anderson, a captain with UFA.
×
Photos
Related links
Most recent Utah stories