Estimated read time: 5-6 minutes
This archived news story is available only for your personal, non-commercial use. Information in the story may be outdated or superseded by additional information. Reading or replaying the story in its archived form does not constitute a republication of the story.
LOS ANGELES — Kyle Whittingham finds it hard to believe that this year will mark his eighth season as the head coach at Utah. He feels much more comfortable now than he did when he had the tough task of following the success of Urban Meyer and a BCS busting victory in the 2005 Fiesta Bowl.
"What's not different," he says about how he has evolved as a head coach. "It's been a learning process, still learning. I guess that never stops. It's just a matter of getting into a routine and feeling comfortable with what you are doing."
That comfort allows for the confidence to take risks. He did just that in the off-season when he hired former Utah quarterback Brian Johnson to be the new offensive coordinator. Whittingham is aware of the criticism and doubt that comes with the decision to hire a 25-year old with no experience as a play-caller in the Pac-12. He doesn't care.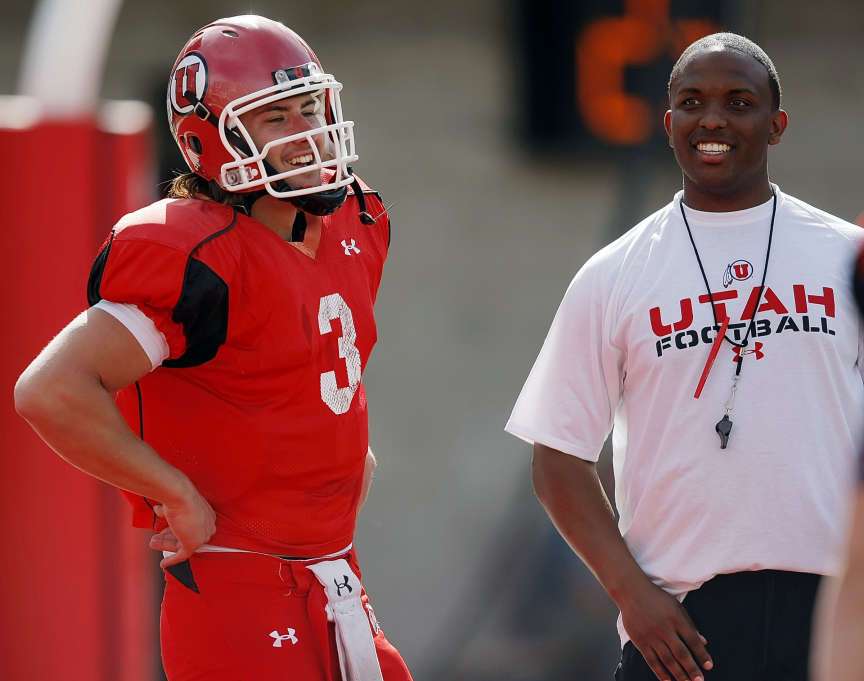 "What we need at this time and the direction we want to go with the offense, Brian was the best man for the job," he says. "After spring ball I feel even more certain."
Coach Whittingham praised the way Johnson handled the offense this spring, its progress, his organizational skills and the way the 25 year old relates to the players.
"Age is only a number and Brian has always been ahead of the curve."
Johnson will likely face the same ups and downs of any first time offensive coordinator but it will help to have an offense loaded with experienced talent.
John White returns after breaking the school's single season rushing record with 1,519 yards. He never missed a game despite carrying the ball 316 times.
"I can't complain," White says. "I loved it."
---
For John White to rush for 1,500 yards when everybody in the stadium knew he was going to get the ball was a great accomplishment
–Utah head coach Kyle Whittingham
---
"For John White to rush for 1,500 yards when everybody in the stadium knew he was going to get the ball was a great accomplishment," says Whittingham.
It was a remarkable year for White and the Utah offensive line but Whittingham knows that if White doesn't get more help this fall it could be a long season.
"We can't be one dimensional like we were last year," says Whittingham. "If we want to win the South Division we have to be more productive on offense."
That starts with the quarterback position where Jordan Wynn returns after missing nine games last season after suffering another shoulder injury in a 31-14 loss to Washington. White says the players are confident that Wynn is the guy to lead them to a successful season.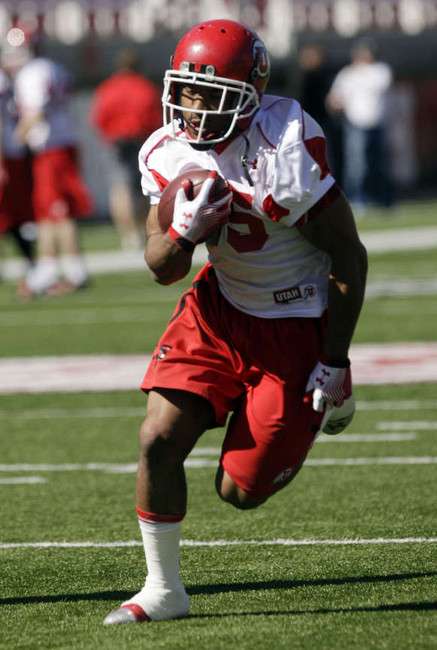 "Jordan Wynn is definitely the guy," White says. "He missed most of last season so he's got a lot to show and he is ready to play. He didn't get to play too many games in the Pac-12 so I think he has a lot to prove this year."
Wynn will have plenty of talent to throw the ball to. Senior wide receiver DeVonte Christopher is an awards candidate who returns along with experienced receivers Dres Anderson, Luke Matthews and Reggie Dunn. Whittingham says the tight end position is the deepest it has ever been during his time at Utah. Wynn now weighs 210 pounds and Whittingham hopes the extra weight will help him avoid further injuries.
"Physically he's gotten to the point where he needs to get," he says. "The mental aspect of his game has always been a strong suit for him. His decision making, his command of the offense, and his ability to read defenses - we're hoping for a big year from Jordan this year."
While Utah expects the offense to be more explosive this season they made a name for themselves in their first season in the Pac-12 on the defensive side of the ball. The best news for the program during the offseason was the decision made by Morris Trophy winning defensive tackle Star Lotulelei to return to school for his senior year.
"Personally, there are a lot of things I feel I need to work on," says Lotulelei. "A big part was really getting bigger, faster, stronger, quicker, that's something that I feel will really help me when I do take that next step."
If he accomplishes those goals during the offseason that is a scary thought for offenses around the Pac-12.
The front four led by Lotulelei is considered by many to be the best in the Pac-12 and one of the best in the country. Brian Blechen and Eric Rowe are back at safety while Ryan Lacy and Mo Lee have experience at cornerback. The big question on defense is the linebacker position. Trevor Reilly is back but the other two spots are up for grabs among mostly sophomores and freshmen. Despite the lack of experience Whittingham isn't concerned.
"We're not losing any sleep over that position because we feel that it is very talented," he says. "The separation will occur naturally as these guys continue to accrue reps in fall camp."
The schedule is highlighted by the October 4th game against USC at Rice-Eccles stadium. If both teams enter that game undefeated it could be a matchup between Top 25 teams that could determine the South Division championship. The focus is on the season opener on August 30th against Northern Colorado but the Utes acknowledge the potential is there for a special year on the hill.
"It's got to come together," Whittingham says. "You've got to have some luck along the way, stay healthy; you've got to have great team chemistry and great leadership, so there are a lot of factors that have to go into it. From just a raw talent standpoint and returning personnel we've got a chance to be pretty good."
×
Related stories
Most recent Sports stories