Estimated read time: 4-5 minutes
This archived news story is available only for your personal, non-commercial use. Information in the story may be outdated or superseded by additional information. Reading or replaying the story in its archived form does not constitute a republication of the story.
Imran, my new buddy
Part of my job in London is to try and find stories you won't see anywhere else. Not on NBC, not on ESPN, not on CNN. This is very exciting for me, but it also comes with a little pressure. Honestly, how do you get the kinds of stories other networks, with hundreds of resources, don't get? Sometimes my stories are similar, sometimes they're not.
The fun part is it means I get to walk around, take the Underground, or hop on a bus to just explore. I've found a bunch of interesting stories already.
Today, I only found one. However, I made a friend in my travels. And if he ever comes to Utah, he has my name and will look me up.
His name is Imran. I met him because I was hungry. Those who know me know how much of a picky eater I am. So, naturally, when I was in the town of Barking (I decided to go to Barking when I was already on the subway because I like dogs. I know, I'm strange), the duck places, meat places, and chicken places didn't really appeal to me.
But when I saw the Colonel smiling down, I knew I had to stop in.
It's funny seeing a KFC in the middle of a busy London street with no other noticeable food chains anywhere else. I walked in and tried to find a mashed potato bowl. They don't have those, though. No BBQ Snackers either.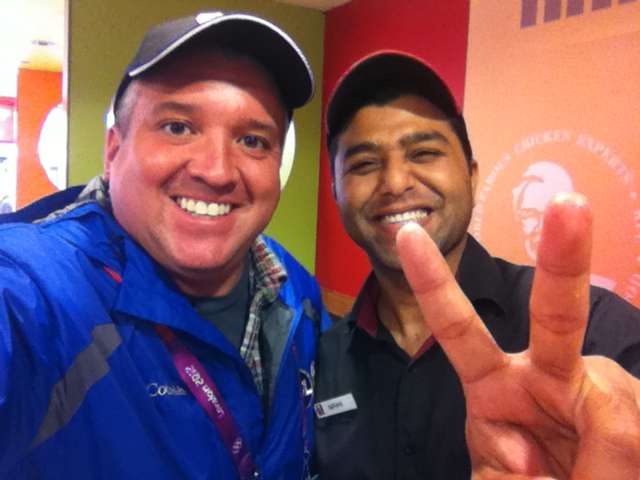 So I looked at a picture of a chicken sandwich (they call it a chicken burger) and ordered that. Imran took my order and knew right away I wasn't from around these parts. I tried to pay with a credit card, but he explained their credit card terminal only works with a "chip or pin." He told me that means the debit card either has to have a microchip in it, or I need my PIN number (yes, I know when I say "PIN number", I'm really saying Personal Identification Number Number, but it just sounds right to me).
It's a good thing I had some British pounds.
Imran and I started chatting. I told him I was from Salt Lake City. He said he's heard of it, and knows about our mountains and the 2002 Olympics.
He said he was from Pakistan, but moved to England to try and find a better life. He told me he's happy in England, much happier than he would if he had stayed in Pakistan. He also told me he likes the KFC BBQ snack wraps. I asked him if he had fry sauce for my French fries, then had to explain to him what that was. I'm not sure he thought it sounded tasty.
Still, we had a good conversation. He's happy for London's Olympics. He thinks it's good for Great Britain. He'll be cheering for the Brits and Pakistan, and now, he says he'll cheer for America because I seemed like a nice guy.
So, Imran, if you're ever in Utah, look me up. I'll show you where the first KFC started.
And I'll introduce you to fry sauce.
---
LONDON -- I remember when my boss at KSL, Tanya Vea, told me in February I was going to the London Olympics. It was one of those days where I just needed a smile, and that was a big one.
Ever since, I've been reading almost everything I could find on London and Great Britain. I wanted to know my way around the Underground by the time I got there. That didn't work. At least, not at first. But that's mainly because I followed Tom Kirkland around. If you ever run into Tom, look at him, smile, and just say "Stratford." He'll get it.
It is now Friday and we've been here in London almost 5 full days now. Opening Ceremonies are starting as I'm writing this. I'm in the NBC NewsChannel workspace logging and writing some stories I've already shot for later use on KSL TV. It's hard not to stop, though, and watch the TV monitors in our workspace. NBC has the opening ceremonies on them and it gives me chills.
Tom Kirkland's Blog
There is just something about the Olympics that feels right. Maybe it's because, for 2 1/2 weeks, we're all on the same team. Yeah, America has become a divided country in the past decade. But the Olympics gives us a chance to cheer for American athletes. Not Republican athletes or Democrat athletes. It doesn't matter if our athletes are against guns or for guns, against immigration or for immigration, or even for or against same sex marriages. We're cheering for them because they're Americans. And when they win, we feel like we won. We are divided as a country right now, but when it's us against the world, we seem to come together.
I'm going to enjoy these Olympics not just because I'm here in London, but because I feel it brings us all together.
And there's nothing wrong with that.
×
Related links
Related stories
Most recent Sports stories