Estimated read time: 5-6 minutes

This archived news story is available only for your personal, non-commercial use. Information in the story may be outdated or superseded by additional information. Reading or replaying the story in its archived form does not constitute a republication of the story.

TAMPA, Fla. — From Left Field is about bringing you the lighter side of sports, stuff that can't be quantified and isn't visible on a stat sheet, yet is still appealing and further cements a common theme that sports are awesome.

We start off today with a feel good story out of Tampa, Fla., where a paralyzed football player retired from the NFL.

I'm sure most of you are thinking something similar to "how in the world can this possibly be a feel good story?" Patience, my friends.

Eric LeGrand was a defensive tackle for Rutgers University. LeGrand was born and raised in Avenel, New Jersey, and ever since he was a little kid he had his sights on taking his game to the next level - playing on Sundays.

On October 16, 2010, that dream took a backseat as he suffered a spinal injury during a game against Army. The injury left him paralyzed from the neck down, and doctors quickly assessed that not only would never come off the ventilator, but that he would never walk again.

Five weeks later, LeGrand left the machine behind.

In June of 2011, LeGrand tweeted out two photos showing him standing upright in physical therapy, his mother standing beside him.

![](http://img.ksl.com/slc/2500/250039/25003998.jpg)

"Standing up little by little in therapy." "Standing tall, we can't fall. Standing upright again."

He has slowly started to regain some movement in his arms, and since October 2011, LeGrand has been working towards the ultimate goal of visiting the spot in Giants Stadium where he was hurt. He wants to lie down on the field once again, and then get back up and walk away.

LeGrand has served as an inspiration to others battling similar injuries, and was recently honored with the "Jimmy V Perseverance Award" during the ESPYs.

Three months ago, LeGrand was able to achieve his lifelong dream of signing with an NFL team. His former coach at Rutgers is now the head coach of the Tampa Bay Buccaneers, and although it may not have been in the fashion he envisioned as a young boy, how many of us can say that we've achieved the goals we set for ourselves in our youth?

But while he will be a "Buccaneer for life", he didn't want to occupy a roster spot that could be used for another player.

"I knew from the beginning that I had to retire once I joined the team. I wanted to be able to have my team at full strength, with 90 people on the roster. I don't want to take up that spot from somebody who can really help the team," LeGrand said.

His No. 52 jersey remains available through the team's website with proceeds benefiting spinal cord research, and a book chronicling his life story is scheduled to be released in September.

"I've been blown away by the tremendous outpouring of support, both in Tampa Bay and nationally, through this whole thing," LeGrand said.

"Everyone's support has really motivated me more and more to get better. I grind hard every day to (achieve) my main goal - and that's to walk again."

Good luck Eric, we'll all be cheering for you.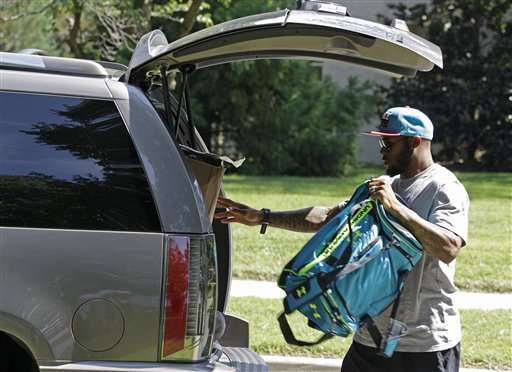 Former Ute donates to theater shooting victimsFormer Ute and current Carolina Panthers wide receiver Steve Smith made a $100,000 donation to the survivors of the movie theater shooting in Aurora, Colorado.
Smith told reporters that his oldest son attended the 'The Dark Knight Rises' premiere in Charlotte the night of the tragedy.
"As a father and husband I cannot imagine the pain and suffering the victims are going through," Smith said. "My family's hearts & prayers are extended to theirs, and I hope this contribution might assist in paying some of the medical bills that will help allow these families to move forward in this tragic circumstance."
"Hopefully, this helps a little bit. From one NFL city to another, God bless."
Renovations at LaVell Edwards Stadium continueThe BYU football season starts is approximately one month away, and construction crews are feverishly working to complete renovations to LaVell Edwards Stadium.
This BYUTV Sports video checks in on the progress of renovations, which include a new LED video wall and video ribbons.
All renovations are expected to be completed by the home-opener against Washington State.
Aggie Media Day
Utah State concluded WAC Media Day Thursday. The Aggies are picked to finish second in the conference, only behind league favorite Louisiana Tech.
NFL draft picks Michael Smith, Robert Turbin and Bobby Wagner are gone, but quarterbacks Chuckie Keeton and Adam Kennedy return to this year's squad, as well as wide receiver Matt Austin.
"It's great to be respected by your peers in the league and I have a lot of respect for every coach in this conference," said fourth-year USU head coach Gary Andersen. "However, we don't put much stock into preseason polls; they don't get you rings and they don't get you to bowl games."
Here is a photo gallery from WAC Media Day in Las Vegas.
Also, in reply to my plea for some Aggie school spirit, Scott Needham created this highlight video to get Utah State fans excited for the upcoming season.
What is Wyoming thinking?Some promotional campaigns leave you scratching your head.
Others, well, you'll just have to watch and see this for yourself.
Both Utah and BYU fans have seen some strange things from their former conference foe on road trips to Laramie, but this video might end up near the top of the list.
The video is titled "Cowboy Joe Club's 1st Installment", with more to come on August 1, 2012.
×
Most recent Sports stories