SALT LAKE CITY — Do you have too many pins on Pinterest and not enough time to try them all? Don't worry — the Page Two editors of ksl.com will try them out and give you the low-down.
This week on Pinterest: Four bug-repelling DIY tricks were literally given a road test as I tried them all while camping in the High Uintas.
Sage-scented campfire smoke
The most natural bugs-be-gone remedy I tried was also the easiest: throwing a stick of sage into the fire. At the bottom of a long (and helpful) blog post about eco- friendly fire starters, Laura Moniver, M.D., of intuitionphysician.com writes, "The sage scented smoke that the fire will emit keeps mosquitoes and other annoying bugs at bay for the entire area. We love it. Usually the sage stick that we throw into our fire is enough, no need for bug sprays." I tried this first with one long stick of dried sage from the garden, but when it didn't seem to be working I threw in two more. Although the smell of burning sage was quite pleasant, it only lasted for a minute or two before completely fading away as the sage was reduced to cinders — so too, presumably, were its insect-repelling powers. Final grade: D
Like what you see? Pin it.

Sage-scented campfire smokeDIY bug sprayMosquito bite itch reliefPine-Sol fly repellent For more pins, follow ksl.com on Pinterest
DIY bug spray
Normally I favor Pinterest recipes with the fewest amount of ingredients. In the case of DIY bug spray, I chose one the most complex recipes I could find, figuring that my chances of actually repelling bugs would increase with the number of ingredients. This recipe from simplycadence.com had four ingredients (witch hazel, Listerine, apple cider vinegar and scented oil) but was still easy to make. I mixed it all in a spray bottle, shook it up and sprayed away. The first obvious downside was the strong — make that really strong — odor. I smelled like Listerine for a good 5 to 10 minutes afterward. But that sacrifice was made worth it, because this stuff really works. After three-and-a- half days in the High Uintas, my son and I were the only ones who did not get bitten by the mosquitoes and horse flies that got the 12 other people in our group (until the very last morning when I forgot to spray and got a skeeter bite on my calf). And although we smelled a little too minty fresh, we did not have to be covered in DEET and other harsh chemicals. I will definitely be using this stuff again. Final grade: A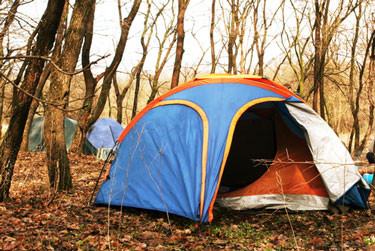 Mosquito bite itch relief
It's a good thing I did get bitten at least once, because I wanted to try another DIY remedy. On a pin that links to "12 surprising uses for Vicks VapoRub" from divinecaroline.com, another Pinner said: "My favorite that I learned while in Mexico: put Vicks on a mosquito bite and it takes away the itching! It is the best remedy I have ever found. Everyone always looked at me crazily when I told them of my Mexican remedy, and now I have this article to back me up." Both the Pinner and Caroline were right, it does in fact take away the itching for a few hours. However, it doesn't do anything to actually get rid of the bite. Instead, try my favorite trick: Put a dab of beauty masque with kaolin clay on the bite. It not only soothes the itch, it promotes healing in a hurry and draws out the histamine in your skin, the true source of the itch. Final grade: B-
Pine-Sol fly repellent
In addition to mosquitoes, the area where we camp is home to a lot of horse flies whose bites are much more painful. That's why I took notice to a pin that read, "I love using Pine-Sol. One thing I especially like is that flies HATE it! I mix it with water, about 50/50 and put it in a spray bottle. Use to wipe counters or spray on the porch and patio table and furniture Drives them away!" The pin didn't go to a link, so I did a little investigating. Apparently a lot of horse owners use this remedy and apply Pine-Sol directly to their horse's hair to keep the flies off. Since the chemicals in Pine-Sol are probably not great for human skin, I took the Pinner's advice and found a recommendation from ehow.com to back up the tip. I kept the mixture near our picnic tables and sprayed every few hours or so. While it did seem to keep at least some of the flies away, it may have just been wishful thinking because my sister said she saw one land right in the spray after I'd walked away. At least we had clean tables to eat on. Final grade: C

Watch Lindsay test favorite Pinterest finds on KSL-TV every Thursday at 12:45 p.m., and follow her on Pinterest @ltmax.
×
Related Links
Related Stories