Estimated read time: 8-9 minutes
This archived news story is available only for your personal, non-commercial use. Information in the story may be outdated or superseded by additional information. Reading or replaying the story in its archived form does not constitute a republication of the story.
UNIVERSAL CITY, Calif. — Last season, the Utes were the new kids on the block.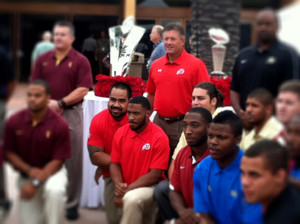 Coach Whit, John White and Star Lotulelei pose with Pac-12 coaches and players at #Pac12MediaDay— Jeremiah Jensen (@JJSportsBeat)
After losing their starting quarterback and stumbling through a 2-3 start, the Utes fought back, winning six of their last eight, including a 30-27 OT win over Georgia Tech in the Sun Bowl.
This year, nobody seems to be overlooking the Utes.
Utah is picked to finish second in the Pac-12 South Division in the preseason media poll released Tuesday. The Utes only trail USC, who is not only picked to finish first in the south, but take the conference championship as well.
In the north, Oregon garnered 117 first place votes to nab the top spot, followed by Stanford at second.
The media poll has correctly selected the conference champion in 28 of 51 previous polls, including 11 of the last 12.
Pac-12 Preseason Media Poll
| | | |
| --- | --- | --- |
| North | Points | First Place Votes |
| 1. [Oregon](?nid=918&page=_sport_football_team:39) | 732 | 117 |
| 2. [Stanford](?nid=918&page=_sport_football_team:106) | 533 | 5 |
| 3. [Washington](?nid=918&page=_sport_football_team:54) | 502 | |
| 4. [California](?nid=918&page=_sport_football_team:44) | 382 | 1 |
| 5. [Washington State](?nid=918&page=_sport_football_team:40) | 228 | |
| 6. [Oregon State](?nid=918&page=_sport_football_team:81) | 205 | |
| South | Points | First Place Votes |
| 1. [USC](?nid=918&page=_sport_football_team:71) | 729 | 117 |
| 2. [**Utah**](?nid=918&page=_sport_football_team:93) | 514 | 1 |
| 3. [UCLA](?nid=918&page=_sport_football_team:91) | 435 | 2 |
| 4. [Arizona](?nid=918&page=_sport_football_team:83) | 385 | |
| 5. [Arizona State](?nid=918&page=_sport_football_team:112) | 353 | 3 |
| 6. [Colorado](?nid=918&page=_sport_football_team:90) | 164 | |
Champion: USC (102 votes), Oregon (18), Arizona State (3)

The 2012 Pac-12 Championship Football Game will take place Friday, November 30 at 6 p.m. MT and will be telecast to a national audience on FOX. The championship game will match the winner of the North Division vs. the winner of the South Division. The game will be played on the campus of the division winner with the best overall conference record. The winner of the Pac-12 Championship will earn the league's automatic BCS berth.

AP's initial story is below.
---
Greg Beacham, Associated Press
LOS ANGELES (AP) - Southern California is eligible to win championships again, and the Pac-12 media expect the Trojans to reclaim their spot atop the league.
USC has been picked to win the Pac-12 in the annual preseason poll, the league announced Tuesday.
The Trojans were picked to win the South Division on 117 of the 123 ballots, while Oregon was picked to win the North Division by the same overwhelming margin. Still mired in scholarship restrictions and NCAA probation, USC has been picked to win the league championship game by 102 of the voters.
USC coach Lane Kiffin wasn't about to get cocky or say anything incendiary at the first preseason gathering of the league's coaches and top talent in the Gibson Amphitheatre at Universal Studios.
"The preseason rankings and all the questions we have gotten today about that, that has nothing to do with how well we will play next year and whether we will win games," said Kiffin, who has thrived under harsh NCAA sanctions over the past two years.
"But I think it's exciting for our university and for our fans to be in those discussions," he added. "We're two years removed from what was handed down as people saying, 'SC is over,' and being a preseason No. 1 team two years later is extremely exciting for our university and for our fans."
USC has enjoyed an undeniably outstanding offseason after finishing 10-2 and No. 6 in the final AP poll last season despite bowl ineligibility and a smaller roster. After quarterback Matt Barkley and safety T.J. McDonald decided in December to return for their senior years, the Trojans landed a spectacular recruiting class led by elite quarterback prospect Max Browne.
They're moving into their new training complex this summer, the spacious John McKay Center, finally bringing the Trojans' facilities up to the exorbitant standards of college football's biggest programs. Yet the Trojans insist they're maintaining the same hunger and determination that drove them through their two-year bowl ban.
"When T.J. and I decided to come back, we knew that we had a great time at USC, and we have had a lot of fun playing football, but we hadn't maximized our potential here at USC," Barkley said. "I think that phrase 'unfinished business' has to do with finishing at a top level and finishing at what we're capable of as a team."
Kiffin noted the Trojans are still at a competitive disadvantage, with 10 fewer scholarships than their opponents. The probation limits cut into USC's depth, particularly this season at tailback, where starter Curtis McNeal returns with a short, inexperienced list of backups. USC reportedly is trying to land star Penn State running back Silas Redd, a prospect Kiffin couldn't discuss Tuesday.
The Trojans return a roster loaded with elite talent, including receivers Robert Woods and Marqise Lee, yet USC doesn't expect to run away with the league crown.
Oregon is the defending Rose Bowl champion for the first time in 95 years, and the Ducks have their own elite group of returning talent, including running backs De'Anthony Thomas and Kenjon Barner. The Ducks will go through a transition with the departures of star ball-carrier LaMichael James and quarterback Darron Thomas, who went undrafted after leaving early.
"I think De'Anthony's will increase, and Kenjon's role will increase," Oregon coach Chip Kelly said. "And knowing that we have Kenjon and De'Anthony lets you sleep at night. ... We have great leadership from this group, and we're excited. We have a team coming off the Rose Bowl. Great victory for us, and that springboarded us into the offseason."
Stanford was picked second in the North Division despite the departure of NFL No. 1 pick Andrew Luck, with Washington slotted third and California fourth. Washington State is fifth under new coach Mike Leach, who got ample attention from the media in Hollywood while regaling the press with stories of hunting and fishing in his new home.
Leach is enjoying the challenge of attempting to rebuild the Cougars into an inventive team similar to the high-profile program he created at Texas Tech.
"There are a lot of people that hadn't been to Lubbock, Texas, and there are a lot of people that haven't been to Pullman, Washington," Leach said. "And once they get there, they love the place. They see the electricity and the atmosphere that exists there, and that you have a specific identity that's special. So I think the key is getting them there, and really, I tell everybody they need to come for all the same reasons that I did."
Utah was picked second behind the Trojans in the South Division, getting one first-place vote. UCLA was picked third for its first season under new coach Jim Mora, who has energized the Bruins' fan base after Rick Neuheisel's middling tenure with strong recruiting and an attention-getting attitude.
Mora also kept it cool when asked to comment on his crosstown rivals - another change from the sometimes brash Neuheisel.
"We're going to go out and be the best team we can be, and our focus is going to be on the present," Mora said. "When we get to the game where we play Southern Cal, we will (talk about) that, but right now, that would only be a distraction for us, because right now, it's about UCLA football."
(Copyright 2012 The Associated Press. All rights reserved. This material may not be published, broadcast, rewritten or redistributed.)
×
Photos
Related links
Related stories