Estimated read time: 3-4 minutes
This archived news story is available only for your personal, non-commercial use. Information in the story may be outdated or superseded by additional information. Reading or replaying the story in its archived form does not constitute a republication of the story.
ROY — Averi Thompson turns 10 on Monday, but it will be cancer, not cake, that is on her mind that day.
Her father, Rich Thompson, was diagnosed May 3 with stage- four pancreatic cancer. The South Jordan police officer has a chemotherapy appointment on Averi's birthday to battle a tumor in his pancreas the size of a baseball. The chemotherapy appears to be working, but it can't erase the sadness he feels every time every time he misses another chance to spend time with his daughter.
Thompson's 17-year-old son, Keaton, understands what the cancer means for his father. But for Averi, the disease is a little more simple.
"She knows her dad has cancer, but I don't know that she understands all the details as far as the chemo goes," Thompson said. "I know it worries her, so I don't give her details. It's not something a 9-year-old should have to deal with."
It's not something she can escape, though, as she lives with the day-to-day realities of her father's illness.
"She'll say, 'Dad, come play soccer with me,' and I'm so sick all the time from chemo that I can't do that," Thompson said. "I'll see her kind of hang her head or be a little disappointed, maybe sigh."
He said she has never been disrespectful, though, even though he can tell his illness is affecting her.
"You can see that it's kind of wearing on her," he said. "How much, I think she probably hides from me. But you can tell, I think, that she wants more time with her dad."
The family used to go camping, or to drive-in movies. Summer was a time for fun, but now, it's a time for reflection. Thompson said that cancer is a bad experience regardless of who you are, but for him, it has had one positive effect: his family is closer than ever.
Fundraiser information
August 4, Ben Lomond High School
1080 9th Street Ogden, UT 84404
Activities include a 5K, lunch, a silent auction, a kids corner and a concert. For more information, click here.
"To be able to get out and live your life, spend time with your kids — that was something I took for granted before, and now I can't do it as often as I'd like or as often as she'd like," he said. "The little things you might take for granted — you start recognizing the blessings they are."
Little things like coaching both Keaton's and Averi's basketball teams or going on a walk with his family are blessings he is now missing out on, but it is thinking about them that helps him stay focused.
It has been just a little easier to stay positive lately, thanks to the help of family and friends who organized a fundraiser for Aug. 4 to help the Thompsons with medical expenses. An army of volunteers have canvassed local organizations, looking for support, and they've largely been successful, with donors falling along the spectrum from large corporations to next-door neighbors.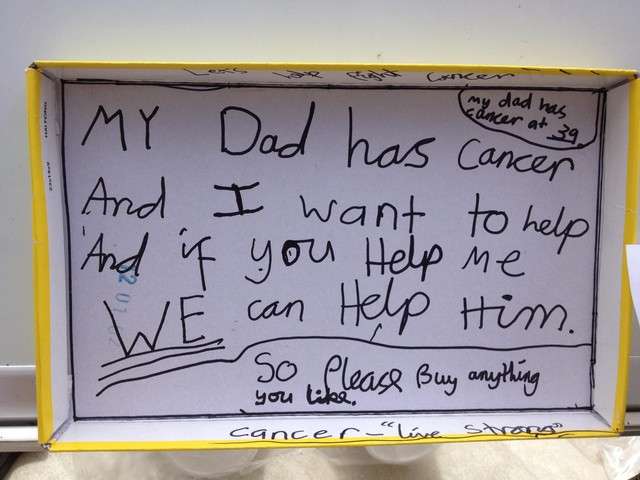 Thompson said he did not know about the fundraiser until it was already being organized, but that he was incredibly grateful for the love his family, friends and even complete strangers had shown in contributing to the event.
Even Averi got involved with the cause.
"My dad has cancer and I want to help, and if you help me we can help him," read a sign she wrote to help raise money. "So please, buy anything you like."
It was a move by a girl who has had to grow up a little too quickly — a show of support for the man she only wants to see healed.
"She still worries," Thompson said. "She asks me how long I'll be sick, and if I'll still have cancer on her birthday. She has a 9-year-old idea of what it means."
×
Photos
Related links
Related stories
Most recent Utah stories