Estimated read time: 3-4 minutes
This archived news story is available only for your personal, non-commercial use. Information in the story may be outdated or superseded by additional information. Reading or replaying the story in its archived form does not constitute a republication of the story.
SALT LAKE CITY — If you look at Greg Peterson's profile on dating sites like LDSSingles.com, or his Facebook page, he looked like a great guy: outgoing, successful, connected politically. But the women KSL News spoke with Thursday night say that's not the real Greg Peterson.
Women who met Peterson online
"I dodged a bullet. I literally did," a woman named Laura said.
According to Facebook, Peterson was exactly the kind of guy Laura wanted to meet. Pictures on his page portrayed him as politically connected and wealthy. He even owned a cabin in Heber City.
So, when Peterson added Laura as a Facebook friend and started sending her messages, she was flattered.
---
He was creepy. He wouldn't leave me alone. It was non-stop.
–Laura, met Peterson online
---
"He wrote me an email saying how lovely I was, and how great I was, and that I seemed to have my head on straight," she recalled.
He told her he wanted to settle down and get married. He also told her he wanted her to come up to his cabin, but she says something always came up for her and she couldn't go.
That's when he would get angry. Laura said he became aggressive, and she tried to sever contact.
"His temper — he had such a short fuse," she said. "He was creepy. He wouldn't leave me alone. It was non-stop."
His temper is something a woman named Stephanie remembers about him as well. She also met him through Facebook, on an LDS singles dating forum.
Related:
Stephanie also met him in person, and said she was immediately turned off by how his mood could change on a dime. She ended up walking out of his car, and cut off communication.
"I thought he was cute, and he knew a lot of people," Stephanie said.
Peterson may have met a lot of politicians at events, but former state Rep. Carl Wimmer said he didn't actually "know" a lot of them.
"It's well known he takes credit for things he didn't do," Wimmer said. "He overplays his own importance."
Both Laura and Stephanie say they can't stop thinking about the women Peterson allegedly raped.
Former friend describes Peterson's bizarre behavior
Haley Hayes fears she may have become a victim if she had agreed to go out with Peterson.
Hayes said Peterson went to an LDS singles ward in Sandy frequently and tried several times to convince her to go out with him.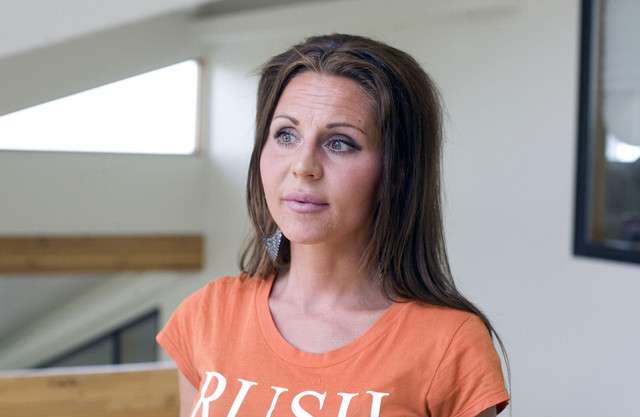 "Every time he had a function up at his cabin in Heber, he would always invite me to come up and try and get me to come," she said. And he (talked) about his political affiliations, and on his Facebook page he was with a lot of big guru political people."
A few months ago, Hayes said her interaction with Peterson came to a head during a church function in which he cornered her and intensely talked to her for about 90 minutes.
"He was very, very, very physical," she said. "He was very, very explicit, kind of borderline derogatory in the things he was saying."
But Hayes never went out with Peterson, although at the time she said she thought he was harmless. That changed Thursday when she heard of his arrest.
"I'm still shaking. I just feel like I'm going to throw up," she said. "I was so lucky. Really, I didn't expect him to be this kind of a person."
Another woman emailed the Deseret News saying she, too, was contacted by Peterson on LDSSingles.com.
"We talked a couple of times. The first time he seemed normal. The second time he creeped me out. He asked me my bra size and started talking about his sex life with his ex-wife. I got mad at him and told him I was done talking with him. He seemed like a coward and whimpered off the phone," she said.
KSL News has received numerous emails and phone calls from women saying they too have had bizarre, creepy, and hostile experiences with Peterson. We want to encourage anyone who feels they may have been violated by Peterson to contact the Salt Lake District Attorney's Office. They may be contacted via email at DistrictAttorney@slco.org.
×
Related stories
Most recent Utah stories