Estimated read time: 6-7 minutes
This archived news story is available only for your personal, non-commercial use. Information in the story may be outdated or superseded by additional information. Reading or replaying the story in its archived form does not constitute a republication of the story.
WEST JORDAN — Sara Davis didn't think at first that the dirty, odorous man who appeared to be walking with a limp when he came into her coffee shop on June 29 was the man who had just robbed a bank across the street 20 minutes earlier.
"He didn't strike me as someone who just robbed a bank at all. I mean, he was really strange," Davis recalled Thursday.
But she pointed police in the direction of where the man had walked off, and he was arrested by detectives within five minutes. A couple of days later, police and prosecutors announced that the man, 41-year-old Terry Lee Black, was also being charged with kidnapping and murder in the death of 6-year-old Sierra Newbold.
Related:
Black was scheduled to make his first appearance in court Thursday on charges of robbery and for possessing a stolen vehicle, but he did not show up. Prosecutor Paul Parker told 3rd District Judge Elizabeth Hruby-Mills that Black refused to be transported from the Salt Lake County Jail to the courthouse.
Black also has a hearing scheduled for Friday morning on the murder, kidnapping and rape charges and is expected to be compelled to attend.
While excellent detective work was being credited for helping solve the case, police also had help from two women, including Davis, who provided important information to detectives.
Witness to a robbery
On June 29, police believe Black stole a Jeep Grand Cherokee parked at Deseret Industries, 7166 S. Redwood Road. The vehicle was shared by Melinda Ramsey and her boyfriend, Ryan Bridge. Bridge had parked his car in front of the store to run in and get his paycheck. When he came out 15 minutes later, the vehicle was gone.
The car was stolen while employees were gathered in the store for a morning meeting, something that happens at the same time each day.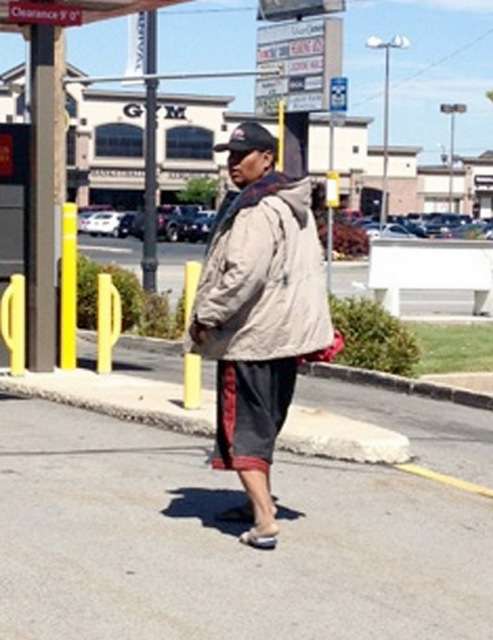 "It's almost like he might have known everyone was busy at that time," Bridge speculated. "It's hard to say. He walked past and waited for everyone to go inside."
A store surveillance camera showed Black walking toward Bridge's Jeep, which was off camera, he said. Moments later, the vehicle was gone.
After Bridge called Ramsey and told her what had happened, Ramsey called her boss Rena Carder, and passed the news along to her.
About the same time, Carder was on her way to Wells Fargo Bank, 7869 S. Redwood Road, to make a deposit. When she got there, she spotted Ramsey's Jeep backed into a parking stall. She thought the stolen car had been abandoned and dialed the police department's non-emergency dispatch number.
What she didn't know was that inside the bank, prosecutors say Black had just robbed a teller of $100. When the man in the bank went back to the parking lot, Carder was still there and watched as he tried to get back into the Jeep.
"I said, 'I got two seconds to do something here, and that's to get in your face,'" said Carder.
She approached Black and told him, "No. That's not your car."
What stood out to Carder was how bad the man "stunk" and how dirty he was, she said.
Carder said Black "looked at me weird" and attempted to get in the vehicle again. That's when Carder again told him, "No!" She said Black gave a grunt and then walked away, wearing a coat Ramsey had left inside her vehicle. Carder took three cellphone pictures of Black as he was walking off. She watched as he walked across Redwood Road to a strip mall where he attempted to steal another vehicle parked in front of Gold's Gym, she said. He also dumped the coat he was wearing in the parking lot.
Identifying the robber
That's when police believe Black walked into High Point Coffee, 1735 W. 7800 South. He went to the counter and asked if they could break a $100 bill into five $20 bills.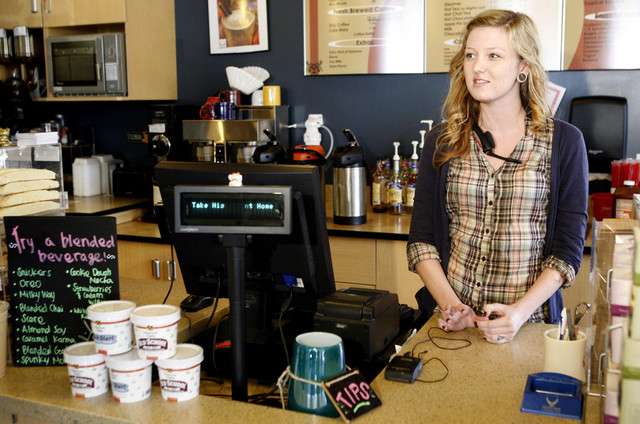 "When he first came in, I don't know, he was really strange. He seemed kinda spacey, maybe not all there. He was wearing really dirty clothes. My first thought was, 'Where on earth did this man get $100?' And the weird thing was, he wasn't in any hurry. He was like wandering aimlessly almost," Davis said.
Black walked out the door, and then went back in and asked if they could break one of the $20 bills into four $5 bills.
Twenty minutes later, the police were in the coffee shop asking Davis and her boss if they had seen anything. At first, they didn't think the man in their shop was connected to the bank robbery because he wasn't running and didn't seem to be in any hurry. But after telling detectives what the man looked like — a tank-top, flip-flops, three-quarter shorts, and dirty — police said that was whom they were after.
After pointing officers in the direction the man was last seen walking, officers arrested him a short time later. A couple of days later, Black was charged in connection with Sierra's death.
Making the connection to murder
"It crossed through both of our minds (that Black might be involved). 'Cause the police officer had mentioned when he came in that everyone was on edge from the case. I was like, 'Wow, wouldn't it be something if it were related?' When I found out it was in fact him — chills, like instantly I got chills. Extremely disturbing to think about what he had done, not even three days earlier. It was really sickening," Davis said.
Carder said she got emotional when she learned what Black was accused of doing.
"I cried. When the West Jordan officer called and thanked me (for my help), I cried. It was sad," she said. "I just wish I could have done it sooner. I'm glad the sick sucker is off the street."
---
I cried. When the West Jordan officer called and thanked me (for my help), I cried. It was sad. I just wish I could have done it sooner.
–Rena Carder, aided in Black's arrest
---
Although she does not personally know the Newbold family, Carder lives in the same area as both the Newbolds and Black and knows others who live in the area and have children.
"I'm so glad they caught him," Carder said while expressing remorse for the Newbold family.
Neither Davis nor Carder believe they did anything special, and both credit the fast response of police and their hard work in solving the case.
Bridge, however, believes if Carder hadn't stood up to Black in the parking lot, he may have driven away and possibly committed more crimes against children.
"She's a hero. She saved our Jeep. She saved potential victims. She didn't have to be like that. But she took it upon herself to get our Jeep back," he said.
Carder said it's the police that deserve a "Thank you" and not her. But she's happy to have contributed and helped police find Black, apparently before he had washed forensic evidence off of himself.
---
Really like to think if we hadn't pushed (police) in the right direction, he (still) would have been caught.
–Sara Davis, aided in Black's arrest
---
Likewise, Davis said she would, "Really like to think if we hadn't pushed (police) in the right direction, he (still) would have been caught."
But she realizes it might not have happened as quickly as it did.
"It's cool to think I could have helped, because I'm so glad he's off the street," she said.
Black's attorney, Ari Chino, was hired by Black's family to represent him in the robbery case, but he said he does not know if he will be involved in the murder case.
"This is going to be a financially taxing case for my client," Chino said. "I don't have any comment on how he's doing or how he's reacting in relation to the new charges."
Black is also facing a single federal count of using force, violence or intimidation to take money from employees at the bank.
Contributing: Emiley Morgan and Carol Mikita
×
Photos
Related stories
Most recent Utah stories