Estimated read time: 4-5 minutes
This archived news story is available only for your personal, non-commercial use. Information in the story may be outdated or superseded by additional information. Reading or replaying the story in its archived form does not constitute a republication of the story.
SALT LAKE CITY — The 9/11 memorial foundation has announced that no politicians will speak at the Sept. 11 anniversary ceremony this year at ground zero.
The decision comes following concerns expressed by victims' families that political struggles are slowing progress on the 9/11 memorial museum, the Associated Press reports.
The museum that has been planned to accompany the 9/11 memorial, but progress has halted after disagreements between the memorial foundation and the Port Authority of New York and New Jersey, which owns the land upon which the museum will sit.
Some have accused New York Gov. Andrew Cuomo and New Jersey Gov. Chris Christie of "betraying the dead," while others have accused New York City Mayor Michael Bloomberg and the foundation of allowing the museum to become a financial burden.
The foundation also made it known that the reading of victims' names will be the main focus of the ceremony this year, quashing fears of some that the names would go unread now that they are present on the memorial.
Romney's 'Men in Black' flashlight
In an interview Wednesday with Fox Business Network's Neil Cavuto, Republican presidential candidate Mitt Romney dodged questions about his vice presidential pick with a reference to "Men in Black."
After Cavuto tried multiple times to needle information out of Romney, the candidate resorted to a more tame version of the classic, "If I told you, I'd have to kill you."
"I can't tell you anything about the VP process," Romney said. "If I did, I would have to come after you with my "Men in Black" flashlight and erase your memory."
Romney accuses Obama of lying in campaign ad
The Romney campaign has released a new ad in response to charges by the Obama campaign that during his time at Bain Capital, Mitt Romney was a pioneer in outsourcing American jobs.
The ad, titled "No Evidence," questions whether voters can trust Pres. Obama.
"When a president doesn't tell the truth, how can we trust him to lead?" it asks.
The ad claims the Obama campaign had no evidence that Romney sent jobs overseas, and that Obama lied about Hillary Clinton, replaying Clinton's famous "shame on you" line.
The Obama camp has not responded directly to the ad, but has pointed to a recent Boston Globe article that alleged that Romney retained power at Bain Capital until at least 2002. Romney had previously claimed he left bain Capital in 1999.
Romney's advisor, said Thursday on the Today show that the claims were "a lie," and that the outsourcing claim has "been shown to be demonstrably false."
Romney hopes for Cheney boost
Mitt Romney is hoping to get a boost in conservative support with the help of former Vice President Dick Cheney.
Cheney is hosting a fundraiser for Romney at a mountain valley resort and a private dinner at his Wyoming home, the Associated Press reports.
Romney has in the past avoided strong associations with Cheney and former Pres. George W. Bush, preferring to distance himself from Pres. Obama's divisive predecessor.
What your favorite websites say about your politics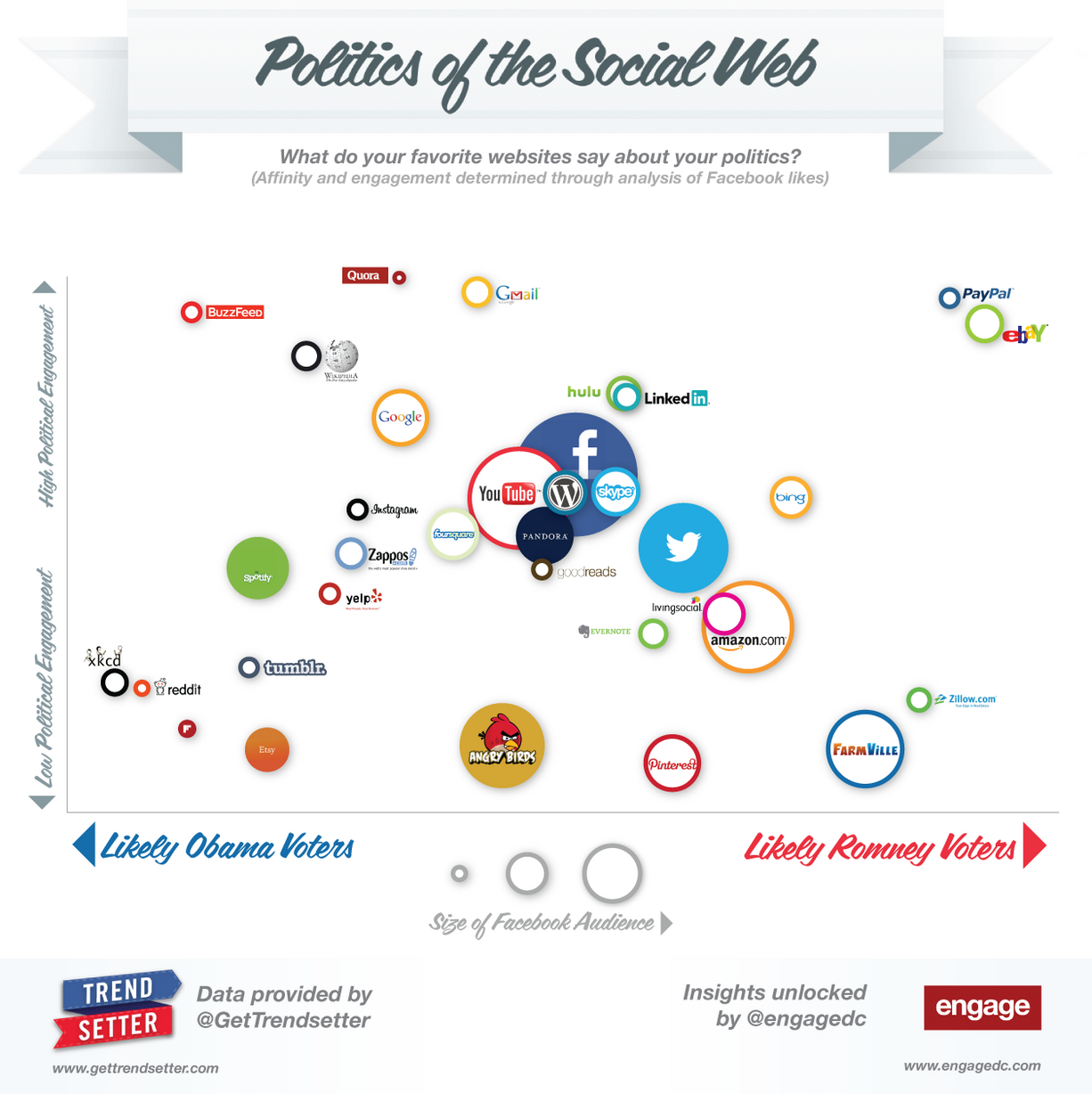 Engage D.C. crunched data from thousands of people's Facebook "likes" to map the politics of users of popular websites such as Amazon and Google.
The company found that commerce and personal finance sites such as PayPal and eBay skewed Republican, while sites that are oriented toward knowledge and social engagement, such as Wikipedia and Buzzfeed, skewed Democratic.
Republicans were also more likely to favor Bing as a search engine, while Democrats tended to choose Google.
Democrats to file complaint against Romney funders
The Democratic Senate Campaign Committee will file a complaint Monday against conservative non-profits that have donated large sums to the Romney campaign.
The complaint alleges that three of the Republicans' largest campaign groups have willfully violated federal election law, and requests that these groups have their nonprofit status revoked due to their high level of involvement in the political scene, The New York Times reports.
The committee claims that nonprofits Crossroads Grassroots Policy Strategies, Americans for Prosperity and the 60 Plus Association are more politically involved than is allowed.
The complaint follows the second month in a row that Republican candidate Mitt Romney has outraised Pres. Obama — the first two months in U.S. history that an incumbent has been outraised by an opponent.
×
Related links
Related stories
Most recent Politics stories