Estimated read time: 5-6 minutes
This archived news story is available only for your personal, non-commercial use. Information in the story may be outdated or superseded by additional information. Reading or replaying the story in its archived form does not constitute a republication of the story.
SALT LAKE CITY -- There's no question that the first half of 2012 belonged to "The Avengers." It was a film fans had been waiting for since Marvel attached that first end-of-credits scene to "Iron Man," and once May was behind us, it became one of the few films in history that both critics and fans agreed delivered on the hype.
But "The Avengers" was just the beginning of big movies for 2012. In fact, once "The Dark Knight Rises" closes out July, December will bring us the first of two films that fans have been screaming for since 2001 or, I'm sure it could be argued, a great deal longer.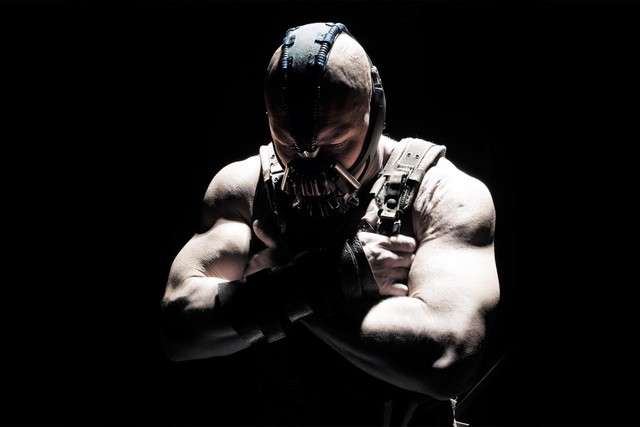 So while news that a poster for Sam Raimi's "Oz : the Great and Powerful" has been released and a new trailer for the possibly interesting "Rise of the Guardians" debuted last Friday and "Ghostbusters 3" has yet another team of writers reworking the script, this week's Upcoming Movie News article will focus on the status of three soon-to-be-released films that have the budget, fanbase and potential to be just as successful as the highly satisfying "Avengers" film.
"The Dark Knight Rises"
For those who hadn't heard, Warner Brothers didn't want Bane as the villain for "The Dark Knight Rises." In fact, David Goyer, one of the "Dark Knight" writers, revealed in a recent interview for Empire that WB had hoped to use Leonardo DiCaprio as the Riddler for the final Batman chapter.
#tdkrpoll
And while it's always fun to wonder "What if?" when hearing such news, Goyer also gave audiences a sneak peek into something that did make the final film, as quoted here by Indiewire:
"The final scene of 'The Dark Knight Rises' is exactly [the] scene we talked about [when Christopher Nolan and I started the trilogy with 'Batman Begins']. It remained completely unchanged. We both knew in our hearts that we were onto something special. I have to tell you, having finally seen everything strung together a little while ago and seeing that scene, I got a complete lump in my throat."
Win tickets to "The Dark Knight Rises" with KSL
I have to admit, there's a small part of me that would've really liked to see Nolan tackle the Riddler, but after seeing what Sony did to "Spider-Man 3," I'm thrilled Nolan ultimately continued on with his vision. In fact, seeing the conclusion Goyer and Nolan mused about since before "Batman Begins" is almost worth the price of admission all by itself.
If you're still not convinced however, Warner Brothers has released a 13-minute video featuring new footage, pictures and interviews with the cast and crew, as the studio begins its final marketing push for the July 20 release.
"The Hobbit" Films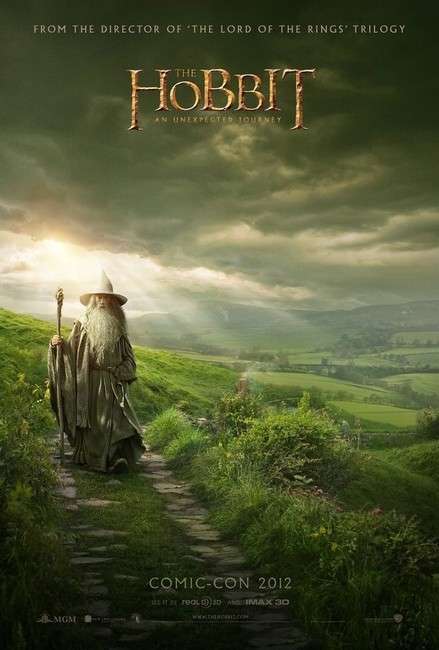 On Saturday, Peter Jackson revealed the 2012 Comic Con poster for "The Hobbit: An Unexpected Journey." On July 3rd, Entertainment Weekly released some great publicity shots, and last month, the official Hobbit Blog gave us a tour around the studio where movie-makers are shooting both "The Hobbit: An Unexpected Journey," due to be released December 14th; and "The Hobbit: There And Back Again", due to be released a year later on the same day.
But the biggest news from Hobbit HQ came last Thursday when Jackson told his Facebook followers, "We made it! Shoot day 266 and the end of principal photography on The Hobbit. Thanks to our fantastic cast and crew for getting us this far, and to all of you for your support! Next stop, the cutting room. Oh, and Comic Con!"
The news is huge of course, because shortly after "Return of the King," Jackson and New Line Cinema had a major falling out, leaving the possible Hobbit films in shambles. Fans didn't want New Line to continue the series without Jackson and Jackson had no interest in working again with New Line.
After some necessary patch work, Jackson again attached himself to the project but without any interest in directing. "Pan's Labrynth" creator, Guillermo del Toro, was brought in to direct the films, but in 2010, del Toro left because of scheduling issues, finally bringing Jackson back into the director's chair where fans had wanted him all along.
So now in July of 2012 everything seems to be right again with the Hobbit films, or, at least, almost. Reports coming back from those who've seen a 10-minute preview of the films seem to be having a hard time with one issue in particular — 48 frames per second.
#hobbitpoll
As PCMAG.com pointed out, "Early criticism of Peter Jackson's big Hobbit prequel has focused on its look and feel, prompted by his decision to film the movie entirely in 48 frames per second — double the 24 frames per second shots you're used to seeing in every other movie nowadays.
Jackson's response? 'Deal with it.'"
The article goes on to quote David Faraci as describing the film like, "a hi-def version of the 1970s I, Claudius.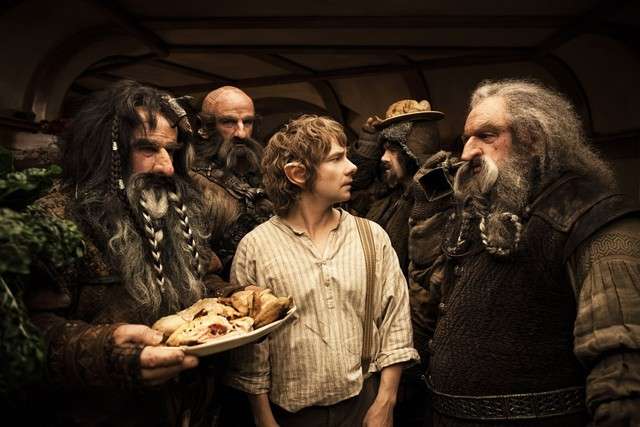 "It is drenched in a TV-like — specifically '70s-era BBC — video look. People on Twitter have asked if it has that soap opera look you get from badly calibrated TVs at Best Buy, and the answer is an emphatic YES."
Jackson seems to believe 10 minutes into the film, audiences will get used to the new look and then enjoy the movie in a way they've never experienced before.
Whether that's true or not, this will be the first time audiences get to see Smaug on the big screen, and a 3D scene of the dragon stretching his wings and torching a town or two might be enough for people to forgive even the most awkward of flubs.
You can contact Travis at TSPoppleton@gmail.com.
×
Photos
Related stories