Estimated read time: 4-5 minutes
This archived news story is available only for your personal, non-commercial use. Information in the story may be outdated or superseded by additional information. Reading or replaying the story in its archived form does not constitute a republication of the story.
ALPINE — A welcome drizzle allowed firefighters to make some headway on the wildfire east of this mountain hamlet and brought displaced residents back to their homes Thursday.
"That was a good rain," said Robert Jensen after pulling into his driveway on Wildflower Drive. "It came at the right time."
Jensen, his wife Joanne and teenage daughter Jamie and their three dogs, spent two nights at another daughter's house across town. Joanne Jensen said they packed up scrapbooks, photos and clothes before leaving Tuesday.
"And wakeboards," Jamie Jensen added, thinking about an upcoming trip to Lake Powell.
A sign in their neighborhood advertising an outdoor showing of the movie "17 Miracles" was slightly altered. The number 18 was taped over the 17.
"This is the 18th miracle, I guess," Jensen said.
The rain both helped and hindered fire crews' efforts to douse the 2,000-acre blaze that started Tuesday afternoon. It cooled the mountainside, allowing hand crews to douse hot spots and dig a good fire line, said Quail Fire spokesman Mark Regan. More than 500 firefighters from several states are working the blaze, which was 50 percent contained Thursday evening.
---
That's the trade-off to living on a mountain like this. It's beautiful, but there's always that risk. We'll have to live with that.
–- Kyle Hunter
---
But the wet weather also grounded the nine helicopters scheduled to combat the flames for much of the day. Clouds shrouded the mountains, hampering chopper pilots' visibility. It also scuttled plans for a controlled back burn designed to keep the fire from racing down the steep, pine-covered terrain to nearby homes.
Officials initially evacuated 500 homes Tuesday as the fast-moving blaze raced across cheat grass and scrub oak, apparently igniting near Lambert Park where a backhoe operator was working. Lone Peak police continue to investigate the cause. Flames have consumed one barn and damaged two homes.
American Fork Canyon and Alpine Loop road were opened up to the Granite Flat campground and other recreation sites, including Timpanogos Cave National Monument. But the Lone Peak Wilderness, including all trails on the Pleasant Grove Ranger District and Uinta-Wasatch-Cache National Forest in Utah County, will be closed to ensure public health and safety during fire suppression efforts, according to Regan.
All homeowners were allowed to return Thursday, although the Box Elder Cove subdivision was to be restricted to residents-only until Friday afternoon.
By late Thursday afternoon, when the clouds had given way to blue skies, a helicopter was back making water drops.
"He's a deadeye, too. Right on that hot spot," said Kyle Hunter from his driveway on Preston Drive.
The six-member Hunter family spent two nights at a hotel. "We were happy to see this rain today so we didn't have to stay a third," he said.
Hunter cut down a clump of scrub oak in his backyard and dragged it off his property shortly after the fire started and just before the evacuation order came.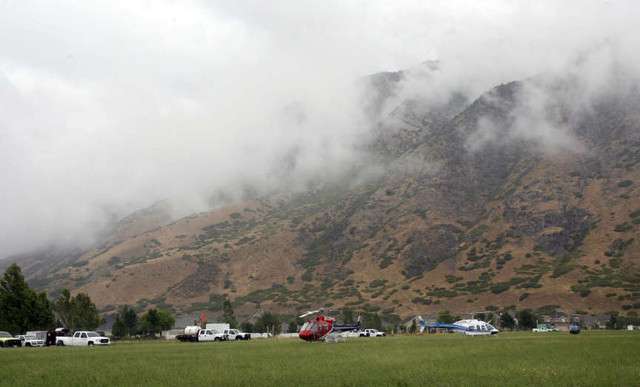 "That's the trade-off to living on a mountain like this. It's beautiful, but there's always that risk. We'll have to live with that," he said.
The Jensens also were glad to be home. "I think the stress of it all makes you tired," Joanne Jensen said.
"I just really feel bad about the trees," Robert Jensen said, looking at the charred pines on the mountain above his house that he has come to claim as his own. "We call it Jensen Peak," he said.
And apparently he's not alone in that sentiment. "Everyone names it for their own family," Joanne Jensen added.
Jeff Hartley, who along with his his wife and four kids were evacuated, was impressed with a vacant field at the end of High Bench Road that has become a temporary helipad.
"It's awesome to see the cavalry arrive with these helicopters and trucks," he said. "It makes me glad to pay taxes."
Hartley watched the flames move up and down the canyon above his house for three days.
Though the control burn was canceled Thursday, fire bosses would consider it again as the weather warms up and the mountain drys out.
"I'm not sure how I feel about a planned burn," said Tom Karren, who along with Hartley lives near the base of the mountain. "If it gets the fire out, it's OK, I guess. But it's a little bit risky."
Said Hartley, "We hate to see the hillside blackened, but if they don't get control of the fire, it's going to blacken the whole thing. We certainly want our homes protected."
Contributing: Andrew Wittenberg, Alex Cabrero and Shara Park
×
Photos
Related links
Related stories
Most recent Utah stories