Estimated read time: 2-3 minutes
This archived news story is available only for your personal, non-commercial use. Information in the story may be outdated or superseded by additional information. Reading or replaying the story in its archived form does not constitute a republication of the story.
MURRAY — For Aaron Handy, a father of six, the Fourth of July beats out every other holiday.
"This is my family, all in the flag shirts. We come to this parade every year. This is our spot," he said Wednesday.
And even though there's a parade just three blocks from the family's West Jordan home, the Handy family tradition is to attend the Murray Fun Days Parade, then set up camp in Sugarhouse Park, put some food on the grill and enjoy the festivities until the fireworks display at nightfall.
"Yeah, this is my favorite day of the year," Handy said.
His father was a Vietnam veteran "so this means a lot to me. I want to pass that on to my kids," he said.
The Murray City parade, which snaked along State Street and ended in Murray City Park, featured pageant queens, marching bands and political candidates.
Cosmo, a Bactrian camel, was one of the more unique entries in the parade, clomping ahead of a pony-drawn cart, with a miniature horse in a red, white and blue costume taking up the rear.
Related:
Cosmo is one of the latest additions to the Utah Pony Party menagerie, said owner Steven Ivie.
"This is the first parade we've done ," he said, noting that Cosmo recently had his stage debut in Murray's production of the Andrew Lloyd Webber musical "Joseph and the Amazing Technicolor Dreamcoat."
Nolene Brooks, of South Jordan. said the Murray parade is a big hit with her grandchildren because parade entrants toss candy to spectators.
"It's just so cute. We do it celebrate Happy Birthday America."
Meanwhile, Jessica Ault donned a Martha Washington costume and wig to march with the "God Bless America" entry. Her fiance, Bryan McCall, accompanied her as George Washington.
"My mom and aunt created this entry," which included founding fathers, historical figures, flags of the 50 states and representations of historical documents.
"We want everyone to feel the spirit of America," Ault said.
Elsewhere in the Salt Lake Valley, patriotic paradegoers turned out in droves for parades and community celebrations from Morgan to St. George.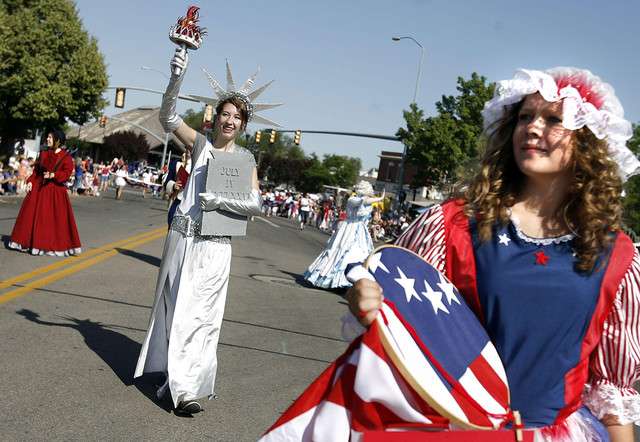 Festivities in Millcreek Township included a traditional chuckwagon breakfast sponsored by the East Millcreek Lions Club, followed by a parade, flag ceremony, midway games and of course, more food.
Utahns planned to enjoy a number of community and professional fireworks displays, one of the largest being Provo's Freedom Festival, with scheduled entertainment by the Beach Boys and country crooner Scott McCreery, winner of the 10th season of "American Idol." A big fireworks display is also scheduled for Wednesday night in Sugarhouse Park.
Kiera Mathis of Fort Worth said she was visiting family in Utah and took her children to their first parade in Murray.
Independence Day "celebrates our country and what we stand for. And what a great country it is. I want my kids to know how important that is and to celebrate it."
×
Photos
Related stories
Most recent Utah stories