Estimated read time: 2-3 minutes
This archived news story is available only for your personal, non-commercial use. Information in the story may be outdated or superseded by additional information. Reading or replaying the story in its archived form does not constitute a republication of the story.
SALT LAKE CITY — I've absolutely never driven a manual before, but I think I'm kind of getting it now. Still, you might have a little time before you have to worry about seeing me on the freeway.
Most often you see women riding as passengers, but a few of us have a different vision.
"The thing I'm most surprised about is all these women from different walks of life, different ages," said Amy Iverson of KSL's the Browser. "I thought we would get all on the bikes and just all fall over. And we're all up and awesome."
Six women with a dream to ride and we've all made it a reality with the Rider's Edge Motorcycle Academy at Harley-Davidson of Salt Lake City.
It's a four-day course consisting of six hours of classroom study and 16 hours of training on several bikes - not just Harley's. We start our training out on a Buell Blast 492cc, perfect for the beginner rider
"It feels good," said Maria Pappas, KSL marketing coordinator. "It was a lot easier than I thought it would be, but I think that's because of the classes that made you feel really safe and comfortable."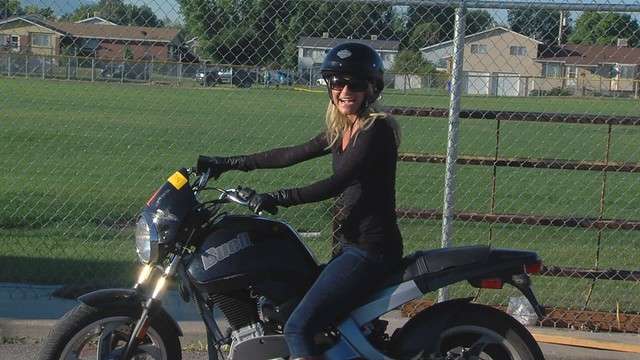 "When I got here and everyone was at least half my age I wondered what I was doing, but I've kind of always had a dream to ride a motorcycle," said Denise Winslow, a Vice President at Wells Fargo.
My first thought going into this class was "How in the world would I operate this heavy bike and not tip over?" Now I'm realizing riding a bike is all about mental focus.
"I've always been really nervous to ride on the roads because it's a lot less forgiving when you crash, but I'm really glad I did this," said Laura Gillette with the Gomez Corporation.
"I think it's been really surprising for everybody to see the confidence once we're on the bike how well we've all really done," said Stephanie Avis, cross-platform development manager at KSL.
And Mr. Harley Davidson, Doug Wright, showed up to see how we were doing.
"I've ridden motorcycles my entire life and I don't know what it is, but there's just something about a woman on a motorcycle," he said. "These guys are looking good."
×
Photos
Related links
Related stories
Most recent Utah stories