Estimated read time: 8-9 minutes
This archived news story is available only for your personal, non-commercial use. Information in the story may be outdated or superseded by additional information. Reading or replaying the story in its archived form does not constitute a republication of the story.
HERRIMAN — Steve Barker surveyed his property for the first time Saturday evening after an evacuation order was lifted and said he was "blown away" by what he saw.
The fields surrounding Barker's home are blackened. His neighbor's house less than 100 yards away is gone. Another neighbor up the hill, about 500 yards away also does not have a house anymore.
Evacuees return home
Saturday evening, residents of Herriman were allowed to return to their homes to discover how indiscriminately the intense fire burned. Some returned to their homes as they left them. Others found damage from fire and smoke that needed to be repaired.
And four families came home to nothing.
"I've lost everything," said an emotional Terri Bowen, who with her husband Steve Crain lived in the destroyed home near Barker's house. "I have nothing but the clothes on my back, my husband and my horses. I have nothing," she said, after returning to the scene Saturday to survey her losses.
She and her husband recently completed a 6-month remodel on their Rose Creek Lane home, one of the hundreds of stories playing out in the foothills of this southwest Salt Lake County community.
"It's pretty cruddy. I feel pretty bad for the guy," Barker said of his neighbor, balancing the elation of having his own home spared against the loss of others. He said his circular driveway probably saved his house from the blistering flames.
A look at the damage
Related:
Fire officials revised the acreage on the Rose Crest Fire Saturday, downsizing it to 611 acres burned as of Saturday evening, with 60 percent containment as of evening. Winds remained in check Saturday as fire officials felt confident enough to allow residents to return after 6 p.m. But fire crews continued to fight the fire through the night.
Of the four homes claimed in the fire, three were on Rose Creek Lane between 14700 South and 15000 South, the fourth on Majestic Oaks Lane. Police and fire officials escorted three of the four families to see their homes before the evacuation order was lifted for the rest of the area.
"They were very emotional," said Unified Fire Capt. Lee Ascarte. "Most of the families have lived here multiple years."
Many live on large pieces of property and lost outbuildings and sheds in addition to their homes. The fire was so intense that some families who used supposedly fire safety boxes to store personal items returned to find those boxes and items incinerated, Ascarte said.
The fourth family that lost a home was out of town and had not been contacted, he said.
At one home that was lost, a white Jeep sat in the driveway where its brick garage had collapsed. Cement stairs lead up to a blackened pile of soot and rubble with little else remaining.
"All they have is the clothes they left with," Barker said of his neighbors.
In addition to the four homes, multiple vehicles and structures that were lost, including sheds, barns and at least one detached two-car garage. Ascarte said it would be a day or two before all of the damaged structures and homes could be counted.
At the top of Rose Creek Lane, three homes at the highest point on the mountainside all survived. But not unscathed. While the fronts of their homes looked normal, in the back, the landscape was painted by a tale of heroics as firefighters somehow prevented the entire structure from burning.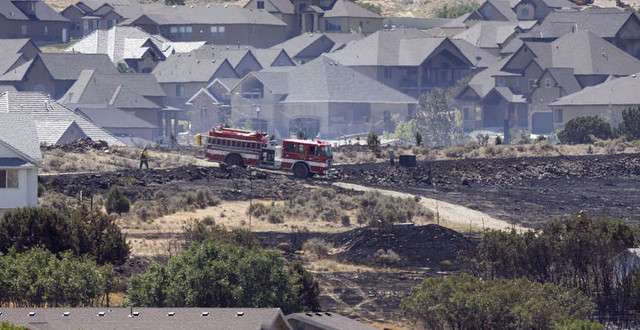 The bushes and shrubs in the backyard are burned right up to a backdoor. The siding of the home hangs like melted cheese, damaged by the intensity of the fire. But the homes remain habitable.
As Ascarte looked over the scorched home he praised the work of the fire crew that saved it near 14600 South and 7500 West.
"If we did not have a fire engine here, this would be a foundation," he said. "We won't ever know what engine company was here, but they did an outstanding job. How crews saved this home is short of a miracle."
Some residents may not have power when they return to their homes, officials warned. Unified police also cautioned that only residents will be allowed back into some neighborhoods. Lt. Justin Hoyal said officials did not want onlookers clogging up the streets as fire crews continue to do work despite the evacuation order being lifted.
"We are confident we have the fire contained," Ascarte said.
There was, however, fire activity on top of the mountain Saturday. Fire spokeswoman Kim Osborn said three helicopters continued to make water drops on the area Saturday and 300 personnel were still assigned to the fire.
Crews expected to be working the Rose Crest Fire into next week.
Saturday morning, fire officials escorted members of the media into the evacuated area before the evacuation order was lifted, to see some of the damage, as well as examples of incredible heroics.
Many homes were completely surrounded by blackened landscape, but crews somehow managed to save the houses amidst the burned trees, brush and grasses. Ascarte said it was amazing so many structures were saved and no one injured.
The wind was gusting up to 30 mph Friday night, he said. In some areas, the fire was so intense that it was creating its own weather patterns and there were reported winds of 60 mph, Ascarte said.
---
I'm just really grateful that these guys went to work. And everybody and I spent the night saying a lot of prayers.
–- Roger Doyle
---
At a property in the Rose Canyon area, multiple vehicles were scorched as well as several sheds.
In the Cove at Herriman Springs subdivision, the fire burned a vinyl fence in an area where a field bordered expensive homes. Crews were able to stop the fire at the fence, however, and save the homes.
Ascarte praised the bravery of the firefighters for standing in there when "you have a fire front staring you in the face" and the firefighters are armed with a truck filled with 750 gallons of water "and it's still not enough."
Residents talk about evacuation
The Red Cross reported 13 people Friday night stayed at a shelter set up at Herriman High School while 172 took advantage of the food and services that were provided.
Residents who evacuated their homes tried to get any information they could Saturday about the fate of their properties.
One woman reported that she and her neighbors were attempting to break seven horses out of a fence with a broken padlock. When the fire got too close for safety, they fled to safety, unable to rescue the horses.
"I just got confirmation that no homes in the Cove were damaged. So we are just very, very…oh thank you…happy to hear that," said Roger Doyle, prior to the return to his home Saturday night.
Doyle and several relatives in other homes all were forced to leave in a hurry Friday. Doyle said the wheel on his trailer broke off as he was evacuating his home, forcing him to drag it to safety.
"It was the most terrifying 20 minutes of my life," he said.
Saturday, Doyle had nothing but praise for firefighters.
"I'm just really grateful that these guys went to work. And everybody and I spent the night saying a lot of prayers," he said.
As for his future plans: "We're moving. No more fires. We love here. But we sure don't like this," Doyle said.
Sheryl Rostrom learned her home was unscathed, though a friend's house up the hill from her home was damaged.
"As long as everybody's OK that's the main thing," she said. "It happens when you live out in this area. For sure I just need to keep a little suitcase of things packed and ready to go. It's probably going to happen when you live in an area like this."
---
Because of (the driver's) stupidity I lost everything. I have my life but I have nothing else.
–- Terri Bowen
---
Firefighters still on sceneMany of the streets around Herriman that were closed Friday night were reopened Saturday. But officials urged residents to keep the streets cleared.
Firefighters removed some horses from a property late Friday, fearing the fire was getting too close. Salt Lake Animal Control took the horses to a shelter. Any resident who has questions about livestock can call Salt Lake Animal Control at 801-743-7269.
A Type 3 wildfire management team took over the fire Saturday morning, though Unified Fire crews remained to help with ground support. An additional hand crew arrived overnight Friday to help battle the fire.
The fast-moving 10-alarm fire began about 3:30 p.m. Friday when a car stopped and parked in an area of tall, dry grass and the heat from the muffler, catalytic converter or something else in the undercarriage sparked a fire. The fire burned in an area just west of where the Machine Gun Fire burned three homes and some outbuildings in Herriman in September of 2010.
The carelessness of the car driver Friday brought strong words from Gov. Gary Herbert, words he reiterated Saturday morning:
"The truth of it is, you can't legislate against stupid," he said. "People make stupid mistakes."
That was little consolation for Terri Bowen and her husband. He lost all the pictures of his father in the fire.
"Because of his stupidity I lost everything," she said of the driver. "I have my life but I have nothing else."
Barker, her neighbor, said his house was for sale. Prior to the blaze he had a potential buyer look through the home.
"They probably won't be buying it now," he said.
Contributing: Devon Dolan
×
Photos
Related links
Related stories
Most recent Utah stories