Estimated read time: 4-5 minutes
This archived news story is available only for your personal, non-commercial use. Information in the story may be outdated or superseded by additional information. Reading or replaying the story in its archived form does not constitute a republication of the story.
SALT LAKE CITY — Updated information about fires burning across the state.
Church Camp Fire
The Church Camp Fire near Duchesne is expanding, but firefighters also say the amount of containment is growing, too.
On Friday evening, fire officials released a statement saying that additional resources have helped them reach a containment level of 30 percent, though the fire has grown from 400 acres to 5,750 acres, growing to the north and east. There are currently 547 personnel, 22 engines, four helicopters two dozers and nine water tenders assigned to the Church Camp Fire in Argyle and Indian canyons.
Firefighters conducted burnout operations to reinforce their fire line, working through the night.
Approximately 18 unidentified structures have been destroyed.
Argyle Canyon evacuations and the Argyle Canyon road closure are still in effect. Officials are reminding travelers to watch for fire equipment exiting and entering Highway 191, and that visibility is poor due to smoke and ash.
The fire started around 6 p.m. Sunday, and its cause is still under investigation. Officials say it is likely human caused.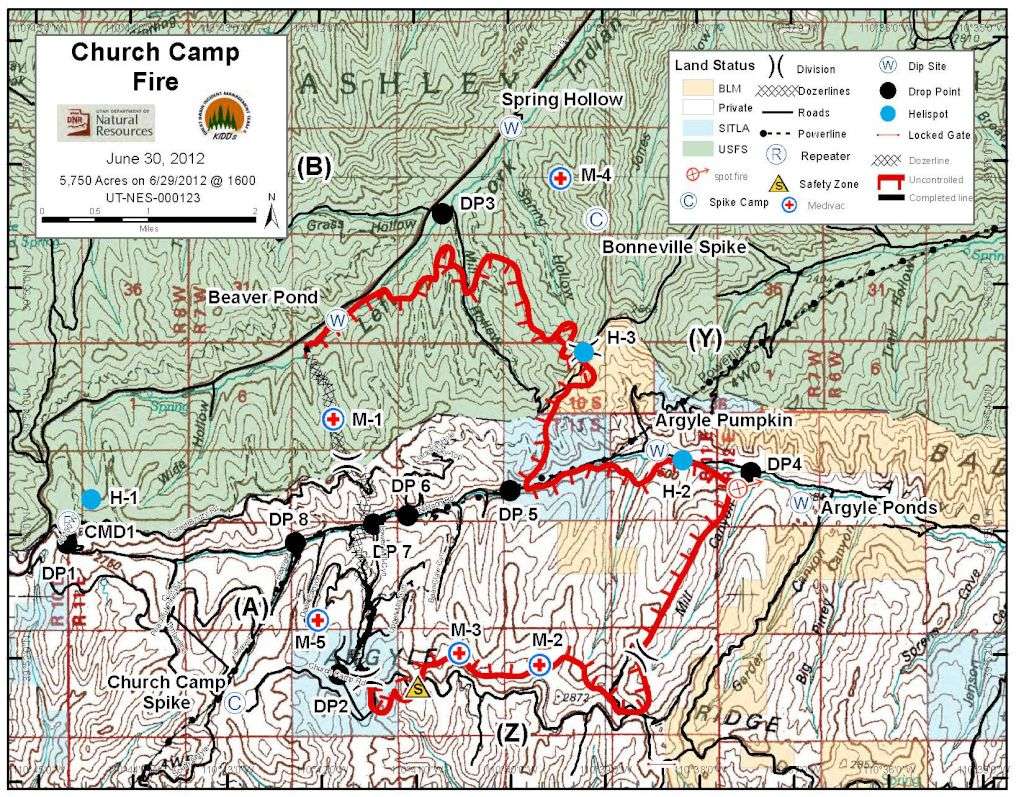 Wolf Den FireIn Uintah County, 35 miles south of Vernal near where gas an oil pumping units are located, the Wolf Den Fire has burned 1,000 acres.
Currently, no structures are threatened.
The land consumed so far is mostly heavy timber and brush, but so far no cabins, homes or other structures are threatened. It is roughly 4 miles north of Big Park in Uintah County.
The cause of the fire is under investigation, though officials say it may have possibly been dry lightning.
Clay Springs Fire
Weather Saturday pushed a fire in Oak City, Millard County from 68,000 acres to 88,000. Officials report 15 percent containment. One cabin and three maintenance sheds in Oak City were destroyed and another 125 still threatened.
Oak City and Fool Creek evacuation orders were lifted, though portions of U.S. Highway 125 remained closed.
The fire began sometime Wednesday and was human caused. Two firefighters were burned in the blaze.
New Harmony Fire
The Washington County fire is expected to reach 100 percent containment Saturday evening.
Currently at 90 percent containment, the fire has burned 1,826 acres.
According to New Harmony Fire Information Officer, Nick Howell, "Crews are still 'mopping-up' and extinguishing hot spots."
Upon containment the Type 3 team in place will transition to a Type IV Incident Commander, which will keep an eye on the area for any sparks or flareups.
Officials report that 7 homes and camp trailers, 22 garages/sheds and numerous vehicles have been lost damaged and other homes and structures in New Harmony and Bumblebee were threatened.
Evacuations in the area have been lifted.
The fire started at 1:50 p.m. on Wednesday due to a water pump malfunction.
One firefighter was burned fighting the blaze, but was treated and released from the hospital.
Related:
Pole Creek FireIn Neola, Duchesne County, 1,957 acres have burned in a fire that was 60 percent contained as of Friday. No structures were threatened, and no evacuations have been put into place.
Officials say the fire was human caused, and have found fireworks in the area. The fire started at 3:35 p.m. Wednesday.
Seely Fire
A fire in Huntington Canyon and Gentry Mountain in Sanpete County has burned 19,700 acres. The fire was at 0 percent containment Saturday.
In a press release Saturday, officials said that 268 personell, 22 engines and three helicopters were on-site.
Campgrounds in the area are closed.
Hiawatha, Wattis, Clear Creek and Scofield evacuated Wednesday; including a Boy Scout camp, all boat camps and state park campgrounds; state Route 31 at Crandall Canyon; SR-96 from state Route 6 to state Route 284 at Electric Lake are also closed.
The fire started at 5:30 a.m. Tuesday due to dry lightning.
Wood Hollow Fire
A 47,295 acre fire in Sanpete County is expected to be fully contained Saturday by midnight. Saturday afternoon it was 65 percent contained, and 56 structures had burned, including homes.
One person was found dead Tuesday as a result of the fire.
Fairview and communities east of U.S. Highway 89 evacuations lifted; Birdseye and the Indian Ridge, Oaker Hills and Elk Ridge subdivisions west of U.S. Highway 89 remain evacuated; state Route 31 over Fairview Canyon remains closed.
The fire started at 4:30 p.m Saturday. Officials believe the cause may have been due to a copper wiring theft in the area that caused a transmitter to short circuit.
Contributing: ksl.com
×
Photos
Related links
Related stories
Most recent Utah stories