Estimated read time: 3-4 minutes
This archived news story is available only for your personal, non-commercial use. Information in the story may be outdated or superseded by additional information. Reading or replaying the story in its archived form does not constitute a republication of the story.
HERRIMAN — Gov. Gary Herbert on Friday authorized the deployment of the Utah National Guard to assist in fighting the 10-alarm Rose Crest Fire in Herriman.
Evacuations
Points south of Rose Canyon Road and points east of Rose Canyon Road after it curves
Residents should evacuate heading east on Rose Canyon Road or east on 14200 South
You will not be permitted to reenter upon leaving
An evacuation shelter has been opened at Herriman High School (11917 South 6000 West)
Large animals should be taken to the Salt Lake County Equestrian Facility (2100 West 11400 South)
Road Closures
Points west and south of 6400 West and 13100 South/Main Street are closed except for emergency vehicles.
Smoke was first seen at 15167 S. 7635 West. It was caused by a vehicle that caught fire, according to officials, and is moving northwest. At least 350 acres had been burned as of 9:00 p.m. Friday. Three homes and a two- car detached garage have been destroyed, it has been confirmed.
Mandatory evacuations are in place for anything south and east of Rose Canyon Road. The evacuations will stand through the night. The Ivie Farms and Sky Haven neighborhoods have not been evacuated, but residents of those neighborhoods are being warned that they will not be able to return, if they leave.
Rose Canyon Road is closed at 6400 West, and roads that intersect Rose Canyon Road west of 6400 West are also closed.
Herriman High School has been converted to an emergency evacuation center, and the Red Cross is on scene. There are currently 115 evacuees housed at the shelter, with room for more.
Small pets are allowed at the shelter — a pet area has been established — but large animal evacuations should go to the Salt Lake County Equestrian facility in barn seven. Small animals may also be taken to Salt Lake County Animal Services at 511 West 3900 South.
The Salt Lake County Emergency Operations Center is coordinating donation offers. To donate, call 801-743-7158 or 801-743-7157.
Walmart has provided the evacuation center with water and snacks, city officials said. There were 20 volunteers and 24 evacuees at the shelter as of 6 p.m. Friday.
Herriman city officials are urging the public to stay away from the fire.
"Sightseers, please do NOT come into Herriman," the city tweeted. "We need to limit road construction to the extent possible."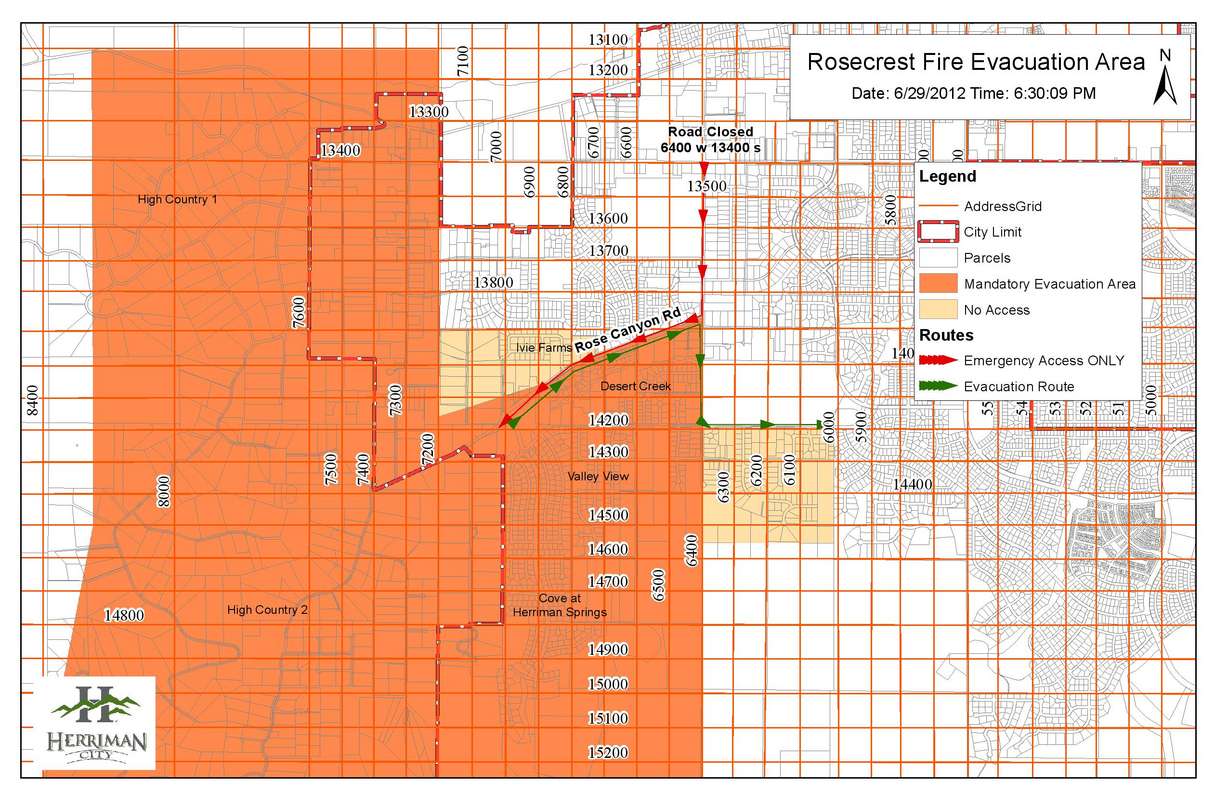 The Unified Police Department has asked that people do not attempt to reach destinations or travel on roads west of 5600 West. The department needs the use of those roads for emergency response.
Officials are also requesting that people do not make phone calls unless it is an emergency. Text messaging should be used, instead. Cell phone bandwidth is needed for emergency response. Additionally, Herriman residents have been asked to turn off sprinklers and stop any automatic sprinkling programs for Friday night.
Stay with ksl.com, KSL TV and KSL Newsradio for more information as it is made available.
---
×
Photos
Related links
Most recent Utah stories