Estimated read time: 6-7 minutes
This archived news story is available only for your personal, non-commercial use. Information in the story may be outdated or superseded by additional information. Reading or replaying the story in its archived form does not constitute a republication of the story.
Videos courtesy BYU Cougars Official YouTube ChannelBYU Football's "Countdown to Kickoff" commenced early Wednesday during the program's 2012 Media Day, held at the BYU Broadcasting Building for a second straight year.
*******
The day of activities got underway with the a "State of the Program" broadcast featuring head coach Bronco Mendenhall and AD Tom Holmoe. You can hear the audio of that program in its entirety at "Cougar Cuts," to the left.
You can also hear all three hours of KSL Newsradio's live Media Day coverage in the audio links to the left. Coverage starts after the top-of-the-hour news; you can scroll through audio cuts at this link.
*******
Mendenhall and Holmoe reflected on the Cougars' debut season of football independence and reacted to the plans for a four-team college football playoff, the basics of which were revealed on Tuesday.
About having navigated the first season as a stand-alone, Holmoe called navigating the "uncharted waters" of the the 2011 campaign "a good success."
"I'm looking forward to this year," said Holmoe, "knowing that we've been through it once. We've made a few mistakes, we've been able to correct them, and the going forward we feel a little better about it."
Of the playoff plan, Holmoe said "I think it's better. Certainly I think college football fans across the country wanted something different. Their voice was heard and the BCS directors changed it. It's not a big bracket, but I think it's better than it was."
"There are no automatic qualifiers...so you don't have to worry about that. All we can do is play our very best. If we're good, we'll be recognized by the nation."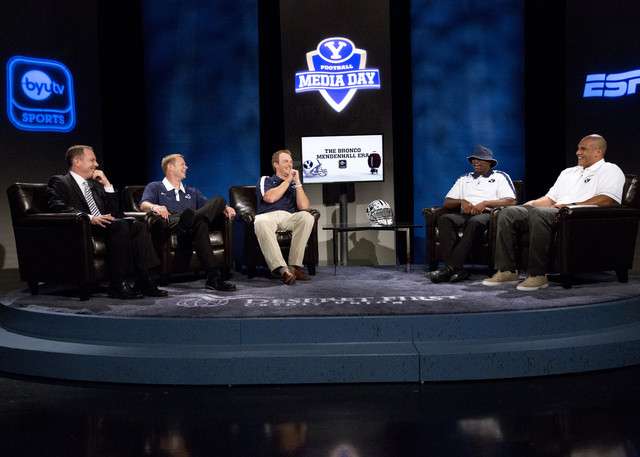 Mendenhall assessed BYU's status as a football independent and his program's broader range of accomplishments, saying that "it has been a fantastic seven years."
"The exposure we've received (as a independent) is unprecedented, and (it's a) great reason to be independent," said Mendenhall. "I'm very proud of the completeness of the program...so this thought seven years ago that many said 'this couldn't be done,' well, it is being done."
"All that does now is set the stage for the next level, which we're anxious to pursue. There's something else, and we're after that."
About the playoff proposal, Mendenhall said his "gut reaction is that it will clear up the naming of a true national champion...through basically adding one more game. I'm for that part, and I like that part."
"What it means for our program really isn't much different than what it has meant previously," Mendenhall says." "I know we will have to be undefeated against very good teams, a strong schedule, and maybe have to do it twice to end up getting a chance at that. I still think it's possible, I'm still absolutely passionate to pursue it, and I'm dedicated to that."
*******
The future postseason landscape was also addressed by Holmoe and Mendenhall; Holmoe said directly that "it will change" when projecting how the new bowl grid will appear.
"In the past, they've been aligned by contracts with conferences based on finish, and I'm sure that will continue to be that way," said Holmoe, "but we as BYU, as an independent, hope to get into those contracts...we hope to... move across the country and not be stuck in one bowl for a long time."
Relative to BYU's potential postseason bowl destinations, Mendenhall said "it depends if someone wants a consistent Top 25 performer with a worldwide audience. If they want that, they'll want BYU."
"Regardless of whatever conference affiliations and bowl tie-ins have happened before, the bowl business is not only about intrigue, it's about making money," said Mendenhall. "(As) successful (as we were) with ESPN in year one, I'd be very surprised to not see us be one of the coveted teams by a number of bowls, simply because of how we play and how we are. That makes a ton of sense to any bowl that wants their stands full, a quality game and a good program."
Said Holmoe later: "We are who we are, and we like who we are."
*******
More from Holmoe and Mendenhall on--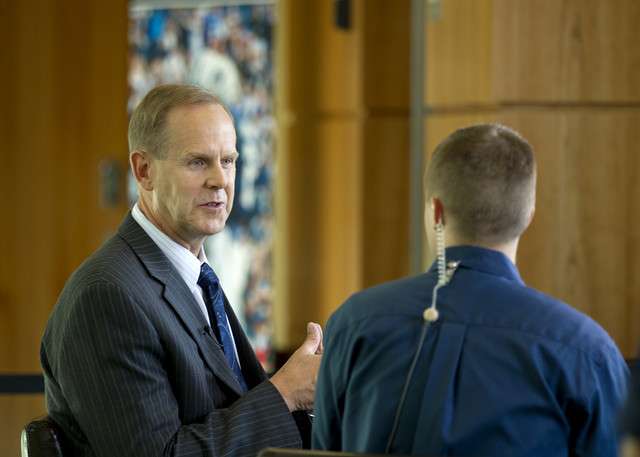 The BYU-Utah rivalry game:
Holmoe: "I love the rivalry. There's nothing like it as a player, going into that game and playing. We'll keep playing that game. Utah has made some overtures that they there may be reasons why they might want to drop it. If they do, that's their choosing, but we do not want to drop it, and we want to keep going forward."
Mendenhall: We'd like to keep playing (the Utah game), every year. I think the game itself has such fantastic tradition. It's one of the best rivalries in the world, in any sport, and to think that it might go away doesn't make a lot of sense to me."
BYU's relationship with Notre Dame:
Holmoe: "We have a good relationship with Notre Dame. I think the important thing there is we need to get more communication, as this changes away from the BCS to more of a championship atmosphere, we'll try everything we can to improve the communication. Currently we work with Notre Dame. They are at the table. They don't go to the meetings to represent us, but they certainly know how we feel."
"Notre Dame is important for us because we follow their model. At this time we watch Notre Dame because they are the bell-ringer, they are a national program that has been on the forefront of college football for a long, long time. They still have that marketability, they have that brand, and they have a lot of fans watching them, and that sounds kind of similar to us. We don't pretend to be Notre Dame, but we can follow their example and watch what they do."
Mendenhall: "I love the idea of the six-year agreement we have with Notre Dame. I think the only thing that would be better if it were the last game of the year, yearly, then I would be more intrigued."
Future BYU scheduling:
Holmoe: "It's better than it was last year. We needed two years of (game) contracts just to able to fill out two years of schedules. Looking at 2013 and '14 and beyond, you see what we're trying to get to is playing the national teams, and spread them out across the country."
"It's still hard to get great teams to play. Everybody's a little cautious because of the uncertainty on the landscape of college football."
*******
×
Photos
Related links
Most recent Sports stories