Estimated read time: 8-9 minutes
This archived news story is available only for your personal, non-commercial use. Information in the story may be outdated or superseded by additional information. Reading or replaying the story in its archived form does not constitute a republication of the story.
Editor's Note: Week in and week out our Pics, Flix and Other Diversions writers give you movie news and insights, but what do they know? This week we're taking a look at the 5 favorite films from our writers. Day 3 features the picks from the writer of Upcoming Movie News and a slew of other articles, Travis Poppleton. SALT LAKE CITY -- I've been in love with film for as long as I can remember.
In fact, the first time I begged my parents for a particular birthday present was in 4th grade, when Fisher- Price released a kid-friendly video camera that recorded black-and-white footage directly to audio cassette tapes — the PXL-2000.
#poll
That birthday, I didn't receive the technological wonderment I had my childhood heart set on, but instead, received a chunk of cash that got me most of the way there. A week or so, and I imagine several chores later, my parents drove me to the nearest Toys R Us, where I purchased the glorious little device.
With my PXL-2000, my friends and I recreated classic movie scenes, played around with music and sound effects, experimented with setting up shots, experimented with lighting and editing, and ultimately created some of the most embarrassing home videos ever put to film, or I guess in this case, audio cassette tape.
But while we never produced the next "Citizen Kane," trying to create film then, and even now, has definitely shaped the way I experience it. These days, I either love a movie because I get lost admiring the details, as is the case with "The Nightmare Before Christmas" or because I find myself 120 minutes later having completely forgotten I was even seeing a movie, which happened most recently with "The Avengers."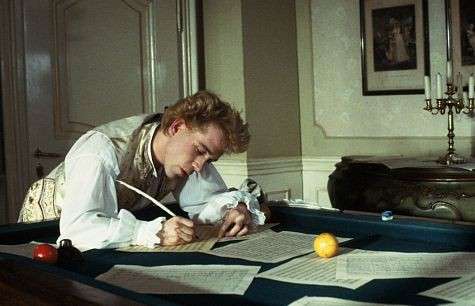 So on that note of autobiographical indulgence, here are five films I love.
Amadeus PG
I used to tell everyone I know to run out and watch this cinematic masterpiece. But between recommending this film and other little life treasures like the "Brothers Karamzov," I've learned that people don't like what I like. Scratch that – people don't like what I love. I think most people are on board with what I like. I can say, you should check out "Kung Fu Panda," and most people will come back with a "Yeah, that was pretty cool."
But as you start nearing pieces of cinema that I actually obsess over, and play in my mind over and over again, and stay awake at night trying to figure out how someone created those characters, shots or ideas, I'm quickly brought back to why I'm a total introvert.
I absolutely love "Amadeus," and I dare say 95 percent of people I've recommended it to have hated it. I think that's due in large part to fact that your storyteller is an anti-hero, the central conflict doesn't necessarily ground the story and by the end of the film, everyone is miserable. I mean, I usually hate such stories. I hated the book "Notes from the Underground" for the very same reasons.
But what the movie does have is actual, human conflict. Not external suffering, like so many great historical pieces. I'm talking about life-altering selfishness that destroys a person who has every reason on earth to be happy. In addition, the film paints music beautifully, it runs on completely-out-there characters that never cross the line of believability and at the same time folding in that ever important question, "What is God up to?"
Genius.
If you do choose to rent this film, avoid the director's cut. It was a useless cash grab that destroyed an otherwise amazing story. You want the original theatrical cut.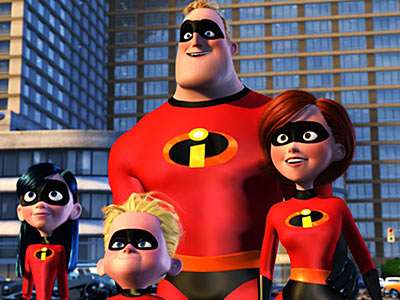 I can't think about "The Incredibles" without smiling. I don't know where Frozone's super suit is, but I'm so glad his wife moved it, because that scene made me a more complete person inside.
The director of the film, Brad Bird, had my respect after "The Iron Giant," but I was totally sold on the man after seeing "The Incredibles." The pacing of the movie was exactly where I like it, each of the characters enjoy genuinely believable motives and the quiet moments, like where two grown men relive their glory days while listening to a police scanner, are just as satisfying as the super-heroic action.
As an animation junkie, I would have found some way to get a great animated feature on this list, but adding "The Incredibles" took no effort at all. Amazing Pixar films like "The Incredibles" are why good Pixar films like "Brave" are so frustrating.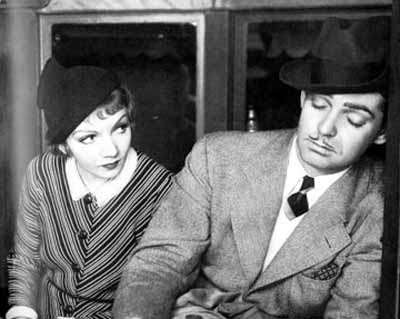 Every year or two, my wife and I go on classic movie binges. Oftentimes, I pull out favorites I discovered during college film classes, but usually we're looking for new treasures that help us better understand why people loved artists like Marilyn Monroe, Cary Grant or Gene Kelly — and for the record, we prefer Buster Keaton to Charlie Chaplin.
But "It Happened One Night" has nothing to do with our historic field trips. I can watch this film any time, and as much as I love Clark Gable as the southern scoundrel, Rhett Butler, his take on a struggling reporter just trying to enjoy a bus ride and maybe, just maybe, speed up the toppling of the Walls of Jericho lands easily on my top 10 favorite performances list — which, if I'm being honest, I don't actually have one of those, but I'm still confident his Peter Warne would be there if such a list were in existence.
O Brother, Where Art Thou? PG-13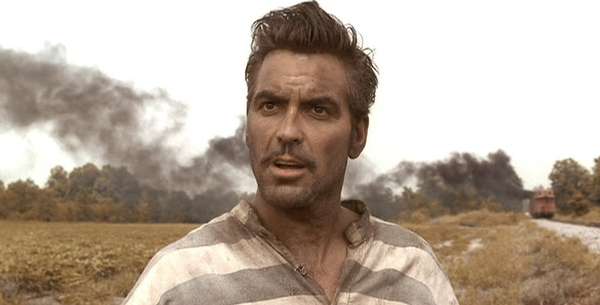 When I first saw "O Brother," I was constantly frustrated by the lack of direction. Sure, they were looking for the money Everett had buried, but then they were singing into a can for 10 bucks, or watching women wash their clothes, or interrupting a KKK ceremony, or having lunch with Big Dan. I mean, even if you know it somehow ties back to "The Odyssey," it's just a random film.
But after that first viewing, and I honestly have no idea when or why I gave it a second, I've become kind of mesmerized by its clever delivery.
"O Brother" is a film I think of in a random moment and just start giggling. I'm sure I've made several people paranoid because of the odd times I'd start chuckling in a meeting or looking through the juice aisle at the grocery store.
The framing of every shot, the subtle moving of the camera as characters progress in thought or emotion, the way the sound moves through a group of people, the process they used to make spring look like fall or the fact that the directors, brothers Joel and Ethan Cohen, discovered that George Clooney makes a much better village idiot than he does leading man — all genius. Those are all things that keep me interested every time I sit down to watch the film. But at the end of the day, "O Brother, Where Art Thou?" had me at "Pete, the personal rancor reflected in that remark I don't intend to dignify with comment. But I would like to address your general attitude of hopeless negativism..." Then he goes on to say something about the lilies of the field.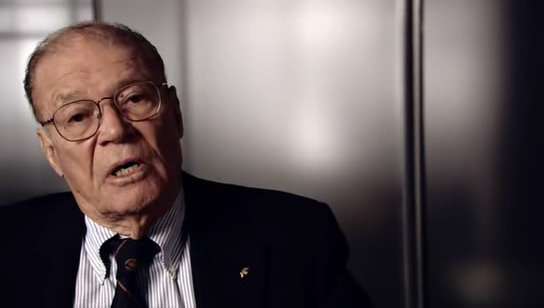 The Fog of War PG-13
When I showed my wife this list of five films, she looked it over and then, after having some short conversation in her head that I was in no way privy to, said, "'The Fog of War' is such a good movie."
I really enjoy a well-produced documentary, but "The Fog of War" is in a class of its own.
The premise: Take one of the most controversial figures in American history, former U.S. Secretary of Defense Robert McNamara, and have a candid conversation with him. No frills, no dramatic reenactments (thank goodness), just the conversation and then a roll of the credits. The conclusion is then left to you, the viewer. Was this man a mass murderer, American hero or some radical hybrid of the two?
Regardless, I regularly stream this movie to my Apple TV. It's the closest I'll ever be to sitting in the White House with John F. Kennedy during the infamous 13 days, or when Lyndon Johnson decided to escalate the Vietnam war.
You can contact Travis at TSPoppleton@gmail.com.
×
Related links
Related stories
Most recent Features stories