Estimated read time: 3-4 minutes
This archived news story is available only for your personal, non-commercial use. Information in the story may be outdated or superseded by additional information. Reading or replaying the story in its archived form does not constitute a republication of the story.
SALT LAKE CITY &mdash: Ever hang your arm out of your window traveling 65 mph down the freeway?
It's kind of hard to keep it steady.
Now imagine trying to catch something while traveling 180 mph.
Sounds insane, but that's exactly what Formula 1 driver David Coulthard did while driving a convertible Mercedes-- Benz SLS AMG Roadster.
That something was a golf ball hit 300 yards off a tee by pro-golfer Jake Shepherd.
Coulthard zooms by Shepherd just as the golfer tees off. Coulthard tracks the ball and gets under it like a center fielder and while still moving catches the ball between the seats.
It set a new world record for farthest golf shot caught and yes, it was verified by Guinness World Records.
After all that, the video provided this warning:
No one should attempt to re-enact or recreate any of the activities shown in this video.
Uh huh.
Obama booed or youk'd?During a campaign speech in Boston Monday, President Obama tried to warm up the crowd by thanking them.
However, what he thought might have been a perfect strike, turned more into a wild pitch.
The President jokingly thanked the city for trading Kevin Youkilis - a beloved player for the Boston Red Sox - to Obama's hometown Chicago White Sox.
The crowd booed, but in a light-hearted way.
"I'm just saying," a grinning Obama said. "I didn't think I'd get any boos out of here. I guess I should not have brought up baseball. My mistake."
And the Romney Camp agrees.
In a daily email blast to reporters, Romney's press secretary Andrea Saul accused Obama of having taunted Red Sox fans.
Old man HowardWant to know who the old man on the Miami Heat is?
Well, let me put it this way. The former Fab 5er busted out the cabbage patch during the Miami Heat 2012 NBA Finals Celebration.
Yep, Juwan Howard, who'll be 40 next year, performed one of the classic 90's dance moves for all to see... and his teammates loved it.
Good for Howard to not forget his roots.
Flying Squirrels run for cover
The Richmond Flying Squirrels, a minor league baseball team in Virginia, have arguably the best name and mascot ever.
But that didn't save them from mother nature's wrath.
On Monday, strong winds and rain forced their game against the New Britain Rock Cats to be called in the top of the eighth inning.
No, they weren't scared of a little rain, the storm actually toppled left field fence and left debris all over the field.
Scary, even for Flying Squirrels.
Wax Melo
Wax figures creep me out. They are so real, they frighten me.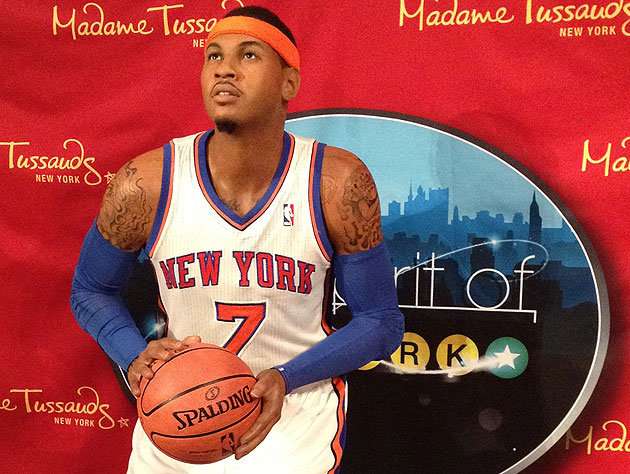 But who am I?
No Madame Tussaud, that's for sure.
A wax figure of New York Knicks' Carmelo Anthony was unveiled Tuesday in New York.
And you guessed it- it looks just like him, down to his tattoos.
Best line I've read yet about it comes from CNBC's Darren Rovell:
"Rumor was that Madame Tussaud's wanted to do a wax figure of Melo passing, but couldn't find a picture."
×
Most recent Sports stories